Progress not fast enough - not fair enough
The "Future of Spaceship Earth" report, launched on 19th September at the UN Headquarter in New York, pitches a forecast against an ambition. In one corner is the forecast, which says that the Sustainable Development Goals (SDGs) are not being progressed fast enough, or equitably enough. In the ambition corner are 17 leading global companies - one per global goal - demonstrating what business can do to chart a more hopeful path for the Goals and for our Spaceship Earth.
What is our most likely future?
In our quest to assess the likelihood of the SDGs being achieved by 2030 we took, as a starting point, the long-term forecast created by one of the original members of the Club of Rome, Jørgen Randers. We then surveyed over a dozen forecasting models. Of these, we found the two most suitable supplementary models were the system dynamics-based "T21" model of Millennium Institute, and the Regional Integrated model of Climate and the Economy ('RICE') led by Professor William Nordhaus of Yale University. Our team performed structural sensitivity analyses using these two supplemental models, and drew on the T21 model in particular to assess SDG issues and targets not covered by the Randers model.
Will the Sustainable Development Goals be achieved?
We found that none of the Sustainable Development Goals will be achieved in any of the world's major regions. Furthermore, the 'scorecard' reveals that, even in the world's most developed regions, 'USA/OECD' only 6 out of 17 goals will be reached.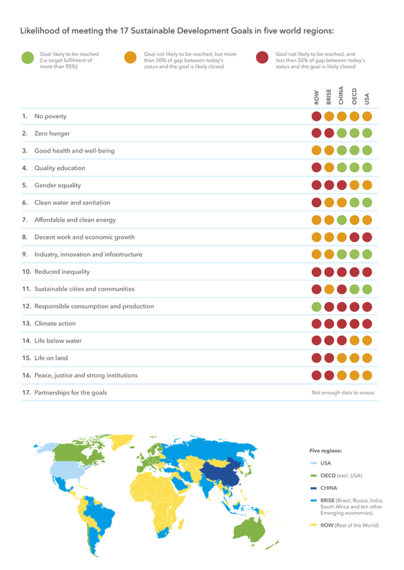 There is a glimmer of good news: the world will continue to make progress in lifting millions of people out of poverty. Also, there will be progress on areas like education, health and innovation - goals that are not heavily linked to the use of natural resources. But jobs and growth are carbon-footprint dependent and will come with an unacceptably heavy environmental price. The 'Life on Land' and 'Life below Water' goals glow amber and red.

Most worryingly, the Climate Action goal is, universally, an angry red colour on the scorecard.
In discussing this serious finding, we once again found some good news: the world's demand for energy will start to level off after 2030. Energy efficiency gains will be made at a faster rate than the energy needs of a growing world economy. But the transition to renewables will not be made fast enough, and thus the world will exhaust its 'carbon budget' by 2037. Burn any more fossil fuels after some two decades hence, and Spaceship Earth has no chance of keeping global temperature less than 2 degrees above pre-industrial levels, and will enter dangerous climate change territory.
Climate Action is a time-lagged show-stopper for all other goals: gains made almost everywhere will be inhibited or reversed by weather and climate extremes that may resemble the aftermath of a comet smashing into our planet. Poverty and climate change are ineluctably linked.
Also glowing red in all regions is the score relating to inequality. We see no significant improvement in the Palma ratio in the next 15 years, and, indeed, a worsening of the ratio in the USA. Ironically, some of the technological advances - for example in connectivity - that are helping to lift whole populations out of poverty are also being deployed by elite institutions in the rich world to consolidate their status.
Will private sector step up?
The forecast concludes that without extraordinary action, the SDGs will not be met, or indeed satisfactorily advanced in the poorer regions of the world. Although such action needs to be taken by governments, institutions and business, it is to the private sector that we in DNV GL turned for a glimpse into the art of the possible on the SDG frontiers. For each of the 17 SDGs, the company paired a leading global enterprise with operations, markets or products and service of relevance to that individual goal.
The 17 stories are worth reading in depth; that is beyond the scope this this article. What can be said here is that the red thread connecting all these companies is their ability to see opportunities where others see problems. These are companies for whom the terms 'circular economy', 'zero deforestation', and 'democratizing sunshine' are not buzzwords, but are central to their strategies. These firms are also uncommonly adept at developing their businesses through cooperation and partnerships. This is why they often appear to be able to combine the best elements from seemingly competing concepts - what author Philip Binkley calls the magic of 'and' (for example, the ability to deliver both growth and sustainability).
Partnerships are blueprints for success in solving the world's greatest challenges. The notion that we should work together is hardly novel; it has been integral to our evolution as a species. The concept of a "Spaceship Earth" - our shared vessel of existence and a foundry of collaborative opportunity - was introduced in the 1800s and popularized last century.
Staying together is progress, and working together is success. The private sector must lead the charge. The world needs to be rocked!
17 companies, representing different sectors but with a global footprint have been working together with DNV GL on this project, they are as follows:
Related
Popular in the Community