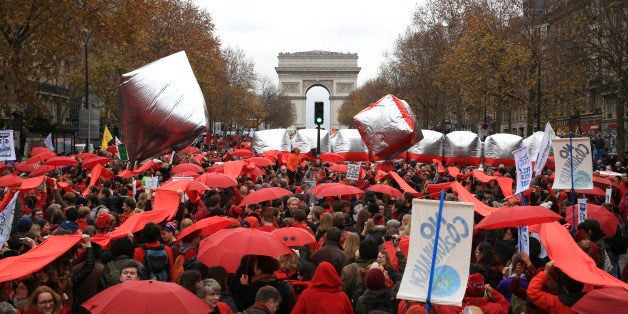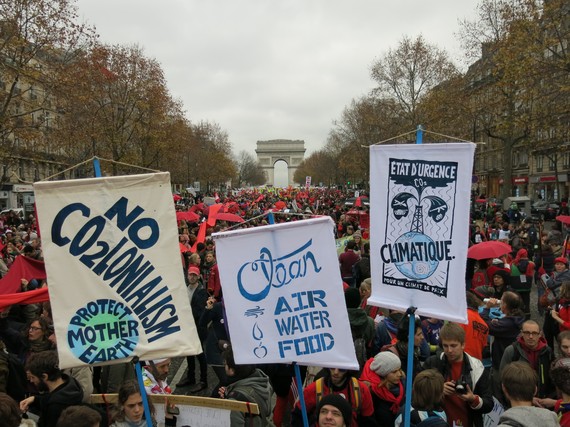 Saturday at noon (Paris time), the voice of civil society finally took to the streets in Paris calling for "Climate Justice." Thousands gathered at the Arc de Triomphe to unfurl a not-to-be-crossed red line in their fight against climate injustice. Arc de Triomphe, with tomb of the Unknown Soldier beneath, served as the starting point in tribute to victims past and present who have suffered injustice from climate change.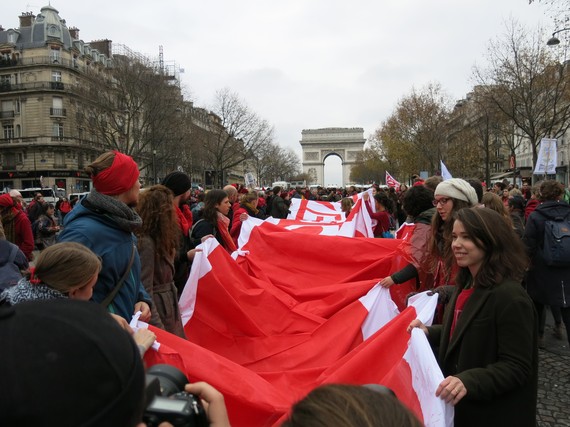 A broad coalition of NGO's representing multiple interests in their fight against climate change unrolled multiple red lines down Avenue de la Grande Armée. Their collective statements cry out for the same outcome, keep fossil fuels in the ground and transition to a clean energy economy. The banners stretched down the avenue toward La Défense which headquarters major fossil fuel companies and their financial backers where red-line organizers state, "The real perpetrators of climate crimes in can be found."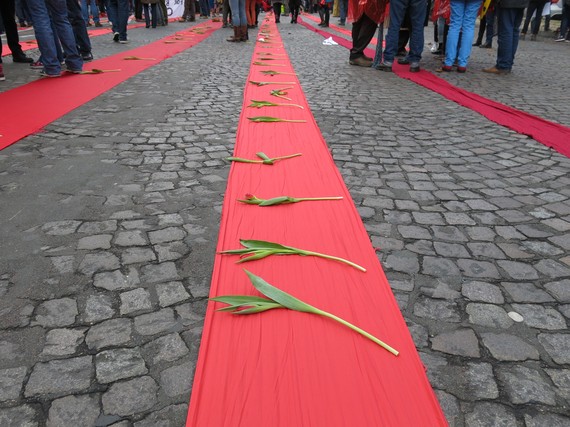 The civil society action in Paris Saturday can be considered a celebration as well as a protest. About the same time the red-line banners began to unfurl, UN Secretary General Ban Ki-moon was announcing that a Paris agreement had been reached at the COP21 UN climate summit. Fittingly, Ban said in his speech, "The time has come to acknowledge that national interests are best served by acting in global interests." Just as protesters dressed as polar bears and trees called attention to nature, Ban admonished his official audience, "Nature is sending urgent signals...We must protect the planet that sustains us."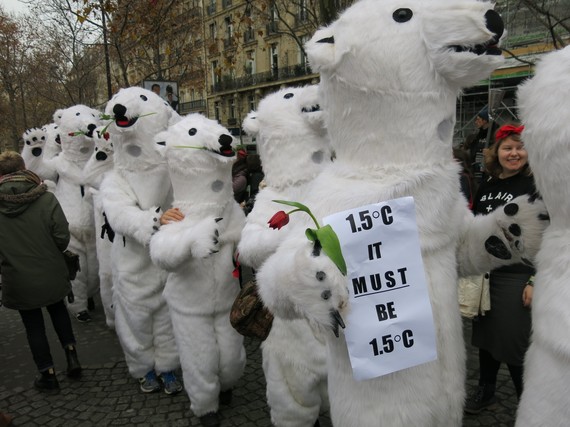 Polar bears from Denmark draw attention to the iconic symbol of a species at risk due to climate change.
For the first time during my past ten days here at the UN climate summit, I observed a significant police presence. There was little conflict between police and the crowd. The crowd was festive and energized, but respectful. At about 12:30 pm a foghorn blasted for attention. A two-minute moment of silence followed for the "victims of climate crimes."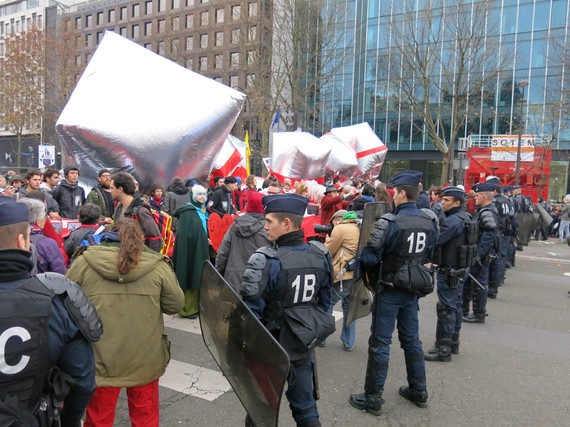 Marching protesters meet police at the end of the avenue. The stream of protesters flow peacefully toward a predetermined route toward the Eiffel Tower.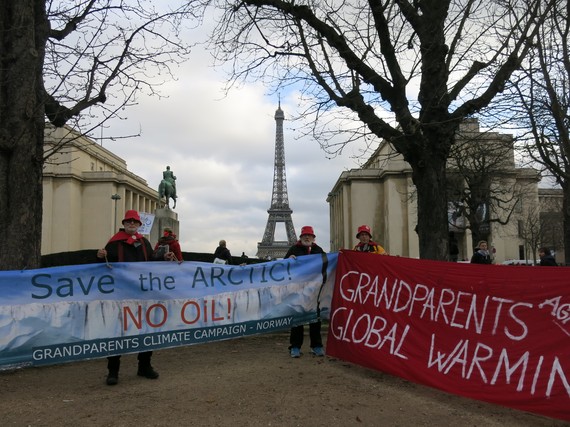 Grandparents from Norway want climate action in order to leave a habitable world for their grandchildren and those as yet unborn.
As I prepared to leave Paris Sunday, I felt a sense of hope. I am a grandparent with 7 grandchildren under the age of 10. I look forward to the arrival of two more grandchildren next year who are among the as-yet-unborn-generation. It is my hope that the Paris agreement and energy of civil society will now lead us on the path toward solving the climate crisis of our planet.
[Photo credits: Keith Peterman]
Calling all HuffPost superfans!
Sign up for membership to become a founding member and help shape HuffPost's next chapter