Red Robin Gourmet Burgers again adds a seasonal burger for fall, but this year it also taps into two hot menu trends: topping burgers with hot dogs or sausage, and dressing up fries into entrée-size creations.
Through Nov. 1, Red Robin puts a new item in its premium-price Finest burger lineup: the ÜberBurger (below). Carrying a suggest price of $14.49, the burger starts with a half-pound Black Angus patty and tops it with candied bacon, grilled bratwurst and Samuel Adams® OctoberFest glazed onions drizzled with Merkts beer cheese. It's served on a toasted hand-crafted pretzel bun with shredded romaine lettuce and beer mustard.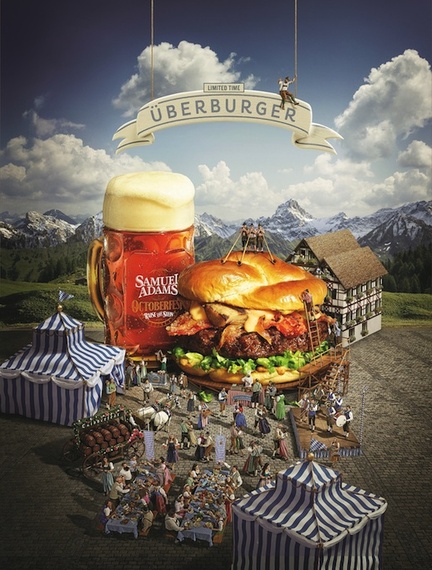 Carl's Jr./Hardee's went this route in May with the Most American Thickburger, topped with a split hot dog, cheese and potato chips. At $5.79, it was one of the first QSR burgers priced over $5, as BurgerBusiness.com reported. A recent LTO at Flip Side burger bar in Hudson, Ohio, was the "Ballparker Burger": a 7-oz. grass-fed beef patty topped with a grilled Kobe beef hot dog, American cheese, sweet & spicy relish and ballpark mustard.
Red Robin's fall menu also includes a straight-up bratwurst for those who like them just for themselves. The Cheesy Beer Brat, priced at $9.99, is a Johnsonville bratwurst served on a cheesy baguette with roasted-garlic aïoli, bruschetta, onion, tomato and beer-cheese dipping sauce.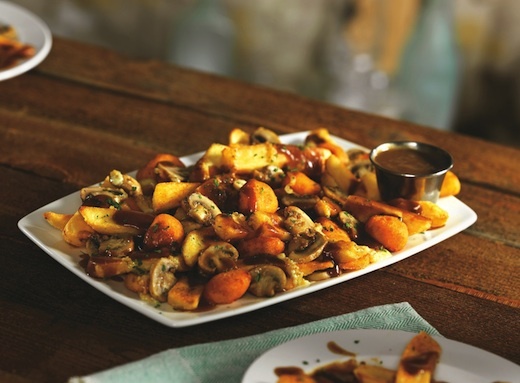 The menu's new appetizer is Great Northern Poutine Fries (above), a signature twist on poutine. Continuing the trend to entrée-size fries that Wendy's recently joined with its Baconator Fries, Red Robin's version covers its steak fries with thick brown gravy, garlic aïoli, sautéed mushrooms and fried cheese curds. It's offered at an entrée price: $9. A Spiced Pumpkin Pie Milkshake completes the fall menu lineup.