A restaurant worker in North Carolina went out of his way to cheer up a pregnant customer who was more than ready to give birth.
The good deed went down at a Red Robin restaurant when a manager comped a meal for a very-much overdue pregnant woman who was eating with her husband and two-year-old son, according to the Consumerist. The family was shocked when they got their bill and noticed a deduction for $11.50 with the note, "MOM 2 BEE GOOD LUC."
"It was a pleasant surprise and made my tired of being pregnant wife a little more cheery," the husband told Consumerist.
SCROLL DOWN TO SEE THE RECEIPT
Kevin Caulfield, a spokesperson for Red Robin, said that the company encourages team members to go above and beyond to take care of guests. Caulfield told The Huffington Post that if a restaurant manager knows a couple is celebrating an anniversary, for example, he or she might even go as far as to procure a card or a small gift.
Caulfield said that he could not confirm the story reported by the Consumerist, but is trying to hunt down the restaurant manager referred to in the article to thank him.
The bill comes as welcome news after a number of recent reports of restaurant workers scribbling mean notes on customers' receipts. A worker at Chilly D's Sports Lounge, part of the Cameo Club Casino, in Stockton, Calif., wrote "fat girls" on the bill of three women who came in for dinner. A Friendly's employee in New Hampshire recently wrote "100% Sh*t Show" on a bill after there were multiple problems with the table's order.
LOOK: Related
Before You Go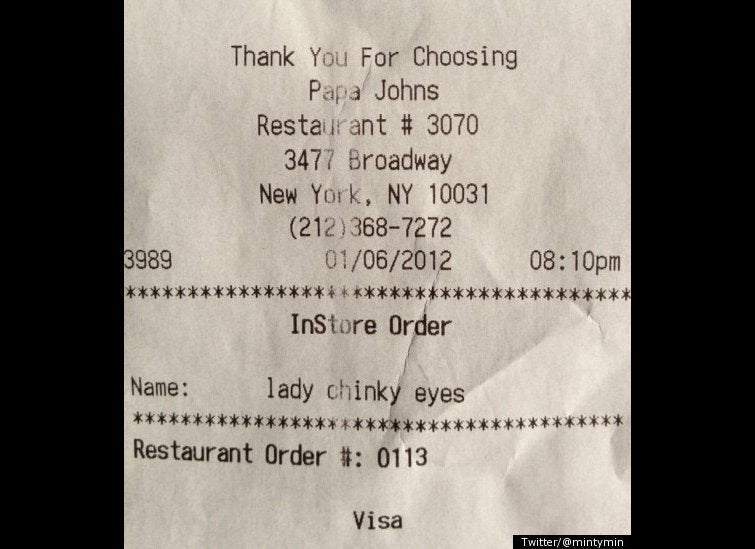 Outrageous Receipts (EXPLICIT LANGUAGE)
Popular in the Community