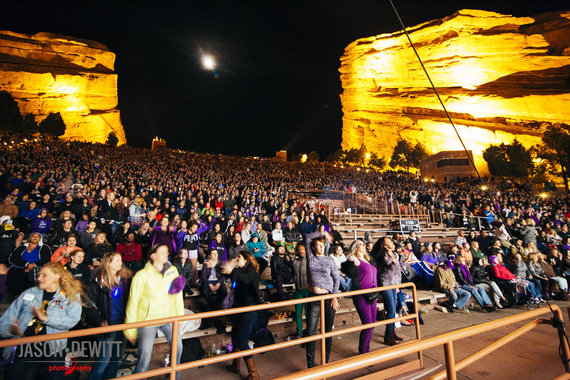 It was less than 24 hours after the shock of The Purple One's untimely death that the Denver Film Society announced they would open the annual Film on the Rocks program two weeks early to honor Prince with a screening of Purple Rain. The brainchild of DFS's Kristin Nolan, the epic event meant not only arranging for the venue and the movie, but pulling together some of Denver's most talented musicians for the pre-show jam... in three weeks. More than 170 performers from a wide range of musical styles gathered, rehearsed, sound-checked and played tribute.
The Red Rocks Amphitheater became a lavender sea as fans and their families filled the seats, squeezing close together to accommodate the record-breaking FOTR crowd; a sell-out at 9000 within 24 hours. The party started appropriately when Andy Rok and the Real Deal took stage to with The Artist Formerly Known's party anthem, "Let's Go Crazy", as we waited for the dusk to descend. So much more than Prince cover bands, each of the thirteen groups offered an original rendition -- Flobots, Shady Elders, Ian Cooke Band with Kevin Johnson of The Bright Silence, Elin Palmer and members of Chimney Choir, Bluebook and more. Wheelchair Sports Camp brought the funk, others were spot on in style, spirit and soul; and some brought a more personal tack with their arrangements that, if not the immediate pop-song ear-worm, revealed the strength of Prince's music. The Heavy Heavies brought me to my feet, while jazz singer and KUVO hostess, Venus Cruz, brought me to my knees.
The evening turned toward the sacred when 115 members of the Denver Gay Men's Chorus took center stage for the grand finale; a splendid rendition of Queen's "Who Wants to Live Forever". Hearts were shaken and stirred. This heavenly choir stepped back, allowing the other 60 artists onstage for the title track of the evening, "Purple Rain". The stars were out, the house was standing, swaying, singing, and by the time we got to the ooo-ooo-ooo-oooo at the end of the song it was as if there was a great shaft of purple light and love beaming from Morrison, Colorado to the celestial sphere.
Moments later, the movie started to a roar from the sated crowd and just as I remembered -- Morris Day was campy, Apollonia was stunning, and Prince... my god he was a star.
Film on the Rocks opens its regular season on May 23rd with Grease and continues with summer favorites, The Big Lebowski and Ferris Bueller's Day Off, cinema greats, Citizen Cane, standouts like Deadpool and closing in September with Star Wars: The Force Awakens. July 27th brings another tribute to another fallen star with the 1986 David Bowie film, Labyrinth. Summer nights just got epic.
Photo credit: Jason DeWitt
Calling all HuffPost superfans!
Sign up for membership to become a founding member and help shape HuffPost's next chapter