Wearing special home jerseys with "Boston" sewn across the chest, the Red Sox returned to Fenway Park on Saturday afternoon. More importantly, the people of Boston gathered together to resume their normals lives and root, root, root for the home team just one day after authorities aprehended the second suspect in the Boston Marathon bombings.
The Red Sox game against the Kansas City Royals was preceded by an emotional pre-game ceremony that honored the victims of the horrific attacks on the Boston Marathon and paid tribute to law enforcement officials, first responders, race participants and volunteers. The emotional scene also included a stirring montage of images from the tumultuous week in Boston set to the song "Hallelujah" as performed by Jeff Buckley (watch video above), ceremonial first pitches and yet another rousing sing-along rendition of the national anthem.
WATCH: Pre-game national anthem and ceremony

The return of the Red Sox to Fenway coincided with the return of David Ortiz to the lineup. The 37-year-old had missed the start to the season with an Achilles injury. Big Papi addressed the crowd just before the game got underway, punctuating his remarks with a poignant and profane note of resolve.
"This jersey that we're wearing today it doesn't say 'Red Sox.' It says, 'Boston.' We want to thank you for you, Mayor Menino, Governor Patrick, the whole police department, for the great job that they did this past week," Ortiz began. "This is our fucking city. And nobody is going to dictate our freedom. Stay strong"
The Red Sox departed Boston in the hours after the bombings on Monday, heading to Cleveland for a three-game series. The team's game on Friday night was then postponed as the manhunt continued for the second Boston Marathon bombing suspect, Dzhokhar Tsarnaev. Not long after authorities apprehended Tsarnaev on Friday evening, the Sox announced that they would play on Saturday.
Before fans arrived at Fenway, the Red Sox documented the process of rolling out the American flag that would be displayed on the Green Monster during the ceremony.
"This is a city that will count on us, and I understand that," Red Sox outfielder Shane Victorino said before the game, via The Associated Press. "You might not see smiles on people's faces, but you understand this is a trying time. This is a time for people in the city to embrace themselves and to go out there and be a part of that for this city."
UPDATE: Thanks in part to a go-ahead, three-run home run by Daniel Nava in the eighth inning, the Red Sox defeated the Royals, 4-3. As Nava's homer sailed for the right-field fence, NESN announcer Don Orsillo said, "Boston, this is for you."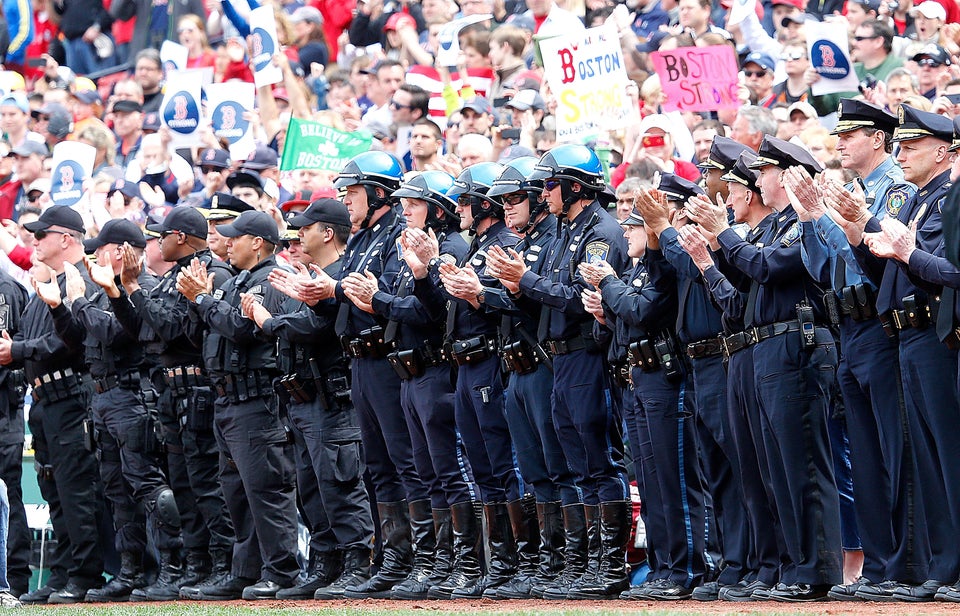 PHOTOS: Boston Returns To Fenway
Popular in the Community