The Boston Red Sox will lead an effort to change the name of a street near their stadium named after a former team owner who has been decried for years as a racist, current owner John W. Henry told The Boston Herald on Thursday.
Yawkey Way, which runs alongside the team's Fenway Park, is named for Tom Yawkey, who owned the franchise from 1933 to 1976. Under his leadership, the Red Sox passed on the chance to sign Jackie Robinson ― who broke Major League Baseball's color barrier for the Brooklyn Dodgers in 1947 ― and did not sign their first black player until 1959.
Yawkey's stance against signing black players reportedly cost the Red Sox a chance to sign Hall of Famer Willie Mays, and made the franchise the last team in baseball to integrate its roster.
Yawkey died in 1976, and the street outside Fenway was named for him a year later. But that could change if Henry gets his way.
"For me, personally, the street name has always been a consistent reminder that it is our job to ensure the Red Sox are not just multi-cultural, but stand for as many of the right things in our community as we can – particularly in our African-American community and in the Dominican community that has embraced us so fully," Henry told the Herald.
Henry, who bought the Red Sox in 2002, added that he is "still haunted by what went on here a long time before we arrived."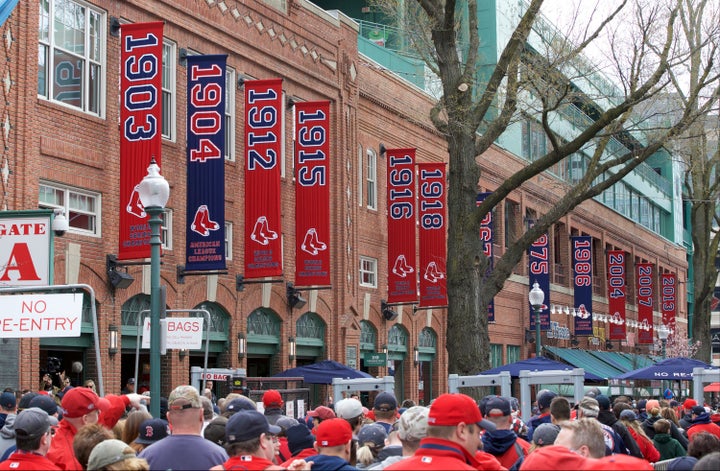 Yawkey resisted signing black players until every other Major League team already had, but that was not the end of his list of offenses.
Black players have long regarded Boston as an undesirable destination thanks to its reputation as a hostile place for African-Americans to play.
"Many black ballplayers over the years, starting with Jackie Robinson and funneling down, from David Justice, Albert Belle, and Tim Raines, to Gary Sheffield and Dave Winfield, have all either expressed hesitancy about playing in Boston or inserted language into their contracts that expressly prevented them from ever being traded to the Red Sox," Bryant wrote in his book.
Boston newspaper columnists and websites have called for changes to the name of Yawkey Way for years, especially as black baseball players have continued to face racial taunts from fans inside Fenway. The street's name, columnist Ron Chimelis wrote in 2014, "stands as a big, ugly blotch on the multi-colored complexion of the modern Red Sox."
"We ought to be able to lead the effort...particularly in light of the country's current leadership stance with regard to intolerance."
And even though Boston's roster now features a number of prominent black and Latino players, some Major Leaguers still consider Fenway the worst environment in baseball for black players.
In January, Red Sox pitcher David Price told the Boston Globe that he had heard racial taunts from fans while warming up in the bullpen during the 2016 season. Baltimore Orioles outfielder Adam Jones, meanwhile, told USA Today that he was "called the N-word a handful of times" by fans during a game in May.
The Red Sox organization and Henry apologized to Jones, and the incident apparently sparked the decision to try to change the name of Yawkey Way, Henry told the Herald. The owner also appeared to reference President Donald Trump, albeit not by name, as a reason to seek the change now.
"We ought to be able to lead the effort and if others in the community favor a change, we would welcome it ― particularly in light of the country's current leadership stance with regard to intolerance," Henry said.
The change will no doubt spark controversy among Red Sox fans. Yawkey Way is a popular gathering place before and after games, and over the years has become an iconic part of Fenway Park's history.
The owner of the only other business on the street, however, also supports changing its name, according to the Herald. So even though the Red Sox do not have the authority to change the street's name, its days as Yawkey Way could be numbered.
Still, given the number of times black players in all sports have said they have heard racial slurs from Boston sports fans, renaming the street will only be a first step toward making the city's sports venues more hospitable places for black athletes and fans to visit.
Popular in the Community