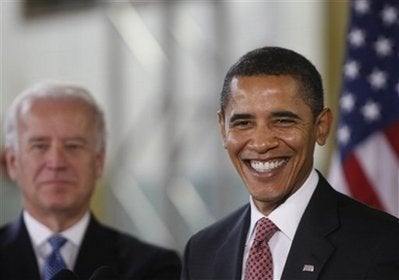 The Obama transition team had house parties last weekend to talk about what people can do to keep building a grassroots political movement across America. The morning before the events, I got a call from Ned, a man in the Bay Area, who called the Idaho Democratic Party to ask whether Sen. Mike Crapo could be defeated in 2010. We talked for a while -- mostly about tough Senate races and about the total lack of progressive talk radio in many red states -- and Ned mentioned that he'd be attending a house party over the weekend. "What can we do to help?" he asked.
"Tell the people in the Bay Area who grew up elsewhere to adopt their home states," I said.
"What do you mean?" he asked.
I thought about the neighborhoods in San Francisco and how they fall silent at the holidays as many city dwellers briefly return to their parents' homes in Provo, Pocatello or Paducah. I thought about similar scenes that will unfold over the next two weeks in New York, Chicago, Boston, Los Angeles and Seattle, as young urbanites visit their hometowns, and then leave utterly thankful that they have found more progressive places to live.
But many people -- old, young and in between -- have decided, for whatever reason, to stay put and try to change these places for the better. Many of us are succeeding, in places like Great Falls, Montana, and Omaha, Nebraska, as former GOP strongholds become more hospitable to progressive ideas and people.
I suggested to Ned that he ask people to go to ActBlue and find the page for the Democratic Party in their home state, whether it's Idaho, Kentucky, Utah, Montana, Oklahoma, Mississippi or what have you. "Ask them to take the $10, $20, or whatever a month they donated to Barack Obama and make a monthly investment in the state Democratic Party of their childhood home," I said.
With Howard Dean leaving the DNC, the fate of the 50-state strategy is somewhat uncertain. All the DNC's State Partnership Plan employees were furloughed after the election, pending the formulation of a new program. But even if the new DNC chair fully funds a new SPP, state parties will remain bare-bones operations where your small-dollar contributions can make a huge difference for field operations, activist training, technology, candidate recruitment and communications in 2010 and beyond.
We all need to come together to advance Obama's progressive agenda, but we can't forget about the grassroots community organizing work that needs to happen in states like mine. Democrats are making progress in the red states: 36 percent of Idahoans voted for Obama, up from just 30 percent who voted for John Kerry, for example, and every Idaho county but one voted more Democratic in 2008 than in 2004. With your help -- and that, we hope, of the DNC -- we can continue moving light-red counties into the purple-and-blue tapestry that is slowly but surely filling up the map of our great nation.

Julie Fanselow is the communications director of the Idaho Democratic Party. She started Red State Rebels, an Idaho political blog, in 2003 and she has worked on a variety of political campaigns.
Popular in the Community