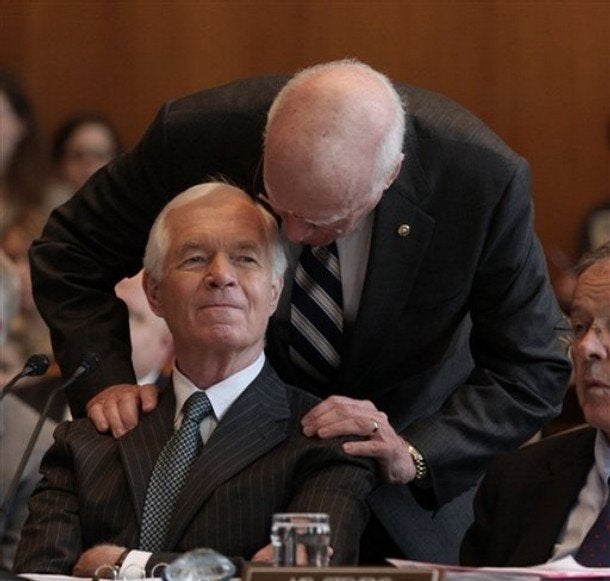 If it's budget time, it's good to be a red state. And it's very good to be Mississippi.
According to an analysis by the nonpartisan Taxpayers for Common Sense, Mississippi has won the earmark contest in the omnibus budget package.
Mississippi Republican Sen. Thad Cochran led his colleagues by raking in more than $470 million in 204 earmarks. Mississippi's junior Republican, Roger Wicker, pulled in more than $390 million. The totals can't be added together because the figure includes earmarks each received solo and with others, so the same earmark could be in both senators' column. Cochran, on his own, pulled in roughly $76 million and Wicker brought home $4 million.
Cochran's $76 million ranks him sixth among solo earmarkers. (Earmarks can be requested individually, with other members of Congress or along with the president.)
Senate Democrats and Republican ate roughly the same amount from the government trough on a solo basis, although Democrats have one and half times as many members. Democratic members secured about $677 million in individual earmarks; Republicans brought home $669 million. Those solo figures, however, don't tell the entire story, because about six billion more was requested by groups of lawmakers.
For solo earmarks, nobody beat out Sen. Bob Byrd (D-W.Va.), last year's appropriations committee chairman. The defender of earmarks took home $123 million. Sen. Richard Shelby (R-Ala.) came in second, with $114 million. Sen. Kit Bond (R-Mo.) rounded out the top three, bringing home $86 million by himself.
Republican leader Mitch McConnell is bringing $51 million back to Kentucky and Democratic leader Harry Reid earmarked $27 million for Nevada. They ranked tenth and seventeenth, respectively.
Louisiana did well, too. Democratic Sen. Mary Landrieu took in the third-most joint and solo earmarks, bringing home $332 million for local projects. Her Republican colleague, Sen. David Vitter, pulled down the fifth-most at $249 million.
The Louisianans straddled Iowa Democrat Tom Harkin, the chairman of the agriculture committee, who brought back $292 million.
Rural and small-state voters were the big winners on an absolute and on a per capita basis, even though it was big states and urban areas that have delivered Congress and the White House to Democrats. Of the top ten earmarking senators, only Sen. Dianne Feinstein (D-Calif.; $77 million solo; $235 combined), represents a large state and only three of the top ten are blue states. In the top 20, only six blue states are represented.
Popular in the Community