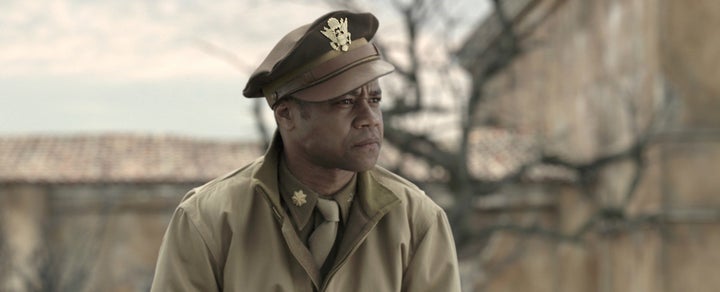 Red Tails, a fictional film based on one of the greatest war stories in American History -- the story of the Tuskegee Airmen, will introduce a new generation of moviegoers to a group of soldiers who fought two wars simultaneously -- World War II on behalf of their country, and a war against racism in America.
Over the past week, the film has received a great deal of press after executive producer George Lucas, who spent over $90 million of his personal funds to produce and distribute the film, told Jon Stewart of The Daily Show that Hollywood did not want to fund the film because it features an all-Black cast.
I am embarrassed to report that I did not know about Red Tails until this past Monday when I attended a taping of The View, which featured Cuba Gooding, Jr., who plays a leading role in the film. During the show, I whispered to my on-and-off boyfriend of many moons (that's a separate article), "How cool is this? You know my Uncle Joe is one of the Tuskegee Airmen, right?" With a puzzled look on his face, he said, "Really? How could you not tell me your uncle is a Tuskegee Airman?" In response, like an ever-so-bright Texas Governor in a high-stakes debate, all I could say was, "Oops."
For far too long, I have taken this "little" piece of family history, which is often discussed on The Fourth of July somewhere in between, "Who made the potato salad?" and "Why is the BBQ stiiiiill on the grill?" for granted. I decided that it was my responsibility to learn much more about this major piece of family and American history before seeing the film. While I will not make you sit through an entire history lesson, I will introduce you to my Great Uncle Joe. You can also watch him talk, in detail, about his experiences as a Tuskegee Airman here.
Uncle Joe was born Hiram E. Little, Sr. in Eatonton, Georgia on March 31, 1919. In 1941, he became one of the first Tuskegee Airmen. He served as a flight officer and instructor until, along with 100 other Black soldiers, he refused to sign his commanding officer's order that segregated White officers from Black officers. After spending thirteen days in military prison and an honorable discharge in 1945, Uncle Joe enrolled at Morehouse College in Atlanta, Georgia. Upon graduation, he became one of the first African-American supervisors at the Atlanta Postal Service, from which he retired in 1978. Twenty-two years later, Uncle Joe's energetic spirit led him to earn a certificate in carpentry from Atlanta Technical College.
Two days before his 88th birthday, Uncle Joe was awarded the Congressional Gold Medal for his service as a U.S. Army flight officer. The first Congressional Gold Medal was awarded to George Washington in 1776, which basically means my Uncle Joe is hotter than your Uncle Joe, unless your Uncle Joe is Joe Jackson, Joe Montana, or Joe Biden.
Retraction. My Uncle Joe is still hotter. Bam.
Ironically, one of the main characters in Red Tails is named Joe "Lightning" Little. A coincidence? Maybe. Maybe not.
Red Tails opens in the United States and Canada on January 20. Go see it.
Oh, and your family history, which is your country's history, opens whenever you say it should. Go see that too.
REAL LIFE. REAL NEWS. REAL VOICES.
Help us tell more of the stories that matter from voices that too often remain unheard.