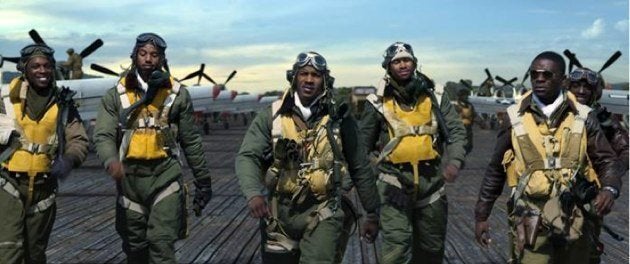 A long time ago, in a galaxy far, far away, George Lucas conceived of a film about brave fighter pilots. No, not "Star Wars," but the true-life tale of the barrier-shattering World War II squadron, The Tuskegee Airmen.
Called "Red Tails," the film, about the first African American military airmen, finally went into production in 2009 under the direction of Anthony Hemingway. An ensemble piece led by Terrence Howard, Cuba Gooding, Jr. and Bryan Cranston, the production saga only got more clouded from there, including rumors of unhappiness with the story and/or footage, as well as reports of reshoots.
Now, after seeming to disappear off the face of the earth, the film has revealed that it will hit theaters in January 2012, exciting news for Lucas fans, historians and anyone who likes epic in-air action. To that end, a trailer has also been revealed, which you can see below.
WATCH
:
Popular in the Community