A toxic algae bloom sweeping Florida's southwest coast is being described as the worst in more than a decade, with the so-called red tide blanketing beaches in dead fish and killing sharks, manatees and endangered sea turtles.
The aggressive overgrowth, which occurs each year but intensifies with high temperatures, pollution and stagnant water, has become unusually strong since emerging in October, and has stretched into the longest outbreak since 2006, according to state wildlife officials.
"This is way, way high," Heather Barron, the head of the Center for the Rehabilitation of Wildlife veterinarian hospital on Sanibel Island, told the Fort Myers News-Press of the sea turtle deaths. "Normally red tide season is over in April. But now sea turtle nesting is at its peak, and you have adults in nearshore waters. And because of that, they're being affected."
During a public meeting on Tuesday to discuss efforts to combat the bloom in Cape Coral, jaws dropped when a manatee's body floated near the yacht club where the Army Corps of Engineers was hosting the session, the News-Press reported.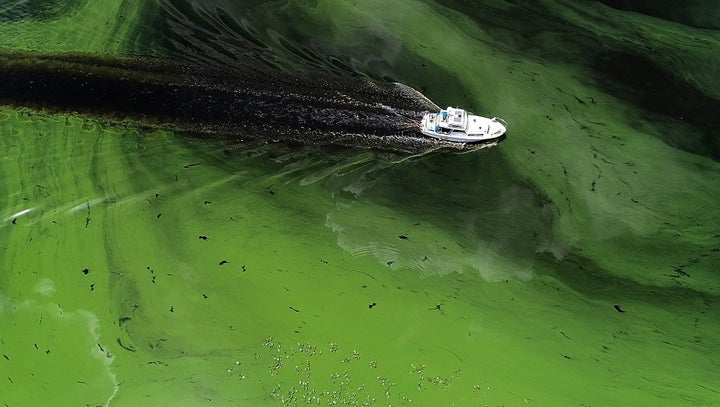 The dead female manatee was pulled to a dock so a necropsy can determine the cause of death, Michelle Kerr of the state Fish and Wildlife Conservation Commission's research institute told HuffPost on Wednesday.
The area has a high concentration of Karenia brevis, the algae species that causes red tides, Kerr said. Smaller manatees shown surrounding the dead female in a video were not calves, as speculated on social media, but were young males trying to mate with it, she added.
At least 80 manatees have died from red tide so far this year, according to online records kept by the Fish and Wildlife Conservation Commission. That's 13 more deaths than the total for all of last year. Records dating to 1996 show 277 manatee deaths in 2013, 151 in 1996, and 100 in 2003.
Other wildlife killed by the algae over the last several months include hammerhead sharks, at least one dolphin and at least one whale shark, according to online records.
Humans also have been sickened by the blooms.
According to Treasure Coast Newspapers, 15 people were recently treated at Martin Health System emergency rooms in Stuart over two days for symptoms consistent with algae toxins after coming in contact with the St. Lucie River, which is near West Palm Beach and Lake Okeechobee.
Inhaling, touching or ingesting the algae through contaminated water can cause respiratory illness, abdominal pain, vomiting, and neurologic effects, according to the Centers for Disease Control and Prevention. Eating contaminated fish or shellfish also can cause illness.
"We don't know how many people are affected by the algae blooms and how badly," Dr. Michael Romano, who heads Martin Health System's infectious diseases and control, told Treasure Coast Newspapers. "And that's the point. I don't want to scare people, but they need to know what the blooms are doing to them. Millions of people potentially could be exposed to this, and we don't know much about it."
Work remains underway to remove the algae and decrease fertilizer runoff feeding its growth.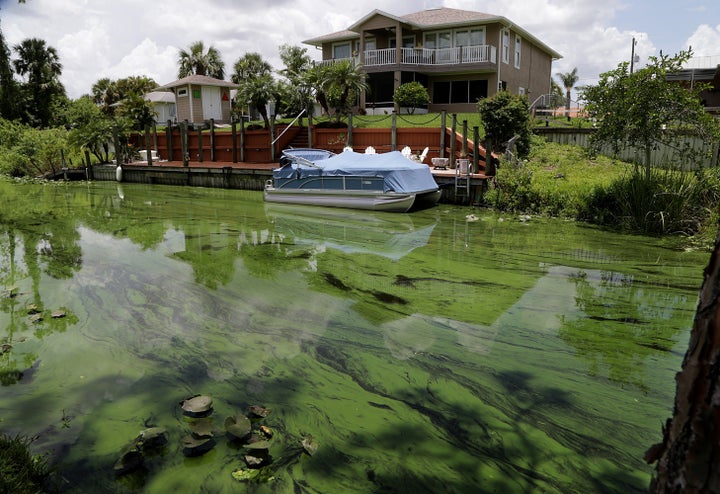 Lt. Col. Jennifer Reynolds, a deputy district engineer with the Army Corps of Engineers, told attendees at Tuesday's meeting in Cape Coral the corps is preparing to drain rising, algae-filled water from Lake Okeechobee into surrounding waterways to prevent overflow, despite residents' concerns.
"I wish I had better answers," Reynolds said, according to the News-Press. "All of us have to work on this together."
The Fish and Wildlife Conservation Commission asks people to report fish kills to 800-636-0511, or other sick, injured or dead wildlife to 888-404-3922.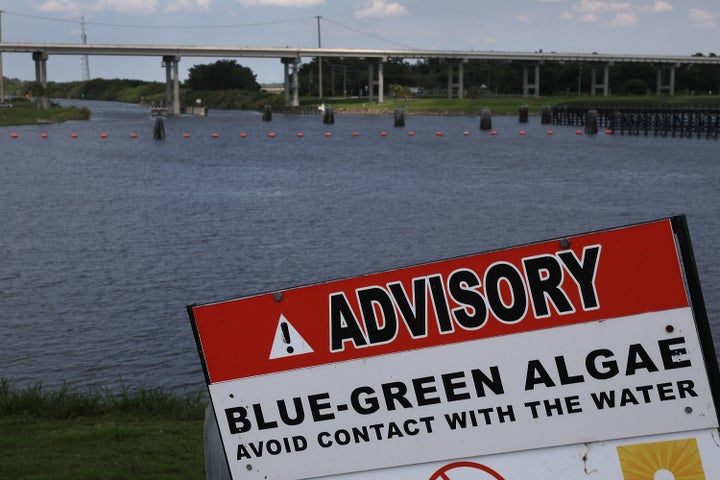 Popular in the Community