The extremely rare development was discovered after multiple people in Palm Beach County complained of respiratory, skin and eye irritations on Saturday, prompting officials to test the water for the algae bloom, the Palm Beach Post reported.
Preliminary test results were positive for the algae, local officials said, prompting Palm Beach County to issue a health advisory and shut down its local beaches, including the Lake Worth Municipal Beach and those in Jupiter.
"Everyone was coughing this morning," Maggie Scanlon, who was visiting Jupiter, told the Post. "I was walking on the beach, and I had to pull the string hat I was wearing down over my mouth because I was coughing so bad."
Another beachgoer described herself and others as "wheezing and coughing" while lounging around a beachside pool.
"It felt like something was burning in my nose and there was a tingling in my throat. It was really bad," Giselle Mato, of Palm Beach Gardens, told the Post.
A state map released by the Florida Fish and Wildlife Conservation Commission (FWC) on Friday reported zero to little amounts of K. brevis in Palm Beach, as well as northward in Brevard and Volusia counties.
Beaches in Miami-Dade County, north of Haulover Inlet, were also ordered closed on Thursday following the positive test results, Miami Dade County Mayor Carlos Gimenez announced.
The area is about 15 miles north of downtown Miami.
"Although results for three sampling areas off Miami Beach and Crandon Park were reported in the very-low to low range, results for samples collected off Haulover Park were reported in the medium concentration range," he stated. "Red tides produce toxic chemicals that can affect marine organisms as well as humans. The Florida Department of Health advises people with severe or chronic respiratory conditions to avoid red tide areas."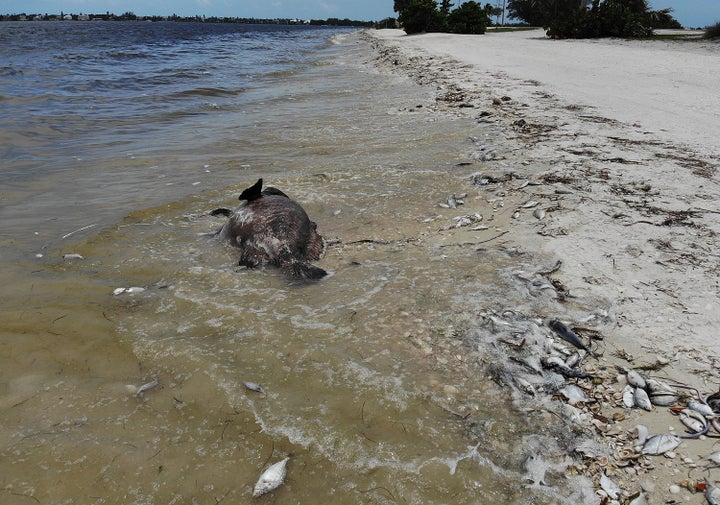 In early September, the FWC confirmed that the toxic bloom had spread northward up the Gulf Coast. It was at that time seen at "very low" levels near Panama City along the state's panhandle. The FWC's map released on Friday shows that the levels in that area have since increased to "low" to "medium" levels.
Red tide along the East Coast is not typical, with it having been documented only eight times since the early 1950s. In comparison, there have been 57 occurrences of red tide in the Gulf of Mexico since 1953. The last time a red tide traveled up the East Coast was in 2007, according to the FWC.
K. brevis produces brevetoxins, which are capable of killing fish, birds and other marine animals. It can also harm humans if it is ingested, touched or inhaled, with the effects including nausea, vomiting and, in severe cases, acute liver failure and neurological issues, according to the Centers for Disease Control and Prevention.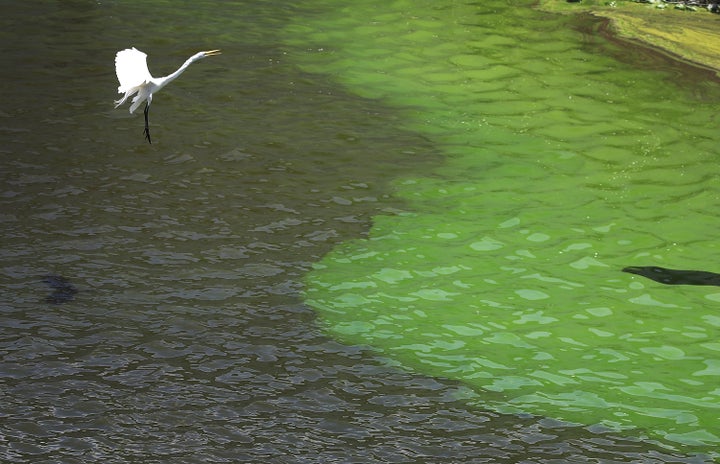 The outbreak is a natural occurrence, though the current event is described as the worst in more than a decade. Warmer temperatures and nutrient pollution from agricultural and urban runoff are blamed for the severity of this year's bloom.
Florida Gov. Rick Scott declared a state of emergency in August, freeing up $1.5 million in emergency funding to help combat the bloom's detrimental effects on local communities. Late last month he gave an additional $3 million to Pinellas and Lee counties.
Despite the allocation of resources, the outgoing governor ― who is challenging Democratic Sen. Bill Nelson for his Senate seat ― has been dubbed "Red-Tide Rick" by critics who accuse him of dramatically cutting environmental protection efforts, particularly in the monitoring of nutrients that flow into Lake Okeechobee, during his two terms in office.
Scott has denied that he played a role. He has accused his Senate competitor, Nelson, of having contributed to the environmental crisis by failing to force the Army Corps to stop discharging Lake Okeechobee's algae-ridden water into local rivers, allowing it to spread.
This story has been updated to note the closure of Miami-Dade County beaches and the continued closure of Palm Beach County beaches.
Popular in the Community