Transportation options are key factors in enhancing economic growth and quality of life. Still, too many transportation initiatives focus on cars and highways, thus favoring the rich and the middle class. But there are ways to provide safer, more affordable, eco-friendly and reliable transportation to the poor in the Global South, as the following examples demonstrate. Visit URB.im to learn more and to join the discussion.
Apartheid policies in South Africa made for ineffective public transport in cities where the denser and poorer black townships were provided with limited access to public transportation. An important Public Private Partnership between the government and Bombela International Consortium was recently created to build an ambitious Bus Rapid Transit System (BRT) known as the "Red Vaya". The new system addresses speed, efficiency, and traffic decongestion, as well as problems of safety, facilities, and crime in the taxi industry. The BRT improves access of marginalized communities to industrial and commercial centers. However, it directs growth toward former white group areas, and not toward new developing areas, and thus the burden of excessive and reverse commuting persists. The terminal infrastructure development is located away from the marginal communities. At first glance the BRT initiative appears an integrative urban transport; yet it is still incomplete and needs a full-scale evaluation of its social impact.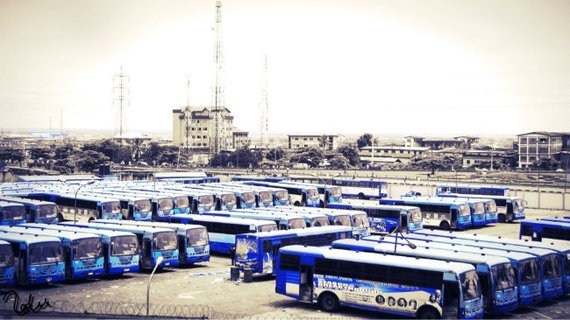 Lagos is a fairly small city with a very large population, where what should be a 30-minute journey can take two hours on a weekday. In 2008, the state government introduced the Bus Rapid Transit (BRT) scheme through the Lagos Metropolitan Transport (LAMATA) to improve the road system and ultimately reduce congestion. The pilot BRT program runs through 22 km of exclusive lanes, providing faster transportation at affordable prices for commuters. Money spent by poor households on public transportation was reduced from 17 percent of all household spending in 2003 to 11 percent in June 2009. Recently, an e-ticketing system was introduced to the BRT program to create a more efficient and user-friendly ticketing system. Ultimately, LAMATA plans to expand the BRT system strategically along eight different corridors within the city, further reducing road congestion.
Transportation activists such as Rishi Aggawal, a research fellow at the Observer Research Foundation and member of the Mumbai Transport Forum, say there is no integrated approach to planning in Mumbai, leaving commuters with ad hoc, disconnected systems. Yet a solution from Chennai offers a comprehensive example for Mumbai on how to move toward sustainable, comprehensive mobility. The Chennai unified Metropolitan Transport Authority members include a cross-section of all different government authorities responsible for transportation, centralizing collaborative decision-making to move the organization's goal forward. There is a shift away from car-centric solutions to public transportation: the group has taken important steps to reclaim road space for pedestrians where there was little or none in the past by developing an integrated, high quality bus and BRT network. Chennai also plans an ambitious cycle-sharing program with less than a 300-meter walk to a cycle sharing station in the network. "We are always keen to learn from New York and London, so for a change, we will learn from Chennai," says Aggarwal, who has also founded the Walking Project in Mumbai to promote better walking conditions and sidewalks in the city.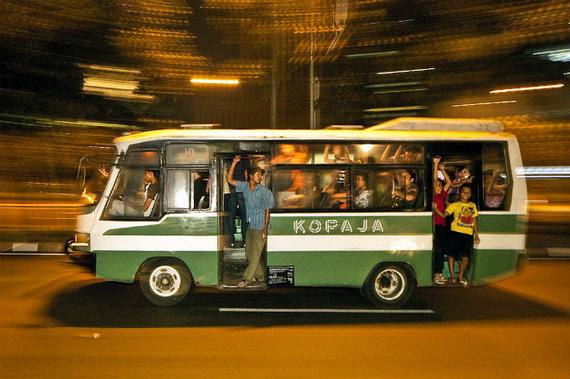 Many of Jakarta's residents use Kopaja buses, a cheap 25-seat minibus serving the whole city. Kopaja, owned by a private cooperation established in the 1970s, currently faces a number of issues regarding safety, comfort, pollution, and poor maintenance. The government is therefore intervening to integrate Kopaja with the Transjakarta busway system and to rejuvenate the bus conditions. The government is planning to add 1,000 Kopaja buses, provide better service, switch to more eco-friendly gas, and subsidize the corporation so prices remain affordable.
Residents' unhappiness regarding mobility and transportation infrastructure is on the rise in Rio: long intervals between trains contribute to crowding, discomfort, and safety concerns both in stations and on the train. There are currently 92 transportation projects around the city, including an expansion of the metro line towards the city's southern area, and the incorporation of new metro trains to reduce the intervals in train service. In addition, the city will implement a network of cameras to monitor the provision of bus service in real time, to ensure security during night shifts, and to find and correct recurring service problems. Future measures include reducing the use of cars by charging users fees and taxes, especially in the city center.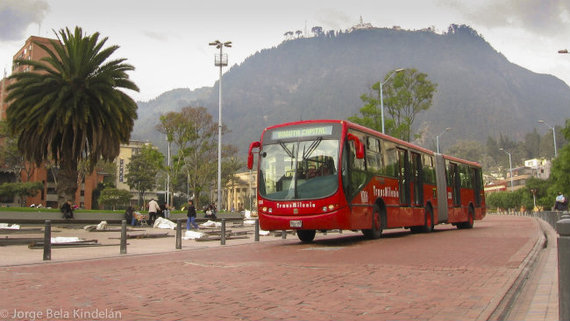 In Bogotá there is still a widespread presence of small buses (busetas, as locals call them), which spew thick clouds of black smoke. Nevertheless, Bogotá just won the City Climate Leadership for a transportation project currently being implemented to introduce hybrid buses and zero emissions taxis by the end of 2013 to improve the city's environmental conditions. The first round of eco-buses deployed on 7th Avenue, Bogota's main artery, on April 15th, with another round coming in July. Charging stations are being built in strategic locations, and the first one is already operating. Once the hybrid buses replace the highly polluting minibuses, the air quality in the area will improve significantly.
There is a need to develop different economical as well as environmental modes of transportation to address the challenges of crowded cities in the global South. Visit URB.im to learn more and to join the discussion.
Photo credits: Tolu Talabi, XXVIII, Miguel Matus
REAL LIFE. REAL NEWS. REAL VOICES.
Help us tell more of the stories that matter from voices that too often remain unheard.