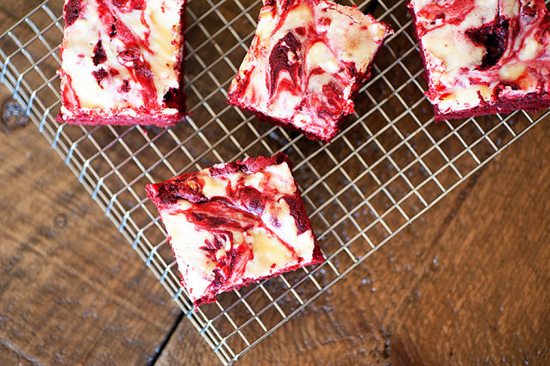 Karly cracks us up on her blog Buns in My Oven, and quite regularly stuns with all kinds of recipes. You'll find her passion for baking, especially Bar Desserts, on Food Fanatic.
Turns out that there are three types of people in the world.
The first type are the true foodie people. They would not even dream of eating something made from a box mix. Hamburger Helper? Puh-lease.
The second type? Well, homemade brownies just aren't their thing. They prefer the boxed version. Why mess with perfection, right? Also, reading a recipe is hard.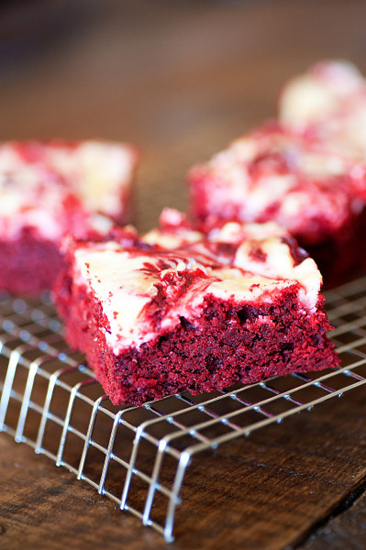 And the third type of person is, well, me. I make my own ricotta cheese for pasta dishes. I sometimes make my own tortillas on taco night. I make biscuits from scratch. Then I turn around and eat Stove Top Stuffing every chance I get and buy packages of refrigerated cookie dough for emergency situations.
Basically, I'm an enigma wrapped in a homemade croissant topped with a slice of Spam. Ok, no. Even I would not purchase or eat Spam. A girl has to have some standards.
Anyway, I hope you're the third type of person too. We can be friends. Let's bond over these Red Velvet Cheesecake Brownies.
Sure, I could have made the brownies from scratch, but I wanted a quick treat that wouldn't interrupt my Pretty Little Liars television time. Bonus points: This treat is perfect for after school, or Christmas too! It's a gift for you because it's easy and a gift for your loved ones, because, well, it's Red Velvet Cheesecake Brownies.
1 box red velvet cake mix
1/2 cup butter, melted
1 large egg
1 tablespoon water
8 ounces cream cheese, softened
1 large egg
1/4 cup sugar
1/2 teaspoon vanilla extract
Preheat oven to 350°F. Grease a 9x13 baking dish.
Beat together the cake mix, butter, egg, and water until well combined. Dough will be very thick and sticky. Press the batter into the prepared pan.
Beat together the cream cheese, egg, sugar, and vanilla until well combined. Drop by the spoonful onto the brownie dough.
Bake brownies for 10 minutes and then remove from the oven and run a knife through the dough to swirl the cheesecake throughout. Return to the oven and continue baking for 25 minutes or until set.
Cool completely before cutting.
Store in an airtight container in the refrigerator for up to 5 days.