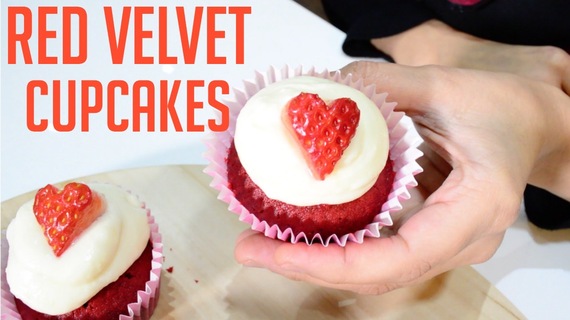 A very quick and simple Red Velvet Cupcake recipe for you.
These are so delicious and great for any occasion!
If you like recipes, stick around and subscribe for new videos every week!
INGREDIENTS FOR CUPCAKES:
2 & 1/2 cups Sifted Plain Flour
1 & 1/2 cups Sugar
1 cup Cooking Oil
1 tspn Vanilla
1 cup Butter Milk
2 Eggs
1 tspn Food Colouring
1 tspn Baking Soda
Salt to taste
1 & 1/2 tblspns Cocoa Powder
1/2 tspn White Vinegar
INGREDIENTS FOR FROSTING:
8oz Cream Cheese
4oz Butter
8oz Icing Sugar
Make sure not to miss a single video from Anisa!
Click here to Subscribe: http://goo.gl/4nEe8A
Help support the channel when shopping on Amazon at no extra cost to you. It would really help me out!
Use this link -- http://amzn.to/1VMwc8c
I upload weekly recipes so you might as well subscribe!
This channel is for anyone who loves food and and how to cook from student's to someone preparing for marriage or even if you are just in need of some inspiration!

I live in Leicester, England and have learnt from the the best Chefs, who have taught me everything from savouries , delicious, tasty mouth watering home made good food, snacks to sweet dishes, desserts and more!