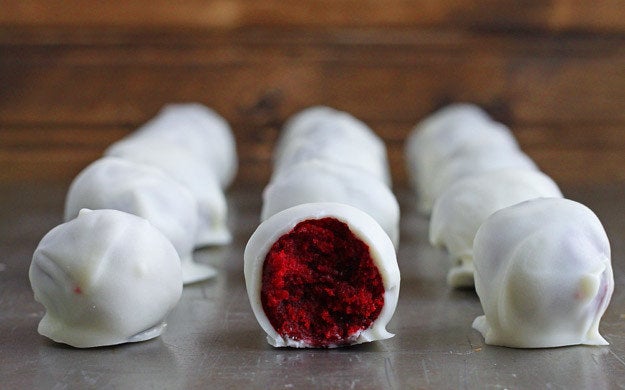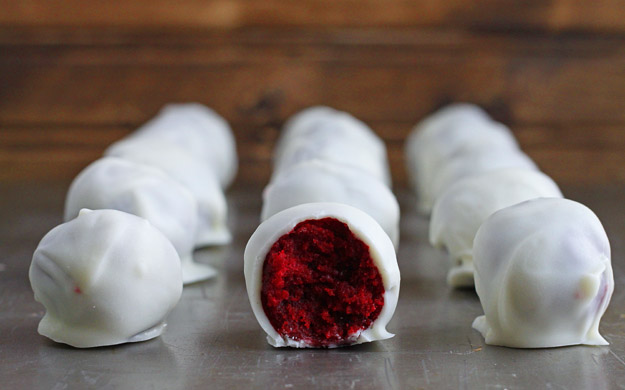 It's Red Velvet season! Yes, red velvet has a season. In the South, Christmastime is when we bake towering red velvet layer cakes. Christmastime is when we set out cupcake towers for the kids piled high with red velvet cupcakes dusted with cocoa powder. The house is decorated unapologetically red and green, so the desserts should match, don't you think?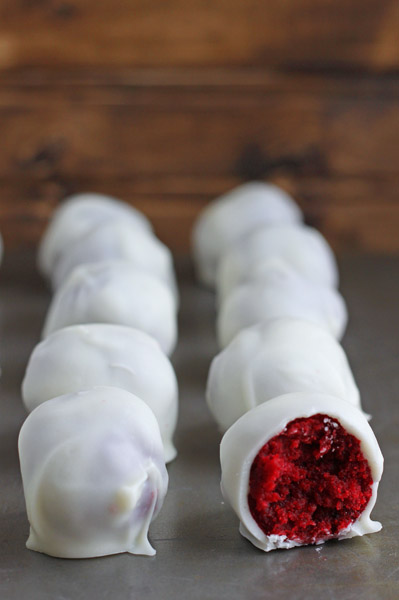 These red velvet cake truffles are perfect for parties. Everyone loves them. You could even bake one batch with red food coloring and one batch with green food coloring for a festive mix!
Red Velvet Truffles
Yields three dozen
Ingredients
2/3 cup + 2 tablespoons flour
4 teaspoons cocoa powder
1/4 teaspoon baking soda
1/4 teaspoon salt
1/2 cup vegetable oil
1/2 cup sugar
1/4 cup buttermilk
1 egg
1 1/2 teaspoon red food coloring
1/2 teaspoon vanilla
1/4 teaspoon white vinegar
6 ounces cream cheese, softened
1 cup powdered sugar
24 oz. almond bark (or white chocolate) for coating
Instructions
Spray a six inch round cake pan with cooking spray and preheat the oven to 350.
In a medium bowl, sift together the flour, baking soda, salt and cocoa powder.
In another bowl, beat together the canola oil, sugar, buttermilk, egg, red dye, vinegar and vanilla using an electric mixer.
Slowly add the dry ingredients to the wet ingredients, mixing all the while. Scrape the batter into the cake pan and bake for 35-40 minutes until a cake tester comes out clean. Let cool completely on a wire rack.
When cool, crumble the cupcakes into crumbs. In a bowl, mix the softened cream cheese and powdered sugar. Add the crumbs and stir very well. Scoop a heaping tablespoon of the mixture into your hands and then roll into balls. Place the balls on a plate and refrigerate at least four hours.
To make the coating, chop the almond bark into one inch chunks and place in a bowl. Heat on medium power in the microwave in 30-second intervals, stirring in between until melted. Dip each ball into the coating quickly, using a fork to turn, then let them dry on a piece of wax paper. Can be made three days ahead of time and stored in the fridge.