The weather last weekend seemingly had a nervous breakdown, constantly flipping between stormy downpours and short bursts of sunshine. With huge waves pounding at the shore, driving along the Pacific Coast Highway to Malibu, to Pepperdine University, was quite an adventure. So, I was wondering how many people were going to show up for Sunday's opening of Larry Bell's exhibition at the Fredrick R. Weisman Museum of Art.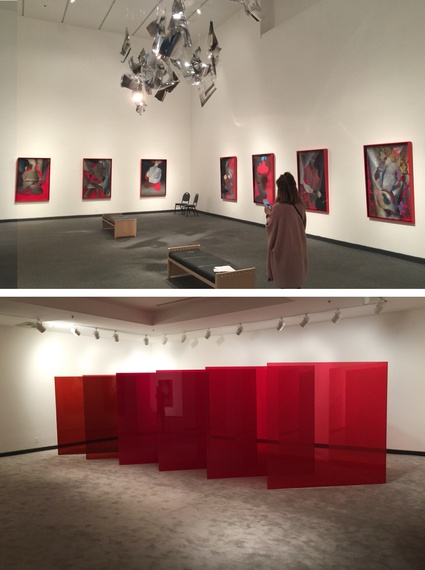 Top: Installation View
Larry Bell: Pacific Red at the Weisman Museum of Art: Malibu, CA
Bottom: Larry Bell, Pacific Red II, 2017
Laminated Glass
Courtesy of the Larry Bell Studio
It turned out to be quite a large crowd, which shouldn't be a surprise, considering the international reputation of Larry Bell (b. 1939) -- a founder of the California Light and Space movement.
Upon entering the exhibition --weather be damned-- everyone was greeted with a happy burst of the bright red color that dominates the whole exhibition, which is appropriately titled Pacific Red. In the first gallery, I walked through the imposing red glass labyrinth of the sculptural installation Pacific Red II.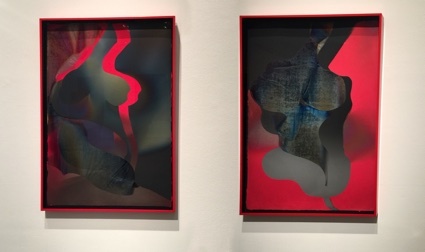 Left: Larry Bell, C.S. 9.19.15, 2015
Mixed media on red Hiromi paper
Courtesy of Larry Bell Studio
Right: Larry Bell, C. S. 9.19.15, 2015
Mixed media on red Hiromi paper
Courtesy of Larry Bell Studio
And then, in the main gallery, I saw a series of recent mixed media prints of Larry Bell's trademark abstract compositions, evoking either the female body or the stormy sky. The youthful optimism and endless energy of these new works gave me a much-needed reminder that life is good.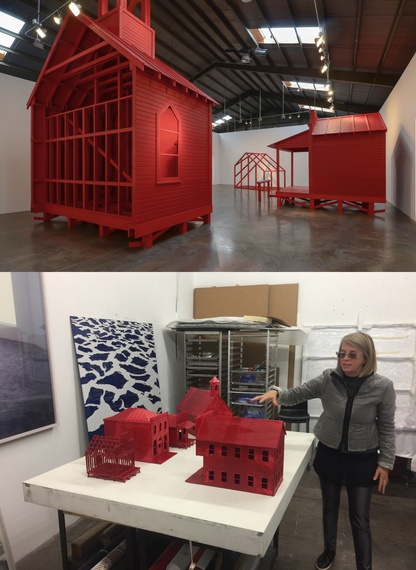 Top: Installation View
Rachel Lachowicz, Lay Back and Enjoy it at Shoshana Wayne Gallery
Courtesy of Shoshana Wayne Gallery
Bottom: Rachel Lachowicz at her studio
Coming to the opening of the Rachel Lachowicz exhibition at Shoshana Wayne Gallery, I was once again happily confronted by the color red. Though this time, it was delivered through the layers of melting red lipstick that cover the large-scale architectural constructions built by Lachowicz, who drew inspiration from the set of Clint Eastwood's 1973 film High Plains Drifter. These two structures -- the Sheriff's Station and the Church -- are completely covered in seductive red lipstick. With its delicate smell, the layers of lipstick not only please the eye but appeal to the nose as well.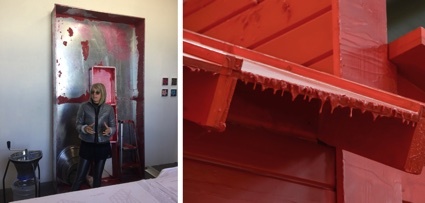 Top: Rachel Lachowicz at her studio
Bottom: Detail from Lay Back and Enjoy it
Courtesy of Shoshana Wayne Gallery
It was an extra pleasure to be invited to visit Rachel Lachowicz's studio and to see the "art kitchen" where most of her works from the exhibition were made. The only thing that I regret was not being able to observe the artist as she melted the massive amount of lipstick and then dipped hundreds of pieces of wood into this red concoction. One can be sure that it was a labor-intensive process, but the resulting exhibition comes across as an inspiring, dream-like fantasy.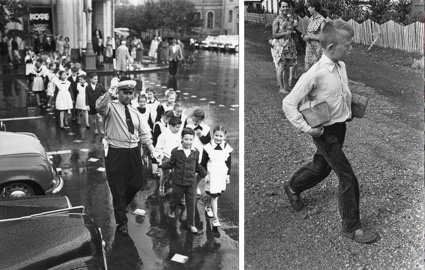 Left: Nikolay Rakhamov, September 1st, 1960s
Courtesy of Duncan Miller Galler
Right: Grigory Dubinsky, Bread has arrived, 1960s
Courtesy of Duncan Miller Gallery
Another exhibition I went to see this past weekend was Soviet Photography: 1930-1985, presented by Duncan Miller Gallery. These works of over 20 photographers has never been seen in the U.S. before. And it took gallery director Daniel Miller several trips to Moscow to find the artists or their descendants and acquire these works.
Most of the photographs give an intimate look into the everyday lives of ordinary people: a boy proudly walking with two loaves of bread; school children crossing a busy street with the help of a policeman; a construction worker on top of a high-rise installing a gigantic hammer and sickle -- the iconic symbol of the Soviet Union. Upon entering this exhibition, one is greeted by large lettering in Cyrillic that for many visitors might be a mystery. But here's the translation: from Russia with love.
Calling all HuffPost superfans!
Sign up for membership to become a founding member and help shape HuffPost's next chapter