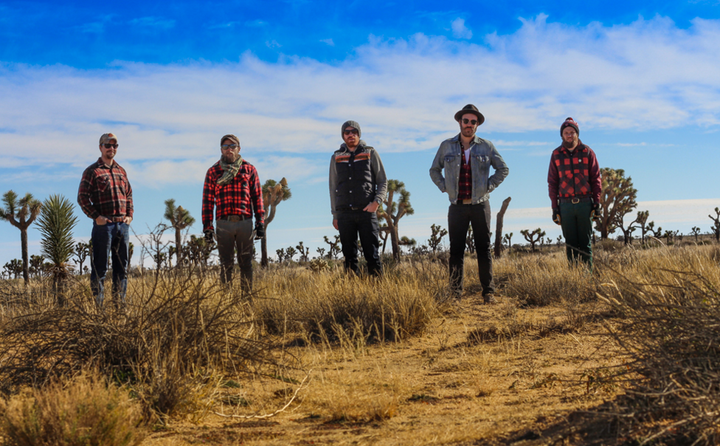 These days, most people don't get past the one year mark of staying together. The band Red Wanting Blue have outlasted the majority by celebrating twenty years on the road with the recent film and live album, RWB20: Live at Lincoln Theater. Lead singer Scott Terry recently sat down to talk about the band's latest project.
"The reason we wound up doing this is because we have a new album that is coming out in the winter of 2017 and we toured most of 2016. My wife wound up telling everybody in the fall that the band was going to turn twenty years old. It was so bizarre hearing that. We wound up going to our old stomping grounds. If it were up to me, I am honestly the type of person who would remember my twenty year anniversary...two years after the fact," Terry laughed.
Not much of a numbers guy, Terry was happy with the end result of his latest undertaking. "I don't make a big deal about anniversaries or parties and things like that. It was cool because the family, all of the wives of the band and everyone in the community thought it was a big deal that should be celebrated," he nodded. He explained his own wife played a big role in RWB20. Terry said, "My wife, who directs videos for a living, wanted to help spearhead the project. We had unreleased stuff from the new album and songs that we have done from the past twenty years. My wife has done all of our band's music videos. Having her vision for a show, with her help, our band got together and talked about it." The singer then explained how hard it was to put it all together. "We went back chronologically—which is difficult to do where you can't jump around. I would have probably done it randomly if I didn't have someone helping me. It really was cool looking back at it now seeing the finished project. Seeing it go back in time really helps tell the story better," he told me. He followed up by saying, "We are a band that got our reputation as being a live band. We had one live album ten years ago. We've never done anything this big before which was actually the first real live concert film and album."
During their twenty years together, Terry had a variety of different memories that he wanted to share. "You always remember your first national tour. I remember the first time I got to step up to the Santa Monica Pier and got to put my feet in the Pacific Ocean—I grew up in New Jersey. I also remember going to college in Ohio where I formed the band. I'm a kid who was born in America so I share the same romanticisms with everyone who wasn't born in California usually has—the idea of the West Coast," Terry glowed. He continued with his reflection. He told me, "I'll always remember those things. I remember playing David Letterman—that was cool. There's a music festival that we've been very fortunate to do for the last five years. It's called the Rock Boat. It leaves from Florida and goes to the Caribbean for five days. There are 30 to 40 bands all on this ship trapped with a bunch of fans. It's a crazy experience. I remember the first time we went on one of those. I remember being really excited when we got to join that."
The frontman opened up about his love of traveling and how being in a band helped him explore his passion. He told me, "Besides my love of music and performing, I thought that being in a band would be the fuel that would get me to go travel and see all the things that I wanted to see. I associate a lot of my memories with a lot of milestones when it comes to geography." He elaborated, "This band got me to go all over the place. I got to see Niagara Falls, the Grand Canyon, Mount Rushmore and the Alamo. I remember I got excited when the band got to Seaside, Oregon and we got to stand in front of the rock from The Goonies and things like that. It's a very cool thing to look at a map at the United States and think that we've been to every single one of them with the exception of Alaska and Hawaii."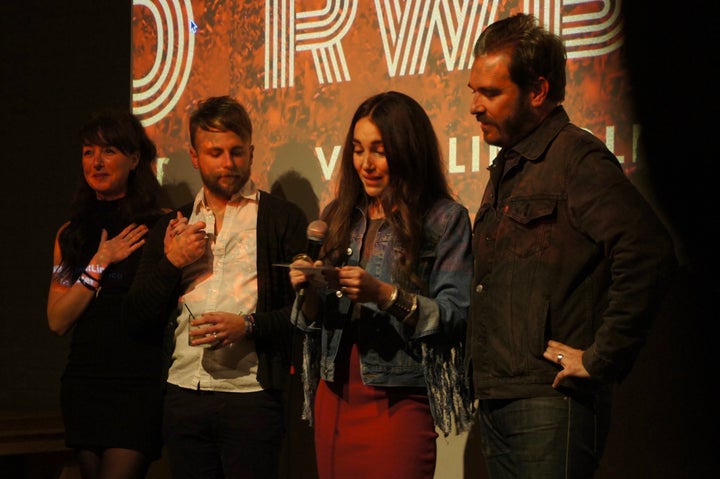 It hasn't always been a rockstar lifestyle for the guys, Terry explained. "Historically, we've been a grassroots band with a grassroots following. Sometimes when I look at all the traveling—I think of it like we are truckers. Driving around to a lot of gas stations and pitstops at diners. We're not explorers by any stretch of the imagination but it's great to go to places that you haven't been before," the singer nodded.
Terry told fans that he has big dreams for Red Wanting Blue going forward. "I'm really hoping for twenty more years. The truth is, we started when we were kids. When we started, I didn't think I was a kid. When I started the band, just getting to college in the 90s, back then the music industry was so different," Terry stated. He continued, "We are fortunate despite all of the shit that the industry has taken by way of technology coming in and turning the entire music world on its side...the one thing that has been great for a band like us—we've taken the bruises and the hits and we earned our road stripes." Terry's voice got more powerful as he continued to talk. "We did all of these things to get to be a band where the oldest member is only 40. We are still really young and have a lot left to accomplish. We are excited to be part of an active scene." Red Wanting Blue has a lot to be proud of. When the going got tough, the band stuck it out to cement their legacy.
"It feels like we've been doing the work...hiding in plain sight, playing towns that aren't Los Angeles or New York. Not being on late night TV every time. We are regular kids from America that started a band who played regular towns. That's why there are a lot of places out there where a lot of people may have never heard of but are really near and dear to us," Terry said.
Terry stressed that Red Wanting Blue couldn't have survived without the love from the fans. He wanted to let them know that their latest project was a thank you for their everlasting support. He told me, "I would say that this live album was a love letter from us to them. I hope everyone sees the love that we tried to pour into it for them. We've always been a fan supported band. We survived without major radio support and major labels. This twenty year mark—we wanted a keepsake and I hope it comes off as a genuine love letter to the fans."
Popular in the Community