What if Captain America wore a turban and roamed the streets fighting intolerance?
This is exactly the superhero cartoonist Vishavjit Singh envisioned when he created Sikh Captain America, who, unlike traditional comic heroes, specifically fights hate crime. Walking the streets of New York and other U.S. cities dressed in his superhero getup, Singh discovered that Americans are largely receptive to this message, though stereotypes persist.
"I was nervous and apprehensive about how people would respond to my presence in costume," Singh, the creator of Sikhtoons, told The Huffington Post by email. "I was stunned by the incredible reception from hundreds of New Yorkers and tourists."
Singh's public performance is the subject of a new documentary, "Red, White and Beard," produced by filmmakers Ben Fischinger, Matthew Rogers, and Ryan Westra, and made possible by a grant from Sikhlens, a nonprofit that promotes Sikh culture. The film followed the cartoonist last summer as he made his way through Manhattan, interacting with passersby and explaining "Sikh Captain America."
"My trips as Captain America have taken me from NYC to LA to Kansas and upstate NY," Singh explained by email. "It is almost as if me in character as the most patriotic fictional of American superheroes flicks a societal switch for people to at least embrace me as someone who is expressing his American-ness."
Singh said he found inspiration for the character following the 2012 mass shooting at a Sikh gurdwara, or temple, in Oak Creek, Wisconsin, that killed six worshippers. Whatever hesitancy he felt about assuming the role of Sikh Captain America fell away when he saw his faith come under attack.
"For me tragedies and experiences we would define as intensely negative have been doorways to fascinating journeys many of which I am still engaged on," Singh said.
In his own life, Singh has been the target of hate speech and racial profiling, most recently after he appeared in a Facebook Tips video. Comments flooded in beneath the video, exposing an ugly face of discrimination that many Sikh-Americans have become all too familiar with.
"My goal is not just to educate people about Sikhs but more importantly accepting our diversity, judging each other by our actions, getting to know our own unique stories which intersect in ways we cannot imagine if we have created boxes of us, them, other, foreign," Singh said.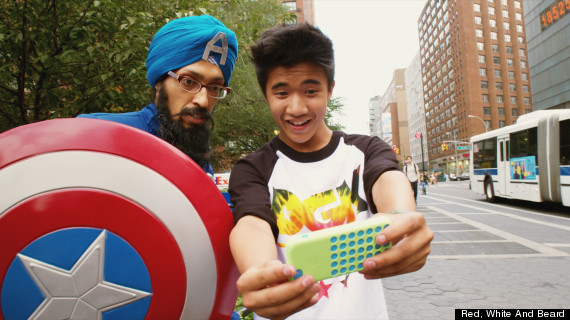 Westra said Singh's story offered not only a humorous and entertaining subject to capture on film, but also one that touches on larger issues of racism and discrimination.
"In the wake of 9/11 and with the wars in the Middle East, there has been a clear rise of racism is our country, especially towards those who look like our dear friend Vish," Westra said in an email to HuffPost. "With Vish we knew we had a story that was bizarre enough to gain interest, but important enough to make an impact."
As the U.S. becomes more diverse, Rogers said he hopes to see more characters like Sikh Captain America -- and he said he has no doubt the country is ready for it.
"I see America on the whole becoming more aware of cultural and religious prejudice," Rogers said. "The idea that Captain America and other superheroes 'have to be white men' is a dated way of thinking. It's time for America to be represented in the media like the melting pot it is."
Related
Before You Go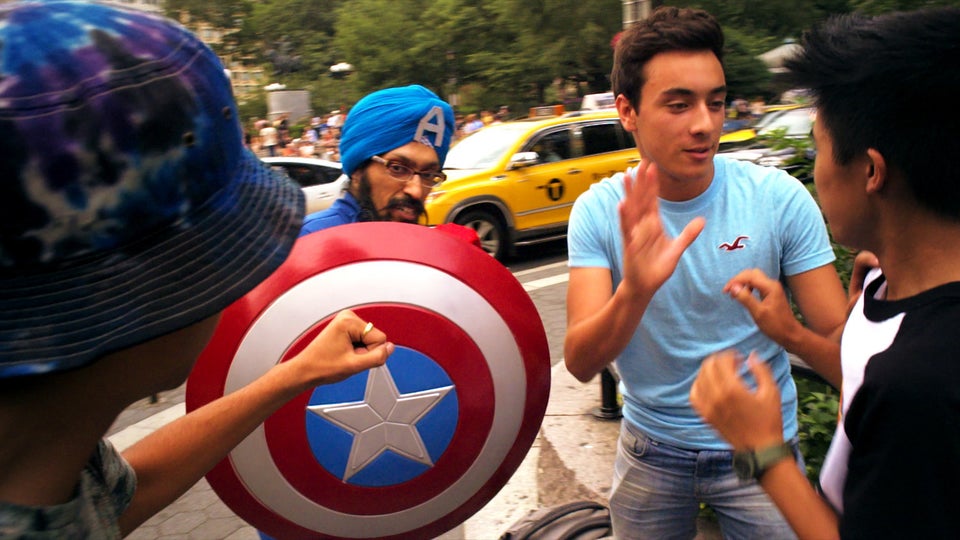 Sikh Captain America
Popular in the Community