Here's a fun, festive fruit salad recipe that's perfect for 4th of July!
If you've been reading for a while, you'll know I love to play with this recipe and make different versions of it, depending on what ingredients I have on hand.
It's always a favorite at Summer parties. Oh, and don't skip the mint because it really makes the flavors pop in this dish.
INGREDIENTS
1 pint strawberries, cubed
2 white flesh peaches, sliced into cubes
1/2 a honeydew melon, sliced into cubes or balls (if you have a melon baller)
leaves from 3-4 sprigs of mint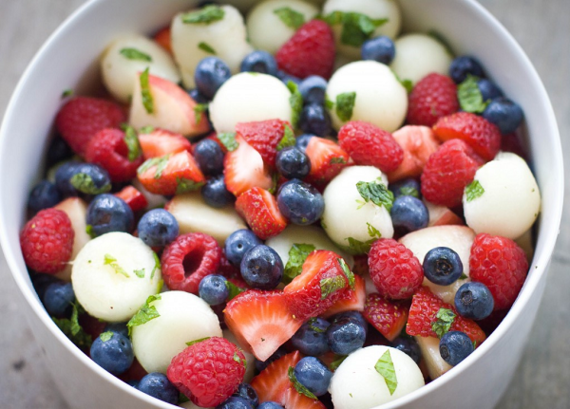 DIRECTIONS
Chop mint leaves and toss with honey (more or less to taste), lemon juice and 1 Tbs water. Pour over fruit and toss until coated. Cover and let stand for about 30 mins.
You want to serve this right away or cover and store in the fridge to serve within 24 hours.
I love how I can express my love for both good health and my country in one easy dish.