PARK CITY, UTAH -- Over July 4th, I was hiking in the breathtaking mountains of Park City, clipping along at a steady pace at 8,000-plus feet with the Blind Melon song "No Rain" providing musical backup. I came upon a near-empty snowmaking reservoir that is usually full at this time of year. Realizing I never paid much attention to the lyrics since the song's hook is so unique, I suddenly thought, "No rain, indeed." The small puddle in the center of this receptacle won't provide much fuel for snowmaking unless the rains come a lot more frequently, and for long showers.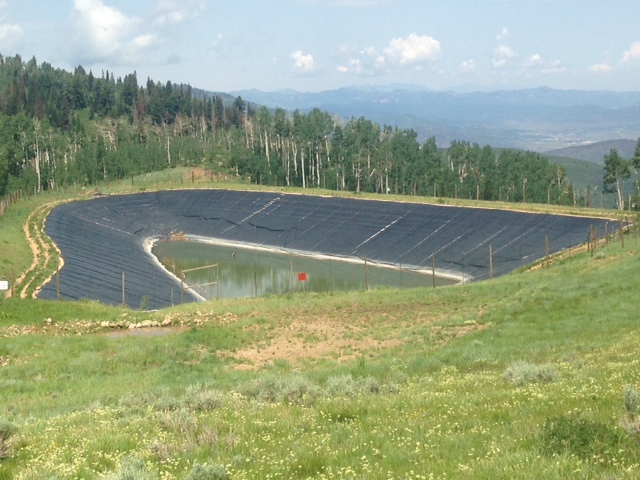 Not much fuel for snowmaking in Park City.
I had a very disturbing thought at that instant: Throughout the Southwestern U.S., for several years ongoing, we continue to suffer through a prolonged drought. In addition to Park City, my recent experiences in Las Vegas and Southern California, which I'll get to shortly, bear this out. No matter what strides we make with solar power, natural gas, electric vehicles, cleaner vehicle emissions and the like, if it just stops raining, we are all in trouble -- and sooner than later.

According to a June Yale Environment 360 article by Caroline Fraser, climatologists are studying this phenomenon, mega-forest fires are now the norm, and New Mexico is even worse off than SoCal and Nevada. Fraser writes:
"Looking back in time through the tree rings, [climatologist Park] Williams determined that the current Southwest drought, beginning in 2000, is the fifth most severe since AD 1000, set against similarly devastating mega-droughts that have occurred regularly in the region. One struck during the latter 1200s (probably driving people from the region) and another in 1572-1587, a drought that stretched across the continent to Virginia and the Carolinas. Few conifers abundant in the Southwest -- including piñon, ponderosa pine, and Douglas fir -- survived that latter event, despite lifespans approaching 800 years; those species have since regrown."
Critics and climate-change deniers can read data like this and say, well, look, the human race is still here, and so are the conifers... these are normal cyclical weather patterns and not reason to think carbon can cause these problems. I for one am not buying this. Our lack of rain since 2000 has become more of a dirty little secret than Aaron Hernandez's alleged habit of handgun discipline.
Just drive down Interstate 15 north of San Diego, where glimpses of used-to-be-full Lake Hodges now reveal what looks more like a dry riverbed in some spots than a reservoir that supports the water needs of thousands of families. Or how about a small, admittedly anecdotal but nevertheless devastating, example of the increasing dryness. Look at the photo of the ground at what used to be a small lake adjoining a development called "Skylake Estates" in Fallbrook, also located in North County San Diego. This looks more like the Mojave Desert in the middle of a scorching summer than temperate San Diego. As a friend recently commented, "Pretty soon we will be like the animals in the Serengeti sucking the last ounce of water from mud puddles.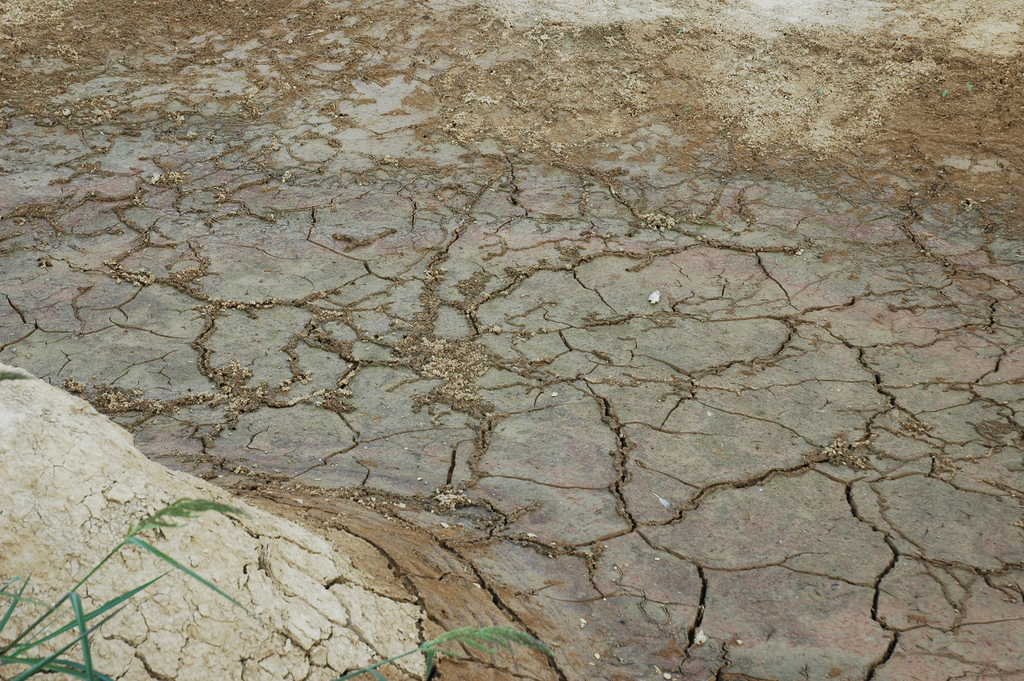 What used to be a small lake. (Flickr)
As for Las Vegas, our home in still-beautiful but increasingly hot and dry Lake Las Vegas sits at the water's edge... and that edge continues to be lower and lower. Indeed, a number of studies show that Lake Mead, the source of water for the Lake, has lost more than half of its volume over the past three decades.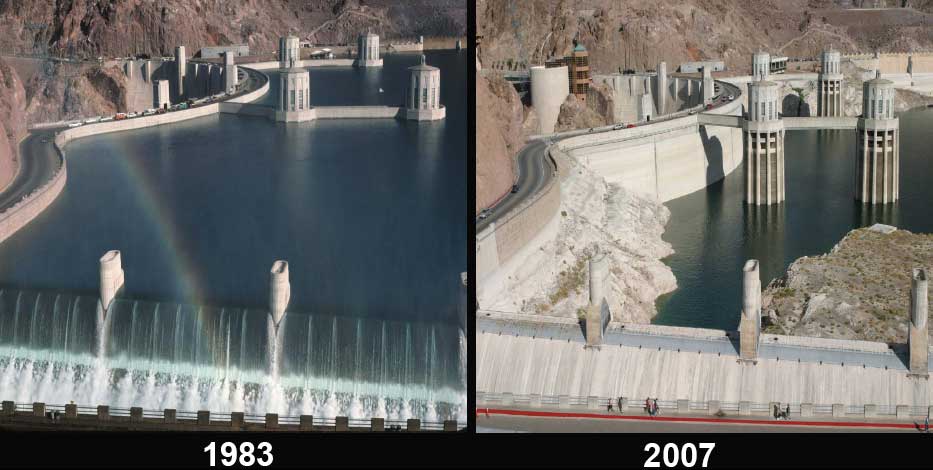 Water levels at Lake Mead (www.globalwarmingforecasts.com)

So what do we do about this? Traditional Native American rain dances perhaps? Cloud seeding? Praying to the rain gods? Importation of glaciers via Airbus? The answer is, there is not a whole lot we can do to make it rain, and the horrific results of this situation are already starting to accumulate. As in thousands and thousands of dead forests and the ramifications thereof in loss of oxygen, food and shelter for animals, this wreaks havoc on the food chain and Mother Nature in general.
Here is what you can do. These things may seem small, but when they are multiplied by millions of people worldwide, the savings of millions of gallons of water per year can and will affect the shortage that we are headed for. I ask you to begin practicing these simple but cost-saving and valuable water conservation tips:
Turn off the water while you brush your teeth. Simply wet your brush, turn off the tap, brush (your dentist would like you to brush for at least a full minute, preferably longer) and then turn the water back on to rinse. This will save you hundreds of gallons per year, especially if all of your family members join in.
Install low-flow showerheads and faucets throughout your home and office.
Research your diet on the web, you can learn about how much water is required to process and deliver certain foods to your table. For example, meat requires unusually high water consumption because of the cattle feeding and drinking prior to slaughter. Eating less meat will cut your indirect water consumption by a lot.
Give up taking baths; short showers only. Admittedly a sacrifice, but a great way to save water.
Turn your sprinklers down as low as possible during the hot summer. Yes, your lawn won't look its best, but you will save hundreds or depending upon the size of your yard, thousands of gallons annually. Not to mention, hundreds of dollars worth of water bills.
Thank you all for taking time to think about this critical issue. Talk it up with your friends, family, neighbors and co-workers. Again, if we all do our part, we can assist Mother Nature in the daunting task ahead. Join me in cutting water consumption and praying to the rain gods!
Calling all HuffPost superfans!
Sign up for membership to become a founding member and help shape HuffPost's next chapter