This is the final entry in the "Designing Networks for Social Impact" blog series. In the first article, we introduced the eight design dimensions strategy of effective knowledge networks. And then, in the second installment, we showed how the Women's World Banking Leadership Community successfully applied this strategy. In this this last post, we'll show you how we expanded early engagement on our online learning platform by focusing on two vital dimensions: convening structures and facilitation.
Forests have a critical role to play in the fight against global climate change. Forest loss accounts for up to 20 percent of global carbon emissions -- more than all the cars, trucks, trains, planes and ships in the world. By reducing forest loss, we can reduce carbon emissions and fight climate change. It's that simple.
Reducing deforestation and forest degradation in developing countries, conservation and sustainable management of forests, and enhancement of forest carbon stocks hold a great deal of promise as a way to cut global greenhouse gas emissions. REDD+ -- which stands for reducing emissions from deforestation and degradation -- is the term for this initiative with these goals in mind.
The WWF Forest and Climate Programme works to advance support for REDD+ at the international policy level with forest countries and on the ground with local communities. Our goal is to build capacity and ensure programs for REDD+ produce real and verifiable emissions reductions while benefiting biodiversity and people's well-being.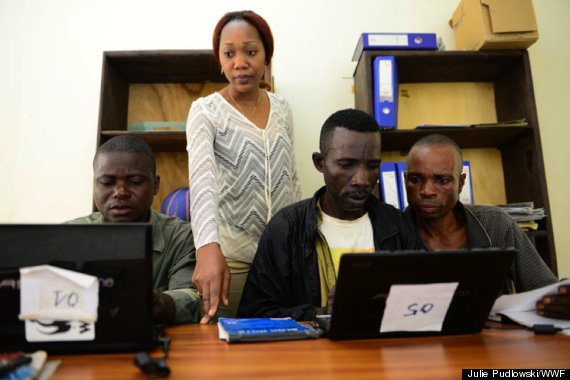 The WWF Forest and Climate Programme works on REDD+ initiatives with local communities in the Democratic Republic of Congo.
Last year, as part of our work in supporting REDD+, we launched an online learning platform called REDD+ Community. REDD+ is a complex, constantly changing topic, and we realized that the diverse people working on this topic would benefit from having a central place to find the latest information and learn and share with others. REDD+ Community is designed as a collective learning tool for REDD+ practitioners around the world -- all organizations, government agencies, and international bodies who want to establish partnerships and contribute their expertise in an online information sharing environment.
The overall goal of REDD+ Community is to increase the capacity of REDD+ practitioners to deliver REDD+ at scale. With this in mind, we developed a platform with the following goals:
• Learning and innovation: Participants innovate and co-create knowledge through collective interaction. They produce and synthesize lessons from field projects and scale these up to influence international REDD+ frameworks. They demonstrate on-the-ground initiatives to support policy-development. To achieve this, we need to ensure that ideas (individual and collective) are made explicit, clear and accessible to the collective. For example, we need to make sure that a case study from a REDD+ project in Nepal can be shared with a policymaker who is negotiating at an international policy conference, and use it as evidence of something that does or does not work in the real world.
• Practitioner support: Individuals of key forest countries can learn from each other and not feel isolated. Practitioner support is also about individual practitioners hearing what others are doing and leveraging that knowledge in a practical way. Individuals need to build trusting relationships and have the confidence that the community at large is there to support them. For example, we need to make sure that, if somebody is working on a REDD+ project in Nigeria, he can easily find and contact others working on similar issues to discuss challenges and share tips.
• Translation and local adaptation: Translation is about capturing ideas and know-how that were learned from others and applying them to a local context. For example, we need to make sure that if a team in Indonesia successfully started a women's group to discuss REDD+ issues, another team in Peru can learn from that experience and apply it locally.
For any of the above things to happen, we knew that we needed to create an online place that was welcoming, easy to use and made members want to engage. During the design and development of the platform, we focused heavily on creating structures and infrastructures to elicit members' engagement.
Today, we have a thriving platform with the following functionalities:

• Commenting: Members are invited to post comments and reactions on all content shared by others. This builds trust and relationships among members and sometimes leads to lively and thoughtful debates on relevant REDD+ topics.
• Member connections: Members are encouraged to list their areas of interest and expertise so that others can easily sort this information by country to quickly find those working on a similar topic or in a specific country. Members can connect with each other through a "Contact" tab in the member profile.
• Social media integration: All content can be shared through a variety of popular social media platforms to continue these conversations and share resources across even wider networks.
• Synchronous communication through webinars: Through a series of monthly webinars on REDD+ topics, members can learn from and ask questions of experts in the field in real-time and can continue these conversations after the webinar through the platform.
• Open conversations: Any member is invited to post a conversation topic. We have built trust with members by having an open and available conversation functionality that doesn't require moderator approval.
• Easy sharing: Nobody likes to share content if it takes too long, so members can share content with a few easy clicks.
We have also focused on facilitation and feedback to further encourage engagement and knowledge-sharing:
• When members share news, publications, events or they start a conversation, we send an individual email thanking them and acknowledging the contribution.
• To keep momentum and to encourage members to visit the platform on a regular basis, we send out a weekly update with the most viewed content to show them what their fellow members are reading. We occasionally include a "member spotlight" profile highlighting an individual and his REDD+ work to our 650+ members.
• Because many of our members speak diverse languages, we post content in non-English language at least once per week to make non-English speakers feel more welcome. In addition, the REDD+ Community platform has a translation tool that makes it easy for anybody to read and understand the content in a variety of languages.
REDD+ Community launched in April, 2013 and has since grown to include more than 650 members from over 50 countries. As we look ahead to the ever-changing landscape of REDD+ work, we will continue to find innovative ways to spur engagement among members. At the same time, we'll be keeping in mind that technology must be coupled with intentional design in order to achieve learning, knowledge creation and meaningful REDD+ outcomes.
This is the final entry in the "Designing a Social Impact" blog series on networks and communities. Click here to see the first entry of the series, written by Columbia University academic director Katrina Pugh, who introduced to you the concept of the "Eight Network Design Dimensions." Then read how these eight network design dimensions were placed into practice by the microfinance organization Women's World Banking. For more information regarding designing effective knowledge networks visit: http://sloanreview.mit.edu/article/designing-effective-knowledge-networks/
Calling all HuffPost superfans!
Sign up for membership to become a founding member and help shape HuffPost's next chapter