He came to Reddit to share his heart-wrenching story and walked away with a bunch of new friends and generous donations.
Chris Tomlinson, a 28-year-old homeless burn victim, hosted an "Ask Me Anything" on Reddit on Sunday and users were so inspired by his experience that they've rallied together to give money to his cause and have already donated nearly $2,000.
The candid survivor shared the horrific details of how he was burned on more than 98 percent of his body when he was a baby and how he's continued to fight the bevy of obstacles he's faced since.
When he was nearly 2 years old, Tomlinson slipped out from a swing in his Florida backyard and ventured to the shed when his mother wasn't looking. He dumped gasoline on himself and after the pilot light on the heater ignited, it set the little boy on fire. His mother rescued him from the shed and doctors gave him a 1 percent chance of surviving the night.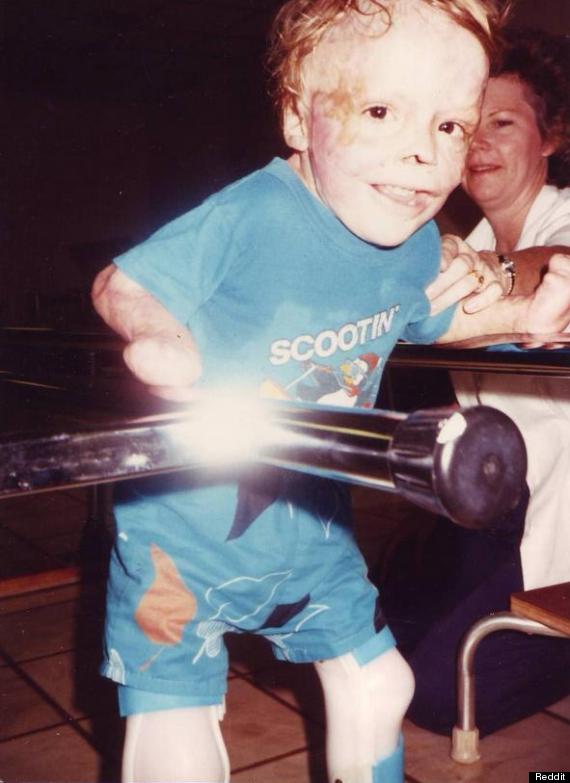 Now, 26 years later, Tomlinson is a married father of two, but is facing an entirely new plaguing problem –-homelessness.
Tomlinson was living with his wife and two daughters in their own apartment in Massachusetts until their rent went up and they could no longer afford it, he told The Huffington Post. The unemployed dad said he would love to work with computers, similar to what the "Geek Squad" does at Best Buy.
The determined survivor says he's able to secure interviews, but employers often say he's not "physically fit" to perform the tasks the jobs require.
The young family crashed at a number of friends' houses after they could no longer afford their home. But since June, they've been living in a crammed "hotel shelter."
However, Tomlinson's intention wasn't to elicit sympathy on Reddit.
Though he opened up about some of his hardships, including how he's undergone more than 200 surgeries, Tomlinson said the main reason he decided to make his story public was to help other people with disabilities and to get a conversation going about how to treat people who look different. For example, Tomlinson said he appreciates when people come up and ask him questions about his accident, instead of just gawking or quickly turning away.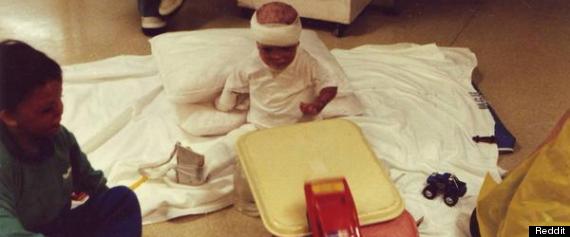 "I often find children to be nicer than teenagers and adults," Tomlinson wrote on Reddit. "When a kid stares I usually smile or wave or I hug my kids in front of them to show that I'm not going to hurt them. Usually my kids notice people staring first and will run up to me and hug me and play with me to show that I'm safe."
Tomlinson said the most inspiring Reddit moment for him was when he was able to offer advice to a woman who is currently caring for her husband in the hospital who was burned on more than 75 percent of his body. He told the woman that he would be happy to continue to provide advice when her partner is released.
He already knows what he would tell the burn survivor.
"Life is gonna be a little tough, but don't let it bring you down," he would like to tell the man. "Don't let it hold you down, it's going to make you stronger."
As users became more engaged with his life story, a number of readers characteristically stepped in to ask how they could help Tomlinson and his family.
"I know this is kinda cheesy but could we maybe get some donations going here?" asked MCSupaFresh."Reddit is full of people looking to give a couple bucks to a good cause. Just a thought."
But MCSupaFresh wasn't the only one.
The offerings kept pouring in, to the point that Tomlinson could no longer keep track of the number of private messages he got asking how to help, so he eventually shared his PayPal information.
Tomlinson, who's looking forward to getting prosthetic hands, said that he's going to mostly put the donations toward paying for gas to get to his therapy appointments.
Still, he was pretty insistent on explaining that he did not host the event to get money in return.
"I appreciate the help but I did not start this AmA for this," he wrote. "I just wanted to inform people about who I am and what I've gone through and the life of someone disabled, again I appreciate everyone's help though."

Before You Go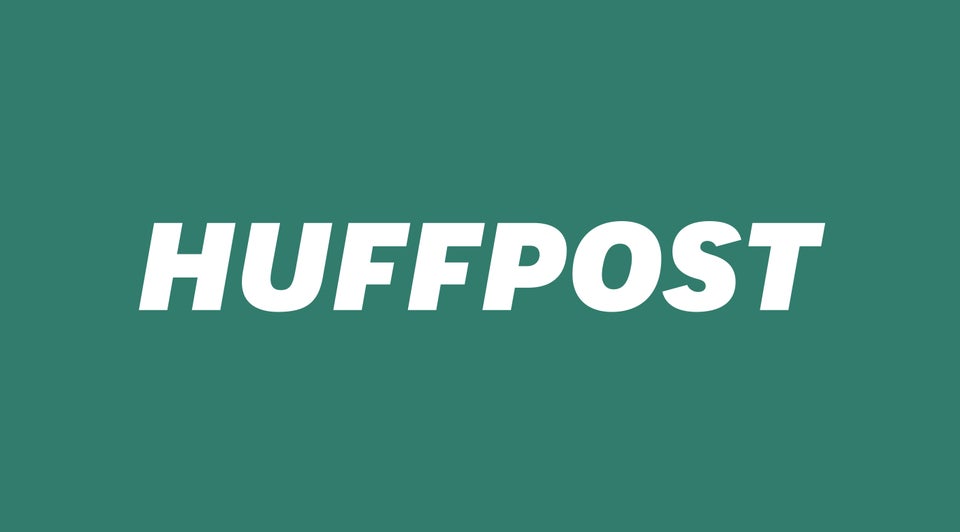 People Receive The Best News Ever
Popular in the Community