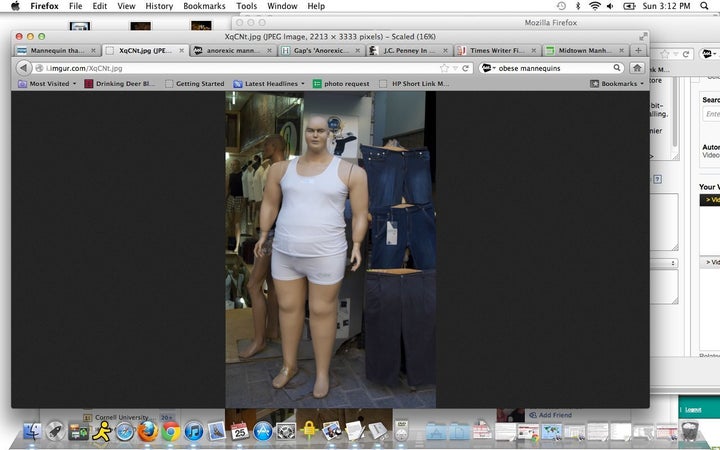 UPDATE: Nov. 25, 1:32 p.m. -- The post was found on Reddit's WTF subreddit and titled "horrifying," but Reddit user ReddityDoopity, who wrote the entry, reached out to us saying she meant it as satire.
My post seemingly mocking these mannequins was actually in satire. There was a post about thin mannequins being disturbing so I decided to show the flaw in this logic.
PREVIOUSLY: It seems when it comes to mannequins, the American public just can't make up its mind.
Titled, "Anyone else horrified that they make obese mannequins too now?" the post has garnered hundreds of comments and thousands of up votes.
In fact, when department store J.C. Penney debuted some noticeably larger mannequins at the opening of its New York City store in August of 2009, New York Times critic Cintra Wilson wrote an infamously catty review of the retail giant:

[J.C. Penney has] made a point of providing clothing for people of all sizes (a strategy, company officials have said, to snatch business from nearby Macy's). To this end, it has the most obese mannequins I have ever seen. They probably need special insulin-based epoxy injections just to make their limbs stay on. It's like a headless wax museum devoted entirely to the cast of 'Roseanne.'
Those who took offense to Wilson's piece included, "overweight people, tourists, plastic mannequins, people who are attuned to rampant classism, residents of 'middle America,' diabetics, and anyone who has ever found an attractive article of clothing at a J.C. Penney," noted Consumerist.
The snark cuts both ways, however.
See the photo of the mannequin in question and tell us what you think.
See some plus size models!