Just the other day, I was reading an article about former Australian Prime Minister Julia Gillard and how she has achieved international fame and it struck a chord with me.
The article talks about how instead of craving attention she has been doing substantial things in the past few years. She has been following her passion and her rise on the international stage has followed. Now, she is seen as an international leader in education, particularly of young women.
I talk a lot about redefining the spotlight so it resonates for each of us - in fact I did a TEDx talk on it last year.
From my perspective, being in spotlight is a privilege and a responsibility. And it's not just for the loudest or the most controversial. It's a place where we connect with our purpose and vision. It's not about being necessarily centre stage, it's about being heard.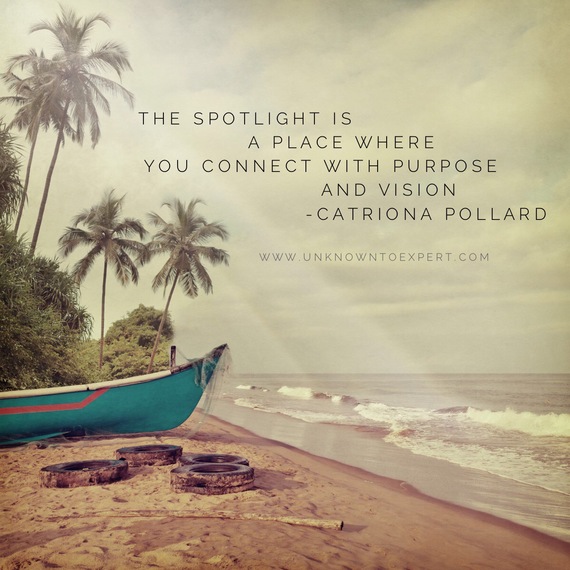 Sharing your purpose
At the end of Gillard's tenure as Prime Minister, I'm sure she did what I suggest you do, which is, ask yourself what your deeper purpose is.
It takes courage to be truly seen and heard. And while we might have a desire to move into the spotlight, I believe it needs to have purpose. It's about letting our self-limiting beliefs collapse around us and ask the larger question of "why".
For Gillard, as the article states, rather than trying to parlay her profile into a personal gain, she has used her considerable international political capital to direct attention, money and new approaches to transforming the lives of the world's most disadvantaged children, especially girls.
Redefine the spotlight
I believe we all have stories to tell that will help others in some way. We have experience and expertise we have developed in our lives that should be shared because others will benefit from it. The world needs to hear what you have to say.
For Gillard, she has redefined the spotlight following a bruising Prime Ministerial post to follow her passion of the advancement of young women and girls through education.
For you, it's time to ask yourself the question, "What is my passion?" Finding your purpose and uncovering your 'why' will help enormously in moving from unknown to recognised expert.
Stepping into the spotlight isn't about beating your chest...it's so much more than that. Often it's simply about the synergy and connections that you create when you are there.
About the author
Catriona Pollard is the author of From Unknown To Expert, a step by step framework designed to help entrepreneurs develop effective PR and social media strategies to become recognised as influencers in their field. www.unknowntoexpert.com
Catriona is also the director of CP Communications, which merges traditional PR tactics with cutting-edge social media strategies that engage consumers as well as business. www.cpcommunications.com.au
REAL LIFE. REAL NEWS. REAL VOICES.
Help us tell more of the stories that matter from voices that too often remain unheard.