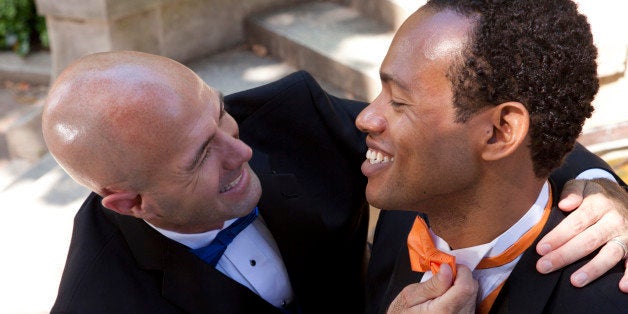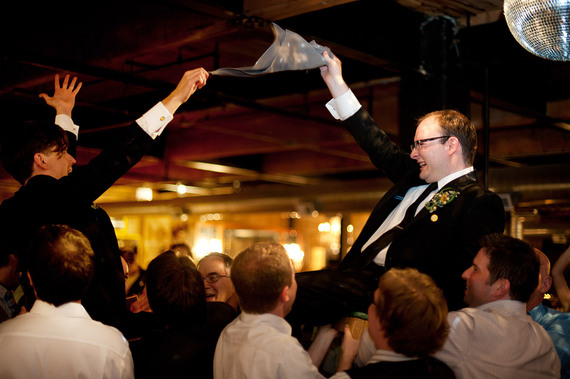 Photo by Arielle Doneson Photography
Someone recently asked me how I feel about "redefining marriage."
It was a loaded question, he admitted, implying that he was showing his hand as someone who does not support marriage equality.
We'd only just met as table neighbors in a hotel cafe so, though he knew that I supported marriage equality by the t-shirt I was wearing, he certainly didn't know that I also identify as a gay wedding expert and a married lesbian. It was the kind of conversation that happens infrequently as a gift of exchange between two strangers from different walks of life who would not know each other for any other reason than a chance encounter.
He had asked the question of me in a very respectful and thoughtful way so I thought for a moment about his question which, of the many questions I have received about same-sex marriage over the years, was a first for me.
Well, I said, I don't feel as if I'm redefining marriage. I understand marriage to be a commitment between two people in love. A life-long commitment, not without its bumps in the road. And, marriage, I said, was something that I had learned from my parents and grandparents (all of whom are opposite-sex couples). It is something full of meaning and ritual that I learned from my family of origin and it is something that I am recreating in my own family with my wife and son. So I told him, I don't really feel as if I am redefining marriage at all.
He considered what I said. I'm not sure that it changed his perspective or his definition of marriage, but I did feel that he listened.
Had we talked longer, I might have grabbed a copy of The New Art of Capturing Love to show to him. In it, my co-author, Thea, and I talk about marriage in the context of the engagement and wedding photography that occurs around it. Through the inclusion of 180 beautiful images, we reveal authentic and arresting examples of couples in love -- who also happen to identify as members of the LGBTQ community.
In the course of thinking about traditional wedding photography, gender norms and the needs of same-sex couples, Thea and I came to understand that the best practice for photographers is to work in ways which engender trust between a photographer and his or her clients while also striving to capture the couple in the most authentic way possible. This is essential when working with same-sex couples who present new posing challenges to old assumptions, but it is also important for any photographer who wants to be effective in his or her craft with all couples -- regardless of sexual orientation.
As I think about the many inspirational moments of loving couples portrayed in our book, I also think about the solutions I've seen same-sex couples propose over the years for their own wedding ceremonies and celebrations--many of which happened without legal sanction.
Had our conversation not been interrupted by the arrival of his travel companions, I might have told my acquaintance that our evolving improvisational and organic solutions for ritualizing an act of commitment between two people may not be redefining marriage, but they are redefining wedding traditions.
Our solutions to develop meaningful rituals outside of bride-groom gender roles -- from blended wedding parties to an empowerment of both partners -- are actually being embraced by modern couples, many of whom have never had to think twice about whether they'd be turned away when applying for a marriage license. And this is where the redefining of wedding tradition out of a shared appreciation of marriage will be a benefit to us all.
Kathryn Hamm is president of GayWeddings.com, an Education Expert for WeddingWire, and co-author of The New Art of Capturing Love. Follow her @gayweddingscom.
Popular in the Community