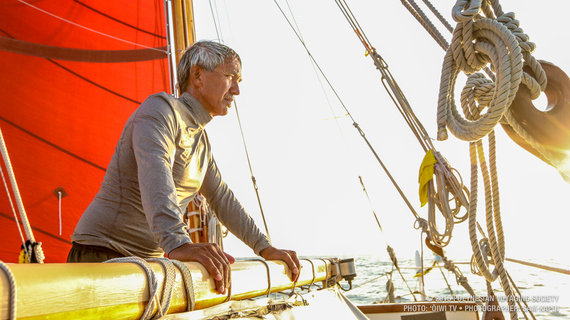 Half a millennium before Christopher Columbus sailed into the Americas, the largest expanse of ocean in the world was explored and settled by voyaging canoe.
Navigators of old turned what would seem to be an insurmountable barrier - 10 million square miles of vast blue ocean - into a highway connecting the great nation of Polynesia, the largest country of Island Earth. These navigators were the greatest explorers of Island Earth.
Over hundreds of years, the science and art of wayfinding and deep-sea voyaging experienced local extinction. In 1976, Hōkūleʻa became the first traditional Polynesian voyaging canoe built in more than 600 years, reviving the art and science of celestial navigation and deep-ocean voyaging, which lay dormant for those six centuries. Our heritage as wayfinders dates back thousands of years, to the greatest feats of navigation in the history of man.
Ever since our first voyage in 1976, we have known that Hōkūleʻa has the power to connect and inspire people, bridging our ancient past with the hopes for our future. Hōkūleʻa and her crew have been crossing the deep ocean for 40 years, without the aid of modern instruments, committed to showing the world that old knowledge can be made new again, and that traditional ecological understanding holds the keys to solving some of Island Earth's greatest problems.
What we see as we travel around the world is that we, the people who are currently setting the course for our Island Earth, are between two sail plans.
There is the one we have been on, where we continue on this trajectory of degradation and compromise, destroying the Earth, leading to the collapse of our environment, quickly followed by the collapse of our economies and the loss of our cultures and way of life. But there is another sail plan, one where our communities are knowledgeable and stand strong in our dedication to and connection with our oceans, lands and people, where we come together to be active and intentional, to make that shift for the benefit of our children and our future.
This second sail plan is the one we hope the world will join Hōkūleʻa in achieving.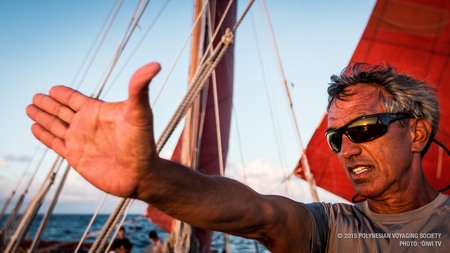 After 40 years, we left our home waters to bring Hōkūleʻa on her Worldwide Voyage, venturing into the world's oceans for the first time. Just as Hōkūleʻa is a beacon of hope born out of a place of unrest and controversy for Hawaiian people and the Pacific, we embarked on this Worldwide Voyage to share and find other stories of hope around the world during these challenging times - times when people all around the world are struggling to find solutions to issues related to our ocean and water, our land and air, our people, our history, and our future. We honor our teachers and ancestors - too many to name here but essential to bring to this conversation - as we sail to find the next great navigators who will steer this blue planet we call home to a better place than my generation has.
To protect life on Earth, we have to protect the oceans; everything that we need to sustain ourselves on this tiny little island we call Earth - our air, our food, all living things - everything is protected by the world's oceans. As islanders we understand the gentle and fragile balance between our ocean and land, our people and our environment. As voyagers we travel the deep ocean, traversing from near-shore waters to the high seas.
Island Earth is a blue planet, 71 percent covered by water; the oceans make up 96 percent of that, with the high seas as two-thirds of the oceans. Work must be done simultaneously in protecting, preserving and restoring our near-shore and high seas environments in order for us to ensure a healthy world.
We have collected messages of hope and declarations from countries, cities and communities around the world that are committed to mālama honua, to take care of Island Earth. We bring these declarations and stories of hope to the United Nations on this World Oceans Day, inspired by the message in a bottle given to us by Secretary General Ban Ki-moon last year. Over the past two years we have sailed 26,000 nautical miles and made stops in 14 countries, witnessing and experiencing both the challenges and triumphs in communities around the world as they work to better understand the impact we have and might have on our Island Earth.
We have sailed across oceans of time to reconnect with our ancestral pasts and with communities of people, finding that we are more alike than we are different, and that we are one people, who sail one ocean, and must learn to take care of our one Island Earth.
We are all part of this amazing voyage, to redesign a sail plan for humanity that celebrates our sacred home. This is the only island we have, and it is up to each and every one of us to mālama this precious honua.
Nainoa Thompson is the President of the Polynesian Voyaging Society and a master in the traditional Polynesian art of non-instrument navigating. He is master navigator for Hokule'a and an Ocean Elder.
This post is part of a series produced by The Huffington Post in partnership with Ocean Unite, an initiative to unite and activate powerful voices for ocean-conservation action. The series is being produced to coincide with World Ocean Day (June 8), as part of HuffPost's "What's Working" initiative, putting a spotlight on initiatives around the world that are solutions oriented. To read all the posts in the series, read here. Follow the conversation on Twitter with the hashtag #MakeASplash.
Calling all HuffPost superfans!
Sign up for membership to become a founding member and help shape HuffPost's next chapter