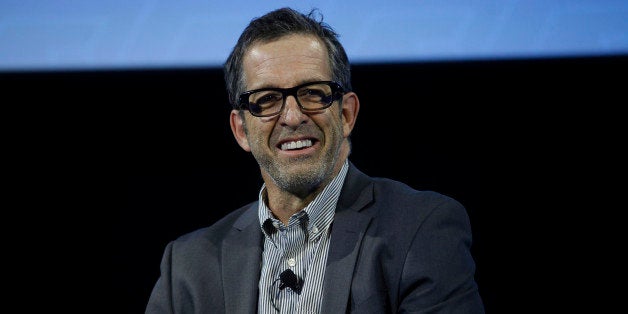 I was never very interested in school as a kid. I usually got good grades, not great. I did everything I needed to do, but no more than what I had to. For me, excitement came with afterschool jobs like selling peanuts at Shea Stadium. I learned that there is a direct correlation between how hard you work and your likelihood of being successful (however you define it).
As I reflect back on my journey, I always had a sense of where I wanted to go, but wasn't on what it would look like upon arrival or the path that I would take. I usually found myself on the road least traveled headed somewhere few had been.
I often took risks without understanding the possible consequences. As a young entrepreneur I learned out of necessity that the best solutions are not necessarily the most expensive -- but in fact, usually the most creative.
I had no grand plan. I realized quickly that the only thing reliable in this business, was change and to succeed I would need to build a culture that wasn't stifled, but in fact invigorated by it.
In the early 80s, I was confounded by an unsettling reality. All around us, people were contracting a strange virus that was infecting and killing young men at an alarming rate. People I knew. What made it even worse was that few were speaking out about AIDS because of the devastating stigma related to the disease. So, I did (without consulting case studies, focus groups or stakeholders). I partnered with amfAR and launched a campaign featuring the most beautiful and recognizable women in the world with children -- those least associated to stigma of the deadly disease. None of my products were showcased, and the models were all barefoot. The copy said "For the future of our children ... Support the American Foundation for AIDS Research." This was my first public service initiative. It changed everything for me and refocused my business priorities.
It was exhilarating to realize my business could serve as a platform for social change. I realized the power of addressing not just what our customers "stood in" but what they "stood for" would provide a much more meaningful and substantive relationship. Doing "good" was never part of business plan when I started -- but it was inherent from the get-go and is at the core of our DNA.
Today, 32 years later, now Chairman of amfAR, HIV/AIDS remains one of our main social causes, along with homelessness which started with the first shoe drive over 20 years ago and has raised more than 2 million pairs of shoes to date. While addressing hot button issues such as a women's right to choose and gun safety received backlash through the years, for the most part it helped create a real and meaningful connection with our customers and our communities and have made it our mission to "Look Good, For Good."
Inspired by the idea of mentoring future change agents, I established community engagement fellowship programs at a few of the top universities. I wanted to help inspire young people at this pivotal time in their lives, before they start to put up walls and say "why" vs. "why not." I wanted to help them see that they could "make a difference" while making money to pay the rent. That doing "good" can be a viable career path.
Recently, I was with a group of these fellows, and one them asked me how I felt about four year liberal arts colleges and the amount of money, time and effort that students put into them. I wasn't sure how to answer that question. This particular program was at Columbia University, one of the best universities in the world. So, obviously I have great respect for these establishments and value a higher education. But, honestly, I wasn't too sure that they were the be-all and end-all I once considered them to be. It used to be that college educations (particularly ivy league) were very proprietary and available to only the most elite among us. And, if you graduated from an esteemed university your path to a good job and fruitful career was set. But, that's not necessarily true anymore. It's very different today. With the advent of the internet and ability to gather, create and curate content, so many more people can gain access to a top quality education. Through organizations like iTunes University, TED/TEDx you can get free front row access to some of the world's greatest educators and thought leaders. You can now get credible degrees online without ever stepping foot on a college campus.
And, there is so much more offered on campuses today beyond the core curriculum. Extracurricular social entrepreneur programs, run by students for students, provide a network of like-minded "out-of-the-box" thinkers and visionaries. They inspire and mentor each other to look to the future vs. study from the past. This wasn't available when I was in school. Had it been -- I think my experience would have been totally different. Programs like Clinton Global Initiative University and Ashoka U or Compass Fellowship encourage young people to marry their career paths with social action. And, shows them that to the degree they can make "giving back" part of their journey, the destination will be far more rewarding -- socially, spiritually and financially.
At the end of the day, everyone's path is a very personal decision based on so many factors. I'm just glad the traditional walls are being knocked down and the playing field is a little more even. It's overwhelming to have so many choices but what a great problem to have.
Support HuffPost
The Stakes Have Never Been Higher
Related
Popular in the Community