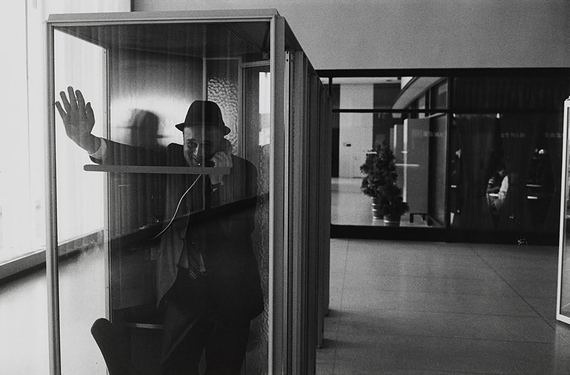 In 1974, famed photographer Garry Winogrand was lecturing at MIT when someone in the audience asked if he had a favorite place to take pictures.
Winogrand was one of the most influential street photographers of our day, but loquacious, he was not. In the videos I've seen of him, he seems good natured but it's clear the Bronx native didn't have much time for navel gazing.
Unlike Dorthea Lange or Walker Evans, two of Winogrand's influences who made emotional connections with their subjects, there's a sense Winogrand took pictures simply because the moment presented itself.
In fact, it was the physical act of taking the picture that interested Winogrand the most. He was notorious for taking photos and not editing them for years. When he died in 1984 at the age of 56, he left behind thousands of rolls of undeveloped film (some 250,000 images!), along with contact sheets he had marked but had never bothered to print. Some of those posthumously-processed-and-published images are included in the retrospective of his work that opens June 27 at the Metropolitan Museum of Art in Manhattan.
Winogrand wouldn't have cared much to be called a "street photography icon." In fact, he bristled at being called a street photographer. He called it a stupid title.
But the fact remains, countless street photographers have emulated Winogrand's style. There's a familiarity to his images.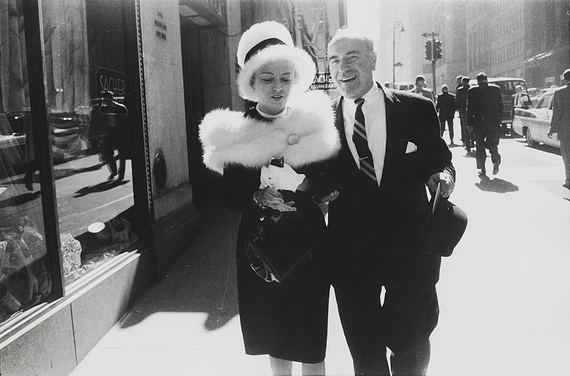 The dapper couple walking in New York City gives us a glimpse into a different era -- the clothing, the cars, the feel. Yet, our interpretation of their expressions and body language is probably the same today as it would have been in 1962, or 1862, for that matter. We're drawn to the man's brash confidence. He seems to be urging his demure female companion to look up and smile for the photographer.
That's the beauty of Winogrand's photos -- they are both timeless and epochal.
Winogrand was known to stalk the streets with two cameras hanging from his neck. He may have missed some shots but it was probably more the exception than the rule. He was one of the most prolific street photographers to ever pick up a camera, taking millions of photos during his lifetime.
If there's a lesson street photographers can learn from Winogrand, it's that greatness owes as much to being ready for the opportunity as much as it does to artistic vision.
The exhibit, which spent the spring at the National Gallery of Art in Washington, D.C., features a couple hundred of his images in an arc that follows him from New York City in the 1950s and 60s to Texas and California in the 70s.
If his early work showed the promise and vitality of post World War II-America, it veered to a more stark outlook in his later years.
Was it a conscious effort? Well, in this exchange during a 1981 interview with Barbara Diamonstein, he insisted he wasn't interested in how his work was received:
Diamonstein: And how do you expect the viewer to respond to your photographs?
Winogrand: I have no expectations. None at all.
Diamonstein: Well, what do you want to evoke?
Winogrand: I have no ideas on that subject. Two people could look at the same flowers and feel differently about them. Why not? I'm not making ads. I couldn't care less. Everybody's entitled to their own experience.
And maybe that's the best thing to keep in mind when you're viewing his impressive body of work: Attach a deeper meaning or motive to his art, if you like. But if he were here to tell you about it, he probably would just shrug and say he took the photo because he was there.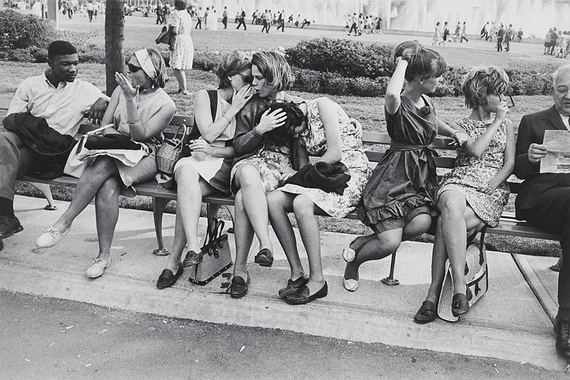 The Garry Winogrand retrospective runs at the Metropolitan Museum of Art from June 27 through September 21.
John F. Kennedy International Airport, New York, 1968, (image of man in phone booth),Gelatin silver print, Collection of John and Lisa Pritzker.
New York c. 1962, (image of couple walking), Gelatin silver print,The Garry Winogrand Archive, Center for Creative Photography, The University of Arizona.
New York World's Fair, 1964, (image of people on bench), Gelatin silver print, San Francisco Museum of Modern Art, Gift of Dr. L.F. Peede, Jr.
All images © The Estate of Garry Winogrand, courtesy Fraenkel Gallery, San Francisco. They are used here with the permission of the Metropolitan Museum of Art. A version of this post also appears on Cosmic Smudge
Popular in the Community