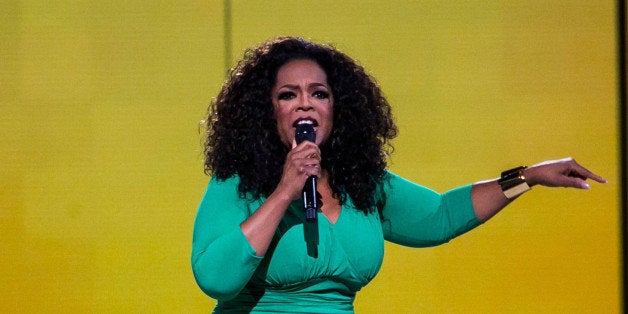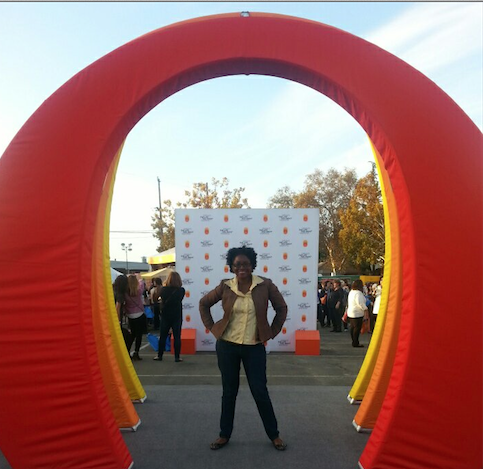 I could barely sleep the night before Oprah's The Life You Want Weekend. The high level of excitement reminded me of how as a kid, I tossed and turned on nights before trips to Disneyland. For years, I dreamed of traveling to Chicago to attend a taping of The Oprah Show. Instead, I was blessed to see Oprah for two days at her final tour stop in San Jose, Calif.
The Life You Want Weekend was about encouraging people to find their purpose and live their dreams. Lady O brought a dream team of inspirational "trailblazers" including: Dr. Deepak Chopra, Elizabeth Gilbert, Pastor Rob Bell and Iyanla Vanzant. This was not just an event, but also a soulful and empowering experience. It was a celebration of life. The radiant energy from thousands of women (and a few men) in the arena was unforgettable.
The tour couldn't have come at a better time. On my blog, I shared how the last four years have been rocky for me. Stress, health issues, betrayal by people I trusted, many deaths, career disappointments, trying to financially rebound from the recession -- all of this and more have been draining. While I consider myself to be a resilient person, I felt powerless a few weeks ago. When I prayed, I not only asked God to lift my burdens. I asked God to restore my power. So I went to The Life You Want Weekend with an open heart.
On day one, Oprah graced the stage in a gorgeous, flowing orange dress. She beautifully shared her story of growing up a poor black girl from rural Mississippi, to becoming a media mogul passionate about using television to uplift people. Although the odds seemed stacked against her, and she faced obstacles, Oprah shared that even as a child she knew there was something greater for her in the world.
"Your life is being shaped by your beliefs," she said. "You become what you believe."
For me, that meant if I believe I'm powerless, then I am. Or better yet, if I believe I still have power, then it's there.
Dr. Deepak Chopra set the tone for day two with a wonderful meditation. His words struck me when later that afternoon he said, "Fear is not letting go of your idea of how things should be."
At that light bulb moment, I decided to work at releasing my disappointment with how I thought things should be and accept where I am right now. Accepting doesn't mean settling for my situation, because I have the courage to make a difference in my own life.
Dr. Chopra's definition of fear reminded me of Pastor Rob Bell's message about appreciating the present. In his humorous yet, moving speech he said, "The life you want begins by embracing the life you already have. And the life you have is miraculous and matters--all of it."
Life isn't always easy, but I'm grateful I'm here another day. I'm grateful for true friends and family. As Pastor Bell said, my life, our lives, are miraculous because we were given breath. God, the Universe, whatever you call your Higher Power, chose to give us life.
Iyanla Vanzant kicked off her talk with a toast. "Here's to life," she said while raising a champagne glass in the air. As usual, the host of OWN's Iyanla Fix My Life kept it real, deep and meaningful with the audience. She compared creating a new life for yourself to bringing a life into the world.
"You've got to be willing to go through the pain to birth what you want," she told the audience.
It's important to have compassion for yourself during the ups and downs. Which is why one of my favorite quotes from Iyanla's speech is, "Make loving you a priority."
Eat, Pray, Love author Elizabeth Gilbert talked about the quest we take to discover our purpose, and being the hero (or shero) of our own stories.
She asked the audience, "Are we still planning to become the heroes of our own stories? Or are we still waiting for somebody to step in and fill that position for us?"
This resonated with me deeply. As she explained about the hero narrative, all heroes reach points in the story where they feel defeated. However, they eventually gather the strength to rise and be victorious. The hero learns from their challenges, which propels him or her to victory. Oprah said our hardships give us strength.
"Strength times strength times strength...equals power," she said.
This all made me think about ways I could make a difference in my life and create my victorious ending. The pen is still in my hand.
I realize that throughout life's challenges, my power has always been there. While I thought it was low, it was actually building up. Oprah's The Life You Want Weekend reenergized my spirit. I definitely left the arena feeling more empowered. Other women I spoke to shared my feelings.
Oprah encouraged the audience to, "Take your glory and run!"
Now that I recognize my self-power is charging, I'm not only ready to run. I'm ready to soar.