How do women measure success? Is it by mothering and having a career? How do they carry out both forms of work to their satisfaction? What helps? What hurts?
This is a weekly series about successful women who participate in the workforce in a range of ways building their careers while mothering. These women fly under the radar of the media but need to be heard. They are silently successful and warrant recognition. They are compassionate, persistently hardworking women who deserve our admiration and offer advice to new mothers. Each week I will spotlight a different remarkable woman.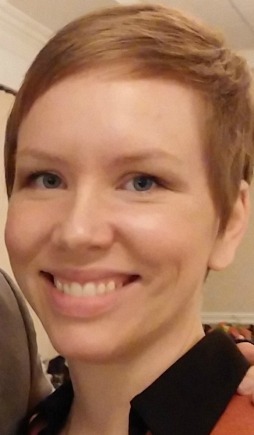 Bridget Ludwa O'Hanlon, mother of a 15 month old, living in wintry Cleveland, Ohio, knew quickly she needed to go back to work at a community college to rediscover her identity.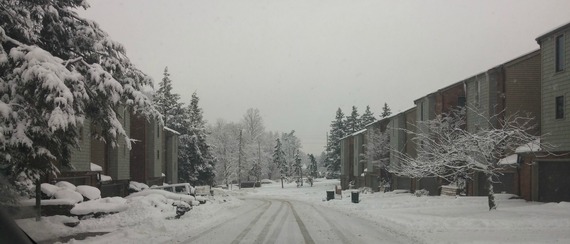 Bridget was fortunate to have a husband who would be a stay-at-home dad. She beautifully tells her thinking process:
When I became a mother, my husband and I initially planned on me staying home (my choice), but I soon realized that, in staying home, I lost the part of me that made me confident -- being a professional. Rationally, I knew I was still the smart, capable woman I was before having our daughter, but it was an uphill battle to feel that way. I had been in the military, having led junior soldiers, and had worked in higher education in my civilian capacity. I no longer possessed those parts of my identity, and it robbed me of my sense of self worth.
Our daughter also had a really tough time as an infant -- she was colicky, and we had issues breastfeeding (a tongue and lip tie that impacted milk transfer). In addition to having an emergency C-Section, then fighting a rough bout of pneumonia, I also ended up coping with postpartum depression. Our daughter wasn't even six months when my husband offered to stay home with our daughter, and I eagerly began searching for opportunities to return to the workforce. The job search took longer than anticipated, which certainly didn't help my sense of uselessness, but I finally ended up back at the higher ed institution I left before having our daughter. She was 13 months when I started working again full time, and by that point, she was eating decently during the day, didn't need to nurse before naptime, and was a bit more independent. The timing made me that much more comfortable going back. I wouldn't need to worry about pumping (she never drank my pumped milk anyway, and I think I have some higher lipase levels in my milk to thank for that), and she was eating enough to be just fine without the "milk bar" during the day.
It's helpful to other mother's to have a view of a mother just back at work to see the early adjustment process which Bridget describes so well:
I've only been back to work for about a month now, but I don't regret it one bit. I love my daughter, but she's still pretty clingy to momma. We still nurse, and she's velcro when I'm home! She's adjusted fabulously, and my husband has such a great time home with her. It works out so well for us. I feel like being away from her during the day makes me more emotionally available for her in the evenings and weekends. As soon as I get home, we snuggle and nurse for a little while, and that helps both of us immediately reconnect in a really deep and wonderful way. She sometimes has her crabby days, and I don't experience the same kind of hopeless frustration that I did before, because I know it won't last forever, and I'm back to work on Monday.
I imagine that once she's talking and we can experience more together, that I'll feel more conflicted on some days. She recently said, "mama" through the phone, which made me weep with joy at work, and I so desperately wanted to be home in that moment to scoop her up and hold her! Aside from that moment, though, I haven't felt too conflicted. I also enjoy a consistent work schedule that allows us to nurse before I go to work, and spend a little time together before bed. I'm sure when there's an event on campus that necessitates my staying late, I'll feel bummed that I won't be able to spend that time with her or help put her to bed. It also helps that I do not check work emails after I get home, precisely so that I can be fully present in spending time with her.
Bridget envisions that her daughter will benefit from seeing her accomplishments when she's older:
I'm hoping that she'll be able to see the confidence I possess, as well as seeing that I'm fulfilled personally in being a professional. I know what my strengths are, and I chose to act on those strengths instead of ignoring them. I also hope that she'll be able to see how my husband and I have embraced self awareness - we knew I needed to work, and he realized how much he wanted to be home with her.
The meaning of motherhood varies from mother to mother, but Bridget has a clear notion of how it's growing for her;
Being a mother means the reality of adulthood has truly sunk in (in addition to being in my 30s now). In all seriousness, though, it's my responsibility to ensure that my child will be able to thrive as an adult in the world one day, and it's a responsibility I take very seriously. I not only want to nurture her development as much as possible, but I also want to model what it looks like to thrive as an adult. Becoming a mother has really forced me to examine every aspect of my life and make sure that I'm consistent as possible in my speech and behavior, because I'm modeling personhood for her. Becoming a mother has forced me to act deliberately in all areas of life. Becoming a mother has forced me to reflect on my reactions to things in life - am I being rational? Am I being mature? Am I considering everything? Becoming a mother has motivated me to strive to being the kind of person I hope my daughter grows up to be. Becoming a mother has helped me be particularly mindful of when I'm not a perfect person, and of how I treat myself in those imperfect moments.
Advice for new mothers embarking on a career? Bridget has some thoughts:
Ask yourself what will help make you feel as confident and comfortable as possible in becoming a working mother. Does that include support from family and friends? If you're in a two-parent household, what conversations have you had with your spouse about it? How will you feel at the end of the day as you're collapsing into bed? Will you be a better person for having gone to work, thus modeling what it means to be the kind of person you want your child(ren) to become?
Please leave comments giving support to Bridget as she and her SAHD husband embark on their new parenthood.
If you would like to participate in this series, please contact Laurie and she'll be glad to include you.


Laurie Hollman, Ph.D., is a psychoanalyst with a recent book, Unlocking Parental Intelligence: Finding Meaning in Your Child's Behavior, found on Amazon, Barnes and Noble, Familius, libraries, and wherever books are sold.
Related
Popular in the Community