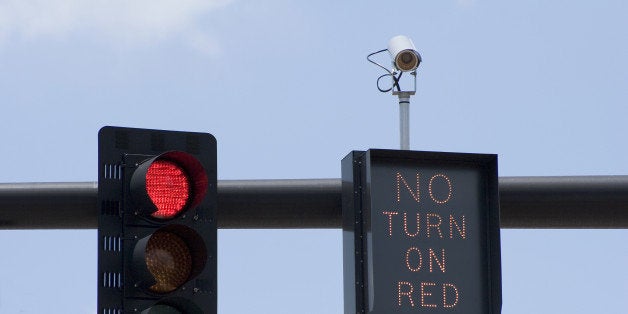 The Dutch village of Drachten has almost no traffic signals. Drivers maneuver the road using a mixture of common sense, respect for their fellow drivers, concern for their personal property and expediency.
The community of more than 40,000 people adopted a new approach to traffic flow in the early 2000s under the guidance of traffic engineer Hans Monderman, who believes fewer rules and restrictions result in more responsible, less distracted drivers.
In Drachten, the approach is working. According to the Reform Institute, a Swedish Policy organization, at one of the village's main intersections: "Accidents have decreased from an average of 10.25 per year to just 3.5 ... Further, the number of personal injuries from these accidents decreased from an average of two every year to just 0.33. This is an impressive achievement, especially considering that traffic volume at the intersection has increased 30%."
On the opposite end of the spectrum is the great American city of Chicago. Here, officials have set up the largest red-light camera system in the U.S., aimed at catching and fining drivers who blow through stoplights.
Unlike Drachten, where officials have monitored the success of the village's traffic experiment, no comprehensive research on Chicago's extensive red-light program exists.
What does exist is a record of failure. In August, Mayor Rahm Emanuel announced that the city would be reviewing more than 16,000 tickets issued by the cameras.
Not long after that announcement, a Chicago judge revealed that he's been overturning a vast majority of red-light camera tickets brought before him. Administrative Law Judge Robert A. Sussman said that many red-light camera tickets were issued because of yellow lights that lasted less than three seconds, which is the legally required minimum.
And on Aug. 13, the Federal Bureau of Investigation revealed that the red-light camera program's former leader and the ex-CEO of Redflex Traffic Systems Inc. (the city's former vendor) were indicted on conspiracy charges related to a $2 million federal bribery investigation.
The only thing Chicago's red-light camera program has done well is making the city plenty of money. Since 2003, red-light tickets have brought in $500 million.
But Chicago is just one of 502 communities in the U.S. using red-light cameras, according to the Insurance Institute for Highway Safety. And it isn't the only city where Redflex is coming under fire - the company was also involved in litigation in Louisiana related to a red-light camera program that ended in 2010 in Jefferson Parish.
In Nassau County, New York, a class-action lawsuit has been filed against the county's red-light system. Like Chicago's Sussman, plaintiffs in the lawsuit claim that yellow-light times are less than the three-second minimum.
Just across the Hudson River in Piscataway, N.J., the township's red-light camera program is causing an increase in accidents. Reports show that accidents in neighboring South Plainfield are up 50 percent near red-light cameras on the Piscataway border. American Traffic Solutions, the company that operates the red-light cameras in Nassau County and Piscataway, settled with drivers in 2013 for $4.2 million. The lawsuit, which claimed stoplights did not take into account average road speeds and did not give drivers ample time to hit the brakes, applied to 18 towns throughout New Jersey, including Piscataway.
The experiences in Chicago and the East Coast highlight that red-light camera systems are prone to error and abuse. These cities and many others need to switch gears on their traffic safety policies.
Drachten's example likely won't be embraced by American communities anytime soon. But realistic alternatives to increase traffic safety already exist. Research has shown that increasing yellow-light times leads to a decrease in the number of accidents at busy intersections.
In Tampa, Fla. -- which has a red-light camera program -- lengthening yellow-light times led to fewer accidents and reduced ticket revenue. At one intersection, yellow-light times were adjusted from 3.9 seconds to 4.8 seconds on Dec. 3, according to WTSP 10 News Tampa, and "the result was a 79 percent drop in citations -- 52 violations issued in December, compared with a 259/month average through 2013's first 11 months." Other intersections saw similar results, with one intersection seeing a drop of $30,000 a month in ticket revenue.
Red-light camera systems make it easy to forget about intent in lieu of looking forward to healthy ticket revenues, as cities across the country have already discovered. Traffic safety rules should stick to one simple principle: ensuring driver and pedestrian safety.
Support HuffPost
The Stakes Have Never Been Higher
Related
Popular in the Community