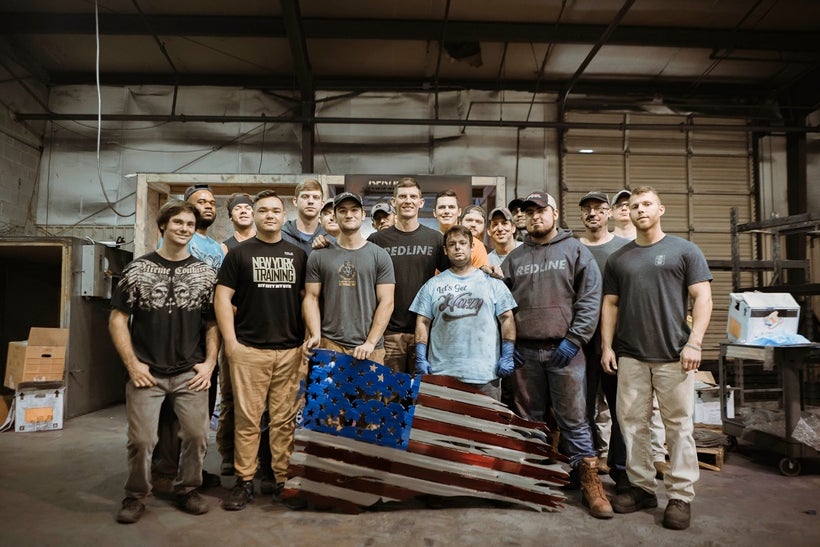 Blake Maske the Plant Operations Manager for Redline Steel has been with the company for ten months. He came in as an entry level position after having moved to the area to support a position at Red Stone Arsenal which didn't come to fruition. Initially Blake had intended this change in career focus to be temporary as he regrouped from the change in plans with the position he thought he was intending to support at Redstone Arsenal. After having been with the company for only a short period of time he saw how driven and passionate the founder and CEO Colin Wayne Erwin was about the organization and where he intended to take the company very quickly. Colin's vision is to disrupt the e-commerce Home Décor space and this laser focus that has been instilled in the organization.
Blake took on additional responsibilities of process creation and development. He has been able to contribute significantly to the growth of the company through strengths he has developed from being in the military; leadership, working under pressure and responding to accelerated growth and change. This was seen by Colin and provided the opportunity to be promoted to his current position, something Colin focuses on when putting his leadership in place. Blake currently oversees a shop of twenty employees that produces all the product that is ordered. They have built a family team atmosphere; sense of duty and team work are core to accomplish the vision of the company.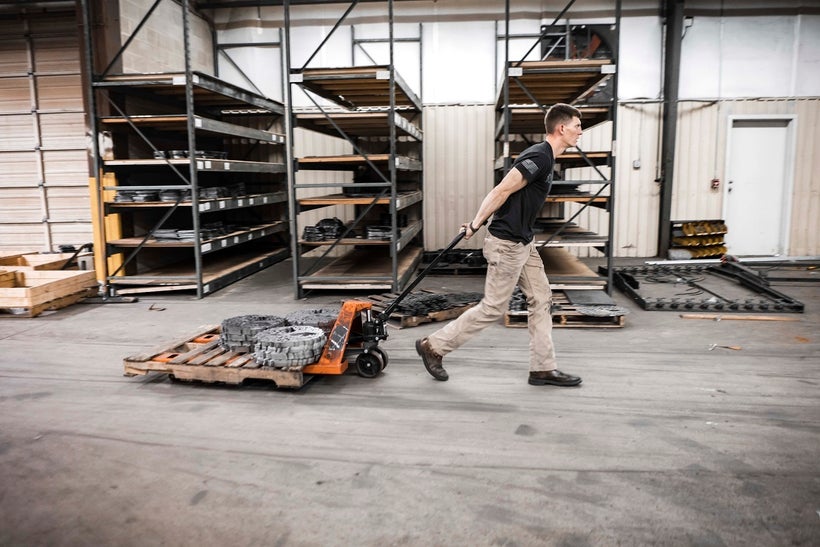 The most unique aspect of Redline Steel for Blake is the overall average population of the company is around 21. This is uncommon in most businesses to have the main workforce of the organization to be so young and driven to succeed. Every employee knows the mission and vision of the organization and does everything they can to ensure that they are contributing to the success of the overall organization. No one in the organization is individual focused, it's all about everyone succeeding as team. The employees of the organization put in whatever hours it takes to grow the business and provide the best experience possible to the customers.
"We push that we have to get better every day and we have set ourselves up for a task that is very hard to achieve and no one else in the country is doing."
The company continues to invest in new technology to make the process to produce the products better over time and make the jobs of the employees that much more efficient. They make sure that they take care of the employees on a routine basis to ensure they know how valuable they are to the company and provide that comradery that everyone enjoys. This helps keep the work environment fun and employees engaged in the day to day operations.
"This is a testament to our leadership and our drive as leaders but also to the employees and how hard they work."
Blake is most proud to say there is zero complacency in the company and that they are constantly evolving and growing in a rapid fashion. He strongly believes if you take care of your employees they will ultimately take care of the company and make the customer happy.
Professional growth and career development is a focus of the organization. They promote and support everyone improving their education and skills to grow. They strongly encourage any all employees to bring great ideas forward, even if there is some amount of risk involved. The organization is constantly evolving and figuring our new and improved ways to get better as an organization.
The organization has adopted similar core values to what is used in the military: loyalty, duty, respect, selfless service, honor, integrity and personal courage. They expect that each employee models these values and makes them who they are as an individual.
Blake contributes his medic background from the military as what makes him a compassionate leader to ensure everyone is ok and taken care of. He works alongside the individuals in the shop and is always willing to help them with whatever they need.
"It's fun here and it's a challenge every single day."
__________________________
Landmark Life Coaching's (www.landmarklifecoaching.com) Mission is to honorably and respectfully serve courageous groundbreakers and transitioning veterans to persevere in defining and executing their future by providing an atmosphere of comradery and trust that honors their dedication and commitment. This will empower our clients to feel whole, honored, respected and fulfilled in defining and living their life purpose.
Charlie Mike Podcast (www.charliemikepodcast.com) is where our Nations Combat Veteranpreneur's talk about how they transformed their combat experience into a groundbreaking entrepreneurial success. We will discuss their experience in relation to what I have defined as their VisualReality; their personal vision of building a successful business leveraging their combat experience to bring the core strengths of a combat veteran into the entrepreneurial realm.
Dwayne Paro - Veterans Coach/Podcaster/Speaker/Writer
Calling all HuffPost superfans!
Sign up for membership to become a founding member and help shape HuffPost's next chapter
This post was published on the now-closed HuffPost Contributor platform. Contributors control their own work and posted freely to our site. If you need to flag this entry as abusive,
send us an email
.