Redmond O'Neal, the 33-year-old son of Farrah Fawcett and Ryan O'Neal, is in hot water again, this time accused of randomly attacking five men in California.
Authorities said they began investigating O'Neal when it was determined he fit the description of a suspect wanted for multiple crimes in the Venice Beach and Palms neighborhoods last month.
Pacific Area robbery detectives presented their findings to the district attorney on Friday. In addition to attempted murder, O'Neal has been charged with two counts of assault with a deadly weapon, one count of criminal threats, one count of brandishing a knife and one count of battery.
Los Angeles police provided details on each incident:
May 2: A man in Palm Springs is attacked after a white man "with red hair and distinct tattoos" accused him of looking at him. The victim alleges he was punched and the suspect attempted to stab him with a broken bottle. Police said the victim sustained minor injuries to his face.
May 3: A white male with "red hair and reddish blonde facial hair" is described as a suspect in the beating of a man in the 3400 block of Overland Avenue. The man tells police he'd only attempted to engage the suspect in conversation.
May 4: A man near Venice Beach is stabbed in the back by a "white suspect with red hair." The victim says the man attacked him after they made eye contact. A few hours later, another man is found lying in a pool of blood on a sidewalk near Rose Avenue. The victim, according to police, sustained "significant and serious" stab wounds to his face, neck and upper body. Nearby video surveillance captured a white suspect leaving the scene.
May 5: A white male with "red hair and distinct tattoos" attacks a male employee in a coffee shop on Pacific Avenue. The suspect fled after threatening to stab the employee with a knife.
May 8: A Santa Monica 7-Eleven store is robbed at knifepoint. O'Neal, who was allegedly found near the scene, is arrested and charged with second-degree robbery, assault with a deadly weapon and possession of drugs and drug paraphernalia.
In addition to the suspect description, "evidence and eyewitness identifications" link O'Neal to the crime spree, Los Angeles police said.
The onetime voice actor has reportedly struggled with heroin addiction for most of his adult life. He has drug arrests dating back to 2005 and a prior conviction for possession of a firearm by a felon.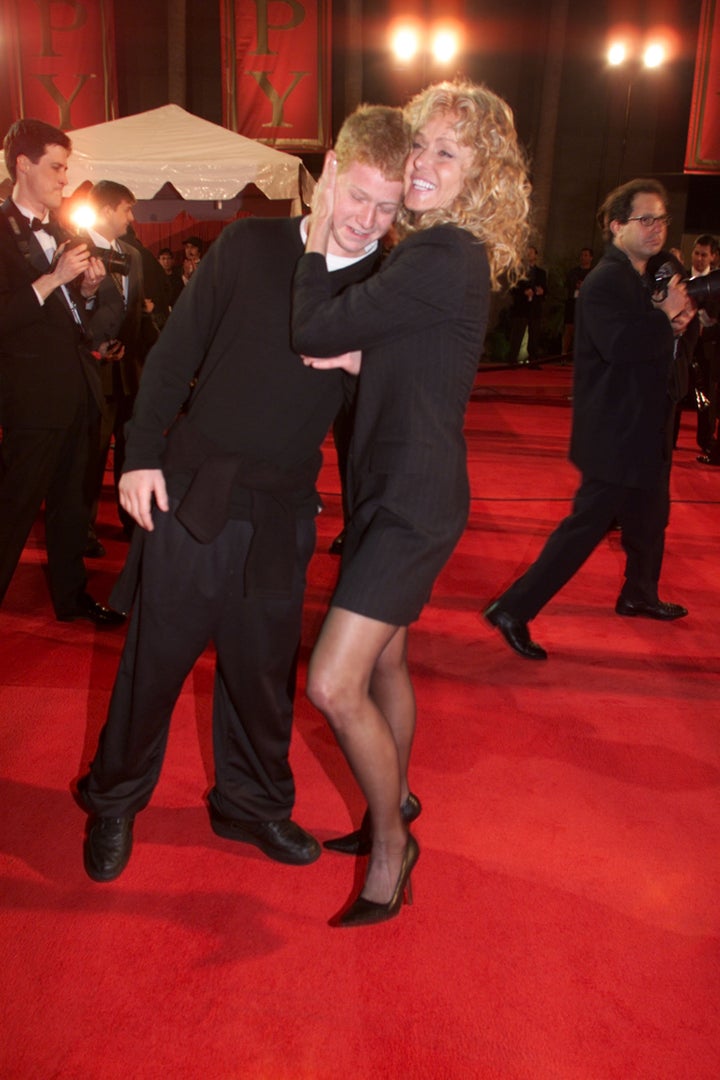 "My plan is to move forward with my life, clean and sober," O'Neal told People magazine in 2010. "I am going to do so privately and with as much dignity as I can."
"I love him, but I have never seen a more scary side of addiction," she said in 2015. "He's got addiction problems so bad that it breaks my heart. Nobody knows what to do with Redmond. From what I've seen, there is no way he's going to survive."
O'Neal is being held without bond. His next court appearance is scheduled for July 10. If convicted, he could face decades behind bars.
Police urge any witnesses or anyone else with more information to call 310-482-6369 or 310-482-6372. If you wish to remain anonymous, dial 1-877-LAPD-24-7.
Need help with substance abuse or mental health issues? In the U.S., call 800-662-HELP (4357) for the SAMHSA National Helpline.
Calling all HuffPost superfans!
Sign up for membership to become a founding member and help shape HuffPost's next chapter
BEFORE YOU GO
PHOTO GALLERY
Celebrity Mugshots