Winter's cold temperatures can oftentimes give skin a rosy flush (which, admittedly, we're kind of into), but when that redness turns to dry, inflamed splotchy skin, it's not as cute. Since our faces are essentially assaulted by freezing wind every time we walk out the door, it's incredibly important to consider how you're protecting your skin. Even if you don't think you're prone to sensitivity, your current skincare routine might need to be tailored to the season. We worked with Dr. Howard Murad, founder of Murad skincare line, Dr. Ava Shamban, author of "Heal Your Skin" and Brooke Wilensky, Medical Aesthetician with Union Square Laser Dermatology, to compile the five best ways to fight redness this winter. Heed their skin-soothing advice, then keep scrolling for five calming products to help the cause.
Incorporate foods that help reduce redness. "Carrots, sweet potatoes and broccoli are packed with antioxidants that will help to hydrate the skin internally and protect cells from environmental damage which can further irritate rosacea prone skin." Similarly, beware of ingredients that can cause flare-ups. "Lower the spice level in your diet," says Dr. Murad. "Spicy foods can trigger inflammation. Look for less active seasonings like thyme, ginger and turmeric to add extra flavor to your meals. Avoid 'hot' spices such as white and black pepper, paprika, red pepper and cayenne, which may increase symptoms."
Check the ingredients label on your products. While some are soothing, others can have adverse effects in the colder months. Dr. Shamban suggests licorice extract which helps to control redness and flushing. "Licorice's main component glycyrrhizinate has been proven time and time again to be an effective anti-inflammatory and moisturizer; it has the additional ability to brighten/lighten the skin and prevent further hyper-pigmentation." She also recommends turmeric which is "excellent for sensitive skin and has very potent anti-oxidant and anti-inflammatory properties." Other calming, redness-reducing ingredients include white tea extract, cucumber, ginger and Magnesium ascorbyl phosphate (a stable, gentle form of vitamin C that helps repair broken capillaries). On the other hand, be on the look out for aggravating skin offenders. "Avoid products with fragrance, alcohol, witch hazel, menthol, peppermint, eucalyptus oil or clove oil," says Wilensky. "Never use facial scrubs which can cause tiny micro tears in the skin."
When it comes to hydration, Dr. Shamban recommends a moisture-rich cream that contains emollients like ceramides to boost the skin's natural barrier and seal in moisture. "Shea butter, olive oil and almond oil are other effective natural emollients," she says.
Take measures at home to prevent future irritation. "Watch how you wash," warns Dr. Shamban. "It seems like a small thing, but water temperature can make a big difference. Wash with warm, not hot, water to keep skin from drying out, avoid cleansers with harsh detergents (natural oil and glycerin soaps are good choices) and steer clear of alcohol-packed hand sanitizers." Investing in a humidifier can also bring much-needed moisture back to your skin. "You may not be able to avoid the extremes of dry outdoor cold and indoor heating during the day," says Dr. Shamban, "but using a humidifier at night can give skin at least a partial break." She also suggests keeping products chilled. "Keep your lotions and potions in the refrigerator, applying cold products can constrict capillaries and help reduce redness."
And right before you step out the door, Dr. Shamban reminds us of the obvious: Dress appropriately. "Cover the bottom half of your face (including your nose) with a scarf when out in the elements, wear a hat that covers your ears and make sure extremities like hands and feet –- which are especially prone to drying, cracking, and redness -- are kept warm and dry." One final measure you can take before heading outdoors is applying a thin layer of Vaseline over the face. "This has the ability to prevent blood vessels from expanding as soon, when exposed to frozen temps," says Wilensky.
Lastly, understand the impact alcohol can have on your skin. "Alcohol serves as a rosacea trigger," says Dr. Shamban. "Alcohol is a diuretic, causing dehydration; increased skin dryness often leads to redness, especially if you add winter climate extremes into the mix. Alcohol intake causes capillaries to dilate and flow more closely to the skin's surface, which can cause redness and flushing especially in fair-skinned people. Long-term drinking habits often lead to permanently red and blotchy skin because of this dilation effect, and opening up of the blood vessels also creates puffiness. With time, the capillary dilation from alcohol intake can eventually dilate the capillaries so much that they burst, creating visible red and purple veins, especially around the nose and on the cheeks."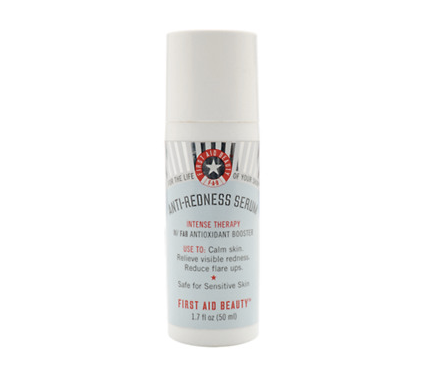 Anti-Redness Buying Guide
Want more HuffPost Style beauty content? Check us out on Twitter, Facebook, Tumblr, Pinterest and Instagram at @HuffPostBeauty. (For everything else check out our main HuffPost Style Twitter, Tumblr, Pinterest and Instagram @HuffPostStyle.)
Do you have a beauty story idea or tip? Email us at stylesubmissions@huffingtonpost.com. (PR pitches sent to this address will be ignored.)