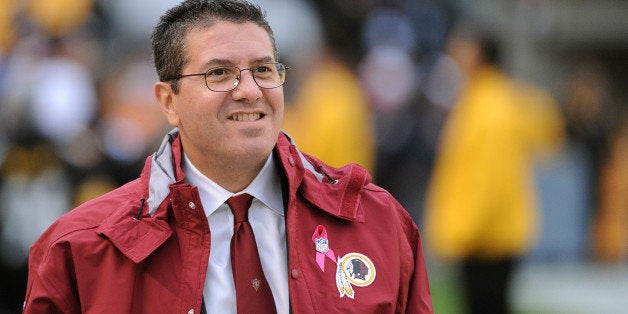 Washington Redskins lawyer Lanny Davis was among those not pleased in May when franchise owner Dan Snyder famously said he would "NEVER" change the name of the team.
Was Davis not pleased because he felt the team's name was offensive? Not necessarily. Instead, Davis just felt the word choice made his client look bad.
"I was retained by, Dan Snyder's been a friend, I've helped in the past. Since I left the White House, I've helped him on several matters, so I know Dan Snyder. And when I saw the all caps comment, I thought that had the wrong flavor to it," Davis told 106.7 The Fan's Holden and Danny on Wednesday, via CBS DC.
Davis went on to say that Snyder's "caps" comment wasn't the side of the owner he wanted to show. Then he offered some suggestions on what Snyder should have said.
"I think saying 'we care about people's feelings, we're respectful when anyone is offended, but we have this eighty-year name that we love," Davis said. "We sing 'Hail to the Redskins' every Sunday at the stadium, and we say we're part of 'Redskins Nation.' That's our vocabulary. Those are terms of honor.' And that's what he should have said, but he, I don't think is going to say 'all caps. Never' again."
In a letter to Redskins season-ticket holders which was published in the Washington Post, Snyder defended the team name in a manner that seemed to have been influenced by Davis. Snyder wrote about the franchise's tradition and the feelings has has for the team.
That tradition -- the song, the cheer -- it mattered so much to me as a child, and I know it matters to every other Redskins fan in the D.C. area and across the nation.
For critics of the team's name, the message letter also sounded frustratingly familiar, even if the tone was more civil.
I respect the opinions of those who disagree. I want them to know that I do hear them, and I will continue to listen and learn. But we cannot ignore our 81 year history, or the strong feelings of most of our fans as well as Native Americans throughout the country. After 81 years, the team name "Redskins" continues to hold the memories and meaning of where we came from, who we are, and who we want to be in the years to come.

Calling all HuffPost superfans!
Sign up for membership to become a founding member and help shape HuffPost's next chapter
BEFORE YOU GO
PHOTO GALLERY
Best 2013 Sports Photos