"Laramie is a community, not a 'project,'" declares a biting editorial published in the Laramie Boomerang on October 12, 2008 -- the tenth anniversary of Matthew Shepard's death.
It goes on to say, "... it is infuriating for those of us who consider this our home to be labeled because of the actions of a few questionable characters."
This editorial, which echoed the sentiments of many, though not all, Laramie residents at the time, served as a pointed response to the widely-produced play The Laramie Project, which members of the NYC-based Tectonic Theatre Project developed after interviewing residents of Laramie, Wyoming a few weeks after Matthew's death in 1998.
And it's this kind of defensive, passionate response that makes The Laramie Project: Ten Years Later, a follow-up piece by the theatre company, such a completely compelling study on how a close-knit community attempts to make sense of such an earth-shattering event.
The Laramie Project: Ten Years Later debuted on October 12, 2009 -- the 11th anniversary of Shepard's death -- as a simultaneous reading across 150 theatres. And now, Chicago's Redtwist Theatre, under the direction of Greg Kolack, is delivering a powerful, unfettered, supremely well-acted and deeply authentic Chicago premiere production in their 50-seat storefront space.
(In addition, Redtwist is also presenting a staged reading of The Laramie Project in rep with this companion piece.)
From the hundreds of interviews with residents featured in the original play, perhaps the most eye-opening discovery is that several members of the community discredit Shepard's death as hate crime-related. Rather, they view it as simply a robbery gone wrong by a bunch of tweaked-out teenagers.
As appalling as that viewpoint may be to many (including me), the play's creators use this as an opportunity to learn how such a perverse viewpoint comes to be -- and if there is, indeed, any validity to it. And the results are frustrating, frightening and, in an unsettling way, fascinating.
Other remarkable moments include interviews with faculty members from the University of Wyoming who attempt to keep Matthew's memory alive by fighting for equal rights within the school (most notably, extending healthcare benefits to same-sex partners) and an interview with Judy Shepard (played with grace and gritty determination by Jan Ellen Graves).
And there's also an interview with one of Matthew's murderers that chills the blood, removing any doubt one may have of if this was, in fact, a hate crime.
The final hopeful coda of this play concerns the evolution of the Matthew Shepard & James Byrd Jr. Hate Crimes Prevention Act. This measure, which expanded current federal hate crimes law to include violence based on gender, sexual orientation, gender identity or disability, was signed into law in 2010 -- 11 years after Matthew's murder and death.
Change may come slow, but change does come.
I fully realize I haven't devoted much space to analyzing Redtwist's production in this review, but here is all you need to know: see this production. It's why we go to the theatre, folks. It slaps us awake and forces us to examine how we can support change not only as individuals, but as a community.
For more information on Redtwist's "The Laramie Project: Ten Years Later" and the staged reading of "The Laramie Project," visit redtwist.org. Redtwist is also holding a benefit for the Matthew Shepard Foundation, with an appearance by Judy Shepard, on Saturday, March 10, at 6:30 pm.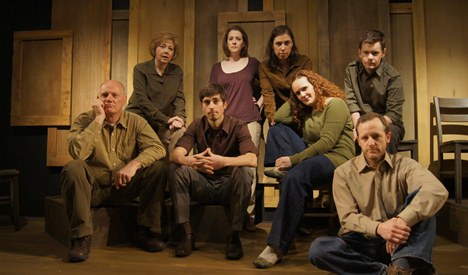 The cast of Redtwist Theatre's The Laramie Project: Ten Years Later