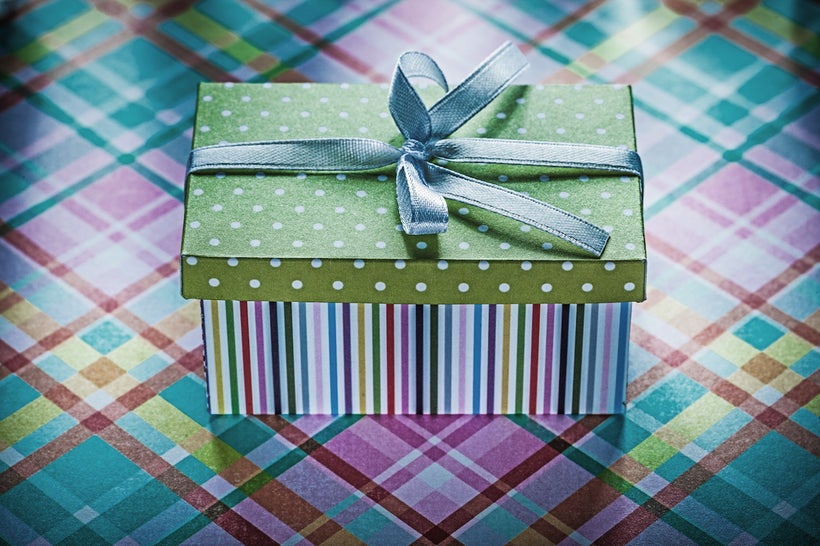 Are you one of those people who is always taking care of others? I'm not talking just to the busy mom, wiping oatmeal off of chubby cheeks and shuttling kids off to a myriad of extracurriculars. Maybe you're caring for your parents, or your profession lends itself to helping people in some form or other. And just when you're required to put on the best face possible, you find yourself battling with your mental health issues, like depression, anxiety or PTSD.
"Taking care of yourself is the most powerful way to begin to take care of others." - Bryant McGill
So what do you do when you're the one who needs to care? Sometimes we get wrapped up in meeting the needs of others that we forget to take care of our own. We get so burned out and exhausted that we could lay down on any given surface at any given moment and pass out until next spring.  The truth is, everyone from the most seemingly put-together person to those with specific mental health issues or in the process of recovery, all need to maintain healthy mental well-being. Sometimes we all just need a break from the chaos of life.
One way to take care of ourselves and avoid our negative triggers is to make a Self-Care Box. Think of it as a mini-retreat for your mind and spirit or a "Swiss Army knife" of self-care. It helps reduce anxiety, relieve stress and refocus on what's important to you.  If you're struggling with a chronic illness or mental health challenges, a Self-Care Box can help you regain focus and give you a replenished sense of hope, which in turn will lead you to be more proactive in dealing with overwhelming issues.
Your "box" can be just that: a box. A shoebox, a basket, trunk, that empty plastic box you used to keep photos of an ex until you ceremoniously burned them in your backyard... anything that will be able to hold all the items you need in case of a mental timeout. Fill it with things you can turn to when you're having a tough day. Like a friend who always answers your phone call and knows exactly what to say, your box will cheer you up, comfort you, offer relief from physical pain or even prevent you from relapsing into self-destructive behavior. Create your Self-Care Box when you're in the right frame of mind before you need to use it.
Making Your Self-Care Box
First, you'll need to obtain the actual box. Easy enough--you can buy a cute plastic shoe box from a dollar store, or use your inner artist to decorate a recycled cardboard box. You'll probably want to find a box with a removable lid like a large shoe box. Take your time to decorate it with images, textures, patterns, words, or colors that evoke calm or soothing messages for you. The more effort you put into creating the box, the more likely you'll use it. You can even include your family or even friends in this exercise. They may enjoy giving you input or ideas, and this can make your box even more special. Your kids may want to make one for themselves, which can be helpful in getting them to recognize their own needs and find creative ways to employ self-care and calming techniques.
Next, you get to choose what goes into your box. It is your chance to think outside the box (get it?). For even more ideas on items to include in your Self-Care box, please check out the list below.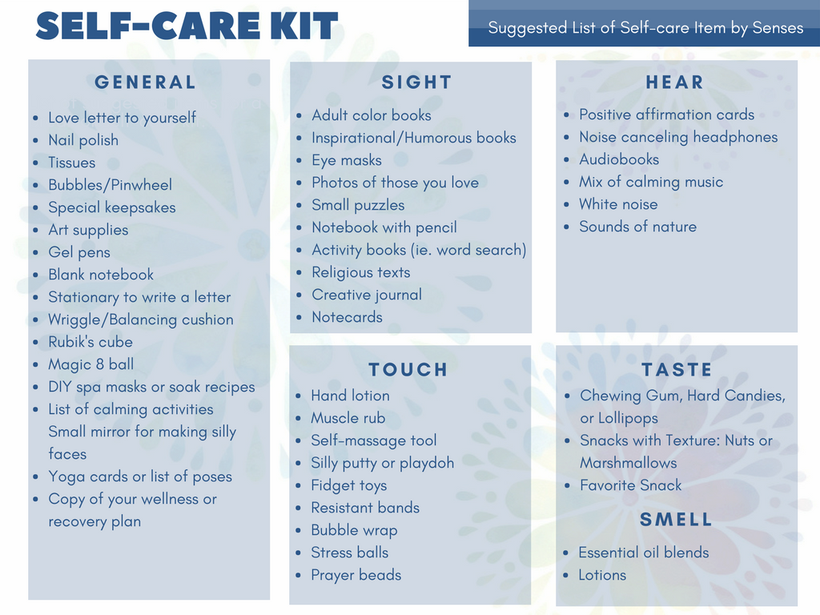 The things you choose don't have to be expensive. You can find many things in your local Dollar Store or find instructions online to make a DIY version. Don't forget to include your recovery plan or a list of little things you can do to boost your health and happiness in both the short and long run. Having a step-by-step program doesn't just make you feel better once implemented, but can also help you to regain a sense of control over any situation.
Angela Swanson is driven to be the voice for those who may not be empowered to speak for themselves, raising awareness of mental health issues, and challenging public opinions. She knows what it means to be in pain, to overcome, to be human, thus shaping her ideas of recovery and allowed her to be a disability and mental health advocate.
Calling all HuffPost superfans!
Sign up for membership to become a founding member and help shape HuffPost's next chapter
This post was published on the now-closed HuffPost Contributor platform. Contributors control their own work and posted freely to our site. If you need to flag this entry as abusive,
send us an email
.