If you ever find yourself in the United States of America, you might end up getting shot by a police officer.
Here's our primer, in two easy steps.
1. Don't Be Black
These police shootings disproportionately affect black men. The Washington Post's review found that of the unarmed men shot and killed by police last year, 40 percent were black ― even though black men only make up 6 percent of the population. The Guardian, also looking at 2015 data, found that young black men were nine times more likely than other Americans to be killed by police officers.
The Washington Post reports that "[i]n the majority of cases in which police shot and killed a person who had attacked someone with a weapon or brandished a gun, the person who was shot was white. But a hugely disproportionate number — 3 in 5 — of those killed after exhibiting less threatening behavior were black or Hispanic." The paper added that one-fourth of those killed were mentally ill or experiencing an emotional crisis.
2. Consider Moving To Another Country
More people died at the hands of cops in America in the first 24 days of last year than in the last 24 years in England and Wales. That's just one example.
In many other democratic, developed nations, violent confrontations between citizens and law enforcement officers pan out a little differently.
Just a month after last year's terrorist attacks in Paris, police officers in London were faced with a knife-wielding suspect who was threatening to kill them. The suspect was asked to put his weapon down, then hit with a Taser and subdued. That same week, a similar incident took place in San Francisco, but the suspect's fate was not the same:
Warning: The below video contains graphic content.
By Sept. 1 of last year, police in the United Kingdom had killed one person. In the U.S., cops had killed 776 by that time. University of California at Berkeley Professor Jerome Karabel noted last year:
This is a level of police violence that is simply unimaginable in other wealthy democratic country; in Germany in 2012, a total of seven people were killed by the police, and in England a single person was killed in 2013 and 2014 combined. And Japan, a nation of 126 million people that is as non-violent as the US is violent, had no police killings over the past two years.
And if you think police are more likely to shoot at civilians in high-crime areas, think again. Campaign Zero, an advocacy group working against police brutality, reports that there is no correlation between police violence and community violence: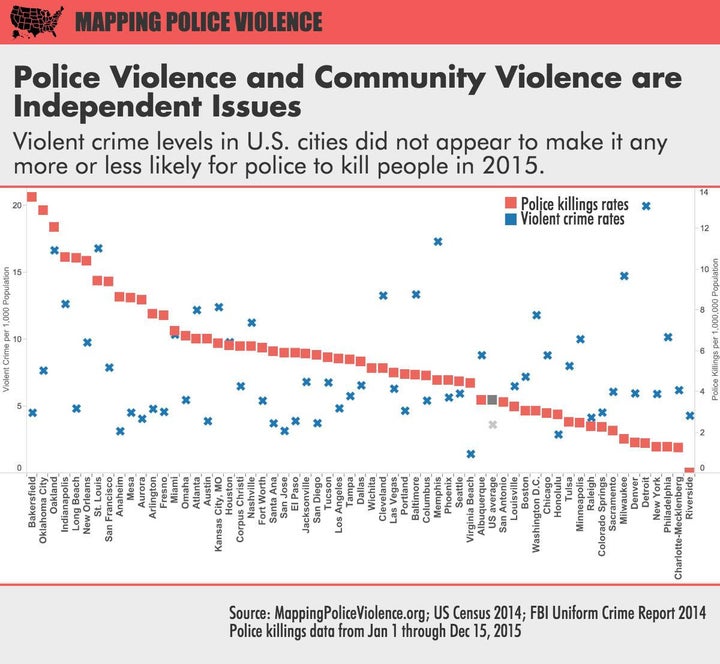 "For us it was pretty simple. We've been hearing these arguments going around without any data or any evidence from folks who are saying that police are killing so many people — particularly black people — because they say black people are in high-crime communities and potentially involved in criminal activity," Samuel Sinyangwe, a member of Campaign Zero's planning team, said last year.
If you're a black American in 2016, you have every reason to wonder why you're being targeted.
To be sure, it isn't easy being tasked with carrying a firearm and policing your community.
"Every officer is taught that every encounter on the street ― whether it's a burglary or traffic ticket ― that there is always a gun involved because you're armed. Every situation is a gun situation," Bill Johnson, executive director of the National Association of Police Organizations, told The Huffington Post. "These men and women are not from Mars, they're neighbors, they're young people you grew up with. They're trying to do the best with a very difficult job."
This piece has been updated to include more recent examples of men who have been shot and killed by police.
Before You Go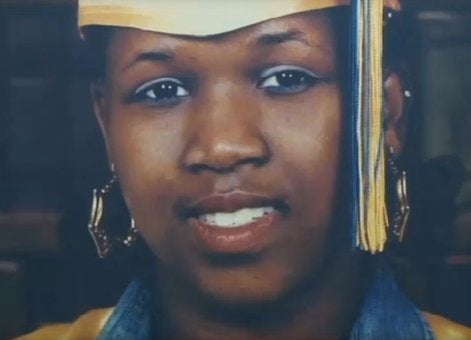 Black Women Killed In Police Encounters
Popular in the Community