Kombucha or as it's known in Sonoma County's Revive brewery, the buch, is a fermented beverage made from a live culture called a SCOBY that serves as one of the defining products of the raw-food movement. While kombucha has its detractors who don't like its taste or texture, no one can deny that it's supremely healthy. And when it's brewed right, it can be really delicious. Revive brews it right.
Revive, which started in 2010, makes and sells kombucha drinks in three flavors: Original, brewed with black tea; Red, made with organic hibiscus flower; and Gold, an addictive concoction made with organic coffee. "It's definitely one of the most thirst-quenching kombucha drinks that we've ever sampled," a BevNET review said of Gold, "and it's nice that it has only 60 calories and 16g of sugar per bottle."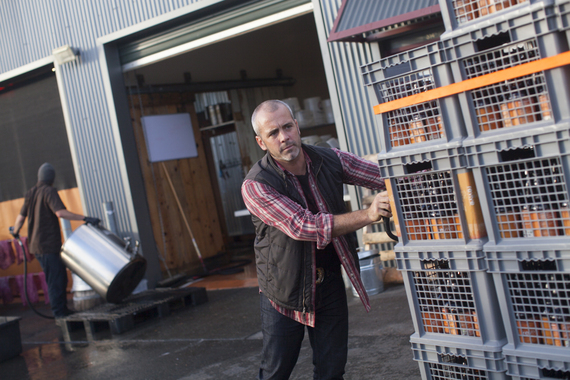 But Sean Lovett, Revive's founder, has a vision that goes far beyond making tasty beverages out of sustainably kept SCOBY. His company's environmental responsibility doesn't stop at the brewing process. They deliver all their bottles via trucks powered by biodiesel. And the bottles are packed and returned in reusable milk crates. Most importantly, the bottles get returned at more than 100 locations in California, Arizona, Colorado and Washington State.
Revive drinkers pay a deposit on every bottle purchased, and they get that deposit back when the bottle gets returned. Any location where Revive is sold will return the money if customers return the bottle, or in exchange, they'll give a customer a fresh bottle of kombucha brew. "We understand that some of you folks will wanna keep your bottles... We dig it, cause in the end it's being reused," Revive says on its website. "That's what matters most." Everything in the bottles is reusable except for the safety seal and batch tag.
The company estimates that the return rate for their bottles is 63 percent for 16-ounce brews, and a whopping 76 percent for 64-ounce containers. That has kept, by their estimation, 130,000 Revive >bottles out of landfills since Lovett founded the company. And that is what garnered them the 2013 Responsible Packaging Award from the Sustainable Food Trade Association, a real source of pride for Lovett and his seven-person crew.
"Our creations are only limited by our financial resources," Revive says on its website, "but our imagination and innovative spirits are infinite. We remain inspired daily by the absolute necessity for long lasting solutions to reduce our environmental impact."
On behalf of SCOBY and the people who love them: Thank you, Revive.