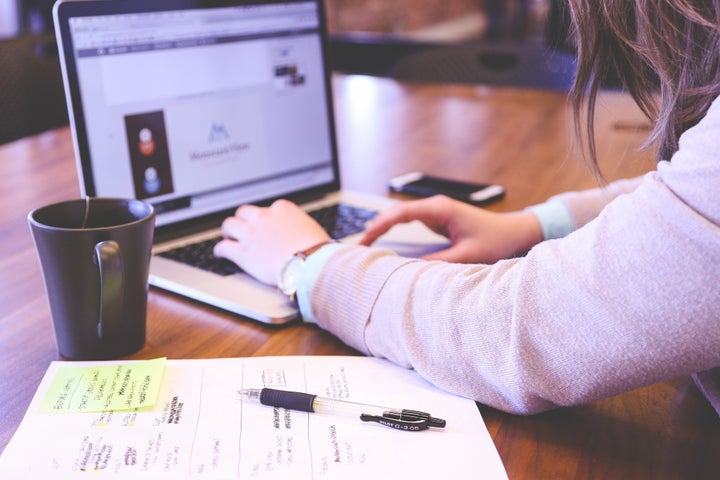 Do you ever find yourself with the afternoon crash, reaching for something sweet to get through your workday?
I remember the never ending days of sitting at my desk, feeling cut off from the world; wondering why the clock was moving so slow. Tick. Tock.
To pass the time, I remember taking a walk to refill my coffee ― for the third time, with extra pumpkin spice creamer. I would savor the sweet and spicy flavor, only to find myself wanting something more.
After searching for any spare change I could find, I found myself staring at the vending machine. Knowing there was nothing in there I really wanted, but I would settle on some salty pretzels, anyway, because what else.
After an hour, I would walk to the different departments, looking for someone to talk to, only to find them as miserable as I was.
Our addiction to the coffee cup and vending machine has nothing to do with those items; they only numb the pain from the real solution we are craving.
When we get clear on the deep desire in our soul, we can stop filling the void with temporary solutions.
Here are five things you can do to bring you more connection and less cravings to your workday.
1. Start your morning connecting with yourself, instead of rushing out the door like a mad woman.
A cup of hot tea, journaling, or moving to gentle yoga are all great ways to connect with your body and mind. The hustle and bustle of the morning can set the entire tone of the day. I know a cup of tea and journaling sounds so simple, yet it sets you up powerfully, for the rest of the day.
2. Staying prepared with healthy snacks.
Those that plan ahead win the race. It is easy to neglect ourselves, when we become so focused on taking care of everyone else. But when we fill our bodies with nourishing foods, rather than processed fillers, we have more energy and focus to perform our jobs better. Stash snacks with lean protein and healthy fats in your desk or in the office kitchen.
3. Connect with someone during lunch hour.
Working with people I didn't have much in common with, I thought I needed to have lunch alone and enjoy the quiet time. But having lunch alone doesn't fill your cup. Humans need connection with other humans. In a technology advanced world, connection is getting left behind and leaving us feeling alone and depressed. So on your next lunch break, take a friend to lunch, call your spouse or say hi to a stranger.
4. Take a 10-15 minute break, in the fresh air.
When was the last time you just took in the beauty of nature or fresh air? Nature has the ability to ground us in earth, reset our minds and give us clarity, allowing us to feel refreshed. A brisk walk on your lunch or later in the afternoon may be just what you need to clear your head and reset your focus.
We all know sitting for eight hours is not good for our health. Moving around with a few stretches helps to increase circulation and can break up a time consuming task. The standing desk is a hot item, right now, for good reason. But even if you don't have a standing desk, you can still benefit from some movement.
When we can get connected to ourselves, first thing and throughout the day, we can get clear on what we are needing, in our mind, body and spirit. Implement 2-3 of these ideas into your day and I bet you will be reaching for sugar and processed foods a lot less.