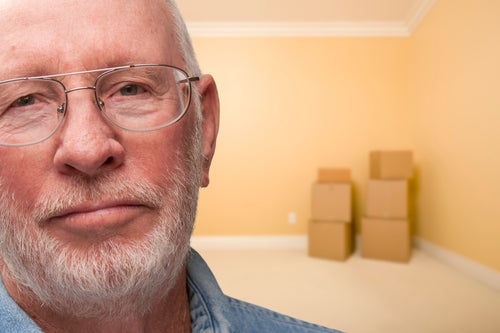 We talk a lot about the advantages of seniors aging in place, that is in the home they are comfortable and familiar with, but sometimes there comes a point where that is not feasible and we must consider a move which can often be dramatic for them. In fact, only a spouse's death or a divorce rank as stressful to the elderly as moving. In a previous article, I addressed deciding to move an elderly loved one. Here, once you have made this agonizing decision, I discuss how to do this as stress and trauma free as possible?
Relocation stress can take the form of depression as well as feelings of anger, loneliness and, understandably, apprehension and anxiety. Seniors have been known to lose sleep and their appetite and develop an excessive need for reassurance as this chapter may bring an exaggerated sense of dependency and insecurity. They have even coined terms for this, Relocation Stress Syndrome and Transfer Trauma, to describe the ill effects of moving the elderly.
Studies suggest that with the proper preparation before and assistance during the process, stress can be greatly reduced. If the move is to a pleasant and more supportive environment, it can even be a positive experience. For example, if the move is geographically closer to a relative when staying in their own city would have forced them into institutional care such as a nursing home, they may look forward to it. If their move takes them out of an isolating environment to a more social one of their choosing, it could be an eagerly anticipated event.
The Transition Hypothesis addresses the notion that various levels of care along the way will ease the move. In fact, there are social workers and psychologists that specialize in dealing with the elderly and their surrounding issues and you might want to consult with one before "diving in". Getting the senior on board for the move is obviously a big hurdle; their attitude can make or break success. Of course, any prior visits to their future residence can also ease any apprehension.
A lot of the stress comes from the stress of the move itself. The elderly are in no condition to direct this and adult children may live far away or be bogged down by their own responsibilities. There is a new class of professionals that have stepped in to address this.
Senior Move Managers (SMMs) specialize in all the logistics. SMMs come from diverse backgrounds with degrees in gerontology, social work, nursing or psychology and experience in the healthcare, project management or corporate world. They are trained to deal with complicating situations that arise when dealing with the elderly. In my experience, they approach their work with a patience that you could never expect from regular movers. They frame questions and make arrangements with sensitivity to the elderly and their loved ones and create calm from potential chaos. Anyway, a neutral third party is always good to have around at such an emotional time.
SMMs can take over every aspect of moving and situating seniors such as:
~ Organizing and sorting possessions
~ Packing up the home, hiring and directing movers
~ Customizing floor plans to suit elderly requirements
~ Arranging for the disposal, donation or selling of unwanted items
~ Shipping Items and arranging for storage if needed
~ Finding a realtor and staging the house for sale
~ Finally, unpacking in your new home to last detail including making sure the dishes are in cupboards, milk is in the refrigerator, towels are in the bathroom and the sheets are on the bed before they leave.
Geriatric Care Professionals
Allied professionals such as geriatric care managers, elder law attorneys, senior living communities, home healthcare agencies and realtors usually have professional move managers that they can recommend. There is even a National Association of Senior Move Managers (NASMM) that was established in 2002 that checks for insurance and experience before accepting members. An SMM can charge on an hourly basis or by the job and rates vary throughout the country.
It is so hard to leave your home and the elderly, who acutely feel their frailty, are especially afraid. Have no illusions, a move will be difficult. As I mentioned in my previous article, one adult child felt the word "move" was not descriptive enough and decided the term "evacuation" was more fitting. However, if you reach out for help at appropriate times, you will emerge from this process as trauma free and healthy as possible. Let me know if I can help!
Anita Kamiel, RN, MPS, is the founder and owner of David York Home Healthcare Agency, licensed by the State of New York. She holds a master's degree in gerontological administration and is fully acquainted with all factors related to eldercare services and the latest guidelines for seniors. Thirty years ago, she realized the need for affordable, quality home health aide services provided and supervised by caring individuals. You can contact her at 718-376-7755 or at www.davidyorkagency.com. David York Agency is also on Facebook, Twitter, Google+, and LinkedIn.
REAL LIFE. REAL NEWS. REAL VOICES.
Help us tell more of the stories that matter from voices that too often remain unheard.
This post was published on the now-closed HuffPost Contributor platform. Contributors control their own work and posted freely to our site. If you need to flag this entry as abusive,
send us an email
.