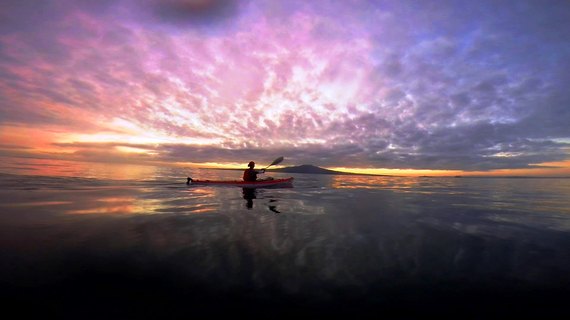 I first wrote about Lynn nearly a year ago in June 2015. Lynn planned an incredible journey and an audacious goal to kayak around New Zealand. "My name is Lynn Paterson and I am known as "Red" and it is my Journey around NZ. So it is a solo Kayaking Journey around the coastline of NZ (5000kms +) to become one of the few to complete this challenge."
Lynn departed from Takapuna beach on 26th October 2015 and I recently caught up with her, as she is now on day 212+ as she reflects on the joys, challenges and the drive that keeps her focused every day.
Question - Lynn you have incredible mental strength and determination to even attempt kayaking around New Zealand. Can you give us a quick overview of what you have experienced so far..?
LP: I have been on the road for 212+ days and there are so many amazing experiences. Gosh, a quick overview is hard. Firstly, I would have to say the incredible magical forever changing coast. In my dreams it was not this grand, the reality is far better than I had dreamed. Stewart Island is a true magical gem and so was the Fiordlands. I do not have the words to describe this part of Aotearoa, except to say everyone needs to go, to feel and absorb this part of our beautiful country. It is an incredible experience in itself, and an unforgettable mind blowing place you just want to explore forever. There was an amazing moment when dolphins played with me and my kayak (T2) for 3 hours on New Year's Day. The beautiful white tail deer on the shorelines of Stewart Island & daily meeting of new people. My encounters with dolphins, seals, schools of fish and migrating birds are truly special, but it has been the wonderful people that I have met along my journey that have made me smile also.
Question - Mother Nature and the weather has been a constant companion for you out on the water, and on land, you must have experienced both magical days and terrifying conditions ..?
LP: Mother nature, MN as we have fondly nicknamed her, is a companion I have grown respect for and I wish I had as much sheer force and strength as she (MN) has. There is no way to battle against it so, you have to befriend it and embrace each day and the weather that arrives. Yes the ocean has had its moments and conditions can change within minutes. You need to always be alert. The hardest times are when you need to try and breakout past the huge waves from a beach. If you fail it is a long slow swim with waves bashing you back to the beach which is always very frustrating time. I learn from every harsh tough moment, but the exhilaration and fabulous moments outweigh the harsh times. I really try and not have many terrifying moments. I want to have great memories, not frightening "oh hell moments". It is a dream not a nightmare I want. We have a saying, " if in doubt stay out" which the locals have taught me all the way along the coastline. MN only gives you a couple of lessons before you get a very stern slap from an incredible powerful wave if you do not listen, learn and respect.
Question - You have met some amazing, supportive strangers who have been great friends to you on this journey - have you been happily surprised by the lengths people have gone to in order to help you in small and large ways to keep moving forward?
LP:Totally amazed and humbled by everyone's support. Their genuine gestures and continued support they give to me to help me succeed and reach my dream. I have received momento's food, clothing, and small notes from strangers. From being given coffee in the fiordlands, additional insect repellent,loaves of bread and a tub of butter thrown to me by the fishermen (telling me I need to fatten up), notes on my maps, shells, stones and even group hugs from the hunters I feel totally blessed by everyone's generosity.I feel a little bit like a magpie as I keep them all as a reminders, but all the moments are stored in my brain and they keep me going on the tough days. Every time I see these items I remember and smile.
Question - New Zealand is known for epic landscapes, oceans, rivers, mountains and forests and you have been fortunate enough to experience a range of adventures, tell us about some of them?
LP: Our countryside, coasts and our magical country are epic, magnificent, incredible and totally WOW every corner of the bays you enter. Really, it is hard to describe, I do not have the words to describe it and, I am speechless with the sights and sounds I have seen. Pictures do not do the sights justice. Everything I have seen from, the white sandy beaches of the Coromandel to the rugged Wairarapa coasts, the large stretches of water like the Cook Strait and Foveaux Strait, which make you feel so small and vulnerable, to the NZ capes and peninsulas. I have special places that I have so far fallen in love with and will return for a longer look around and explore. Stewart Island, incredible, a true precious NZ gem and the wonderful community and people of the South up into Fiordlands They are Magical/ Majestic/Inspiring/enchanting/spiritual/spin chilling... each place had its own special feeling and the isolation of this place. The way you actually have to wrap your arms around yourself and just say 'WOW' everywhere you look. I was blown away by this section of the coastline.Now sitting on the top of the west coast this is raw and rough but very beautiful. Rather like the pounamu & the gold you find along the coast and in the rivers, a secret until you are allowed to discover it then you just want to come back. It is maybe NZ coastal Fever.
Question - What is the single strongest motivating thought that keeps you moving forward
LP: I do not like the word or feeling of failure. It does not " do it for me" so, I say daily I am nearly there, just keep you head down and paddle when you can. I am always moving forward and never sliding backwards. It's 'eat sleep paddle repeat' when I can. The rest of the time I am living an amazing dream so enjoy the moments, the now the places I am made to stay. Seeing and feeling each day as the sunrises and the sunsets and wanting to see around the next corner. That is what keeps me going.
Question - What have your learnt about yourself that you didn't know before you set off on this adventure?
LP: I have learnt to accept and say thank you. I have learnt to feel and accept vulnerability, & I have learnt I am linked far more spiritually to this land than I could have dreamed. I have connected with this beautiful country. Someone recently said this to me & it has struck the near truth. 'It is merely the beginning, what u believe to be "completion" is actually the "start, with new awareness and vision you will most probably "see" through a whole lot of thing that no longer serve me.
Question - Behind every great athlete they have a team of supporters, tell us about your great team on land, in the van
LP: Ah yes the team, what can I say but they are my rocks they are my spine and they have such belief in this and me. Again and everyday I say thank you to them. Nat has been a tough and wonderful crew leader. Jase well he is a rock and is the tim the toolman. Trish, my supportive friend on a tough section of the coast and always available to talk and text to when I am having a moment. Reg, we just smile and say "Gap it" (on my bad days this works, it is an in house joke). And the others who are in the background Andy, for taking my early morning calls, my meltdown moments when I feel overtaken with emotion. Mike, my rolling Master, it is hard to name them all but they are surely very special. Also the wonderful people who message me and follow me, they are the coolest for liking what I am attempting to do.
Question - Is there any way people can support your project ?
LP: Yes the support of people for this charity. If you live in New Zealand, It is as simple as texting REDZ 2446 and an instant donation of $3 is made or they can go online and click donate from my website www.redznzjourney.com The charity and what it is all about is for Mental Health Foundation of New Zealand (MHFNZ) and supporting the carers of people with depression. Looking after them so they can look after the ones in their lives that are suffering, offer help, to listen or, to take them for a walk. They are affected also, by the daily grenade exploding in front of them. The closer and more you care for the person the more damage carers seem to get. Everyone gets some of the shrapnel. The fallout from this is misunderstood with mental illness. We need to talk about it, open up and share. We need to offer to help, not with pity in your eyes, but with a huge big inner smile that radiates from within and makes your eye sparkle. This is genuine help.
REAL LIFE. REAL NEWS. REAL VOICES.
Help us tell more of the stories that matter from voices that too often remain unheard.