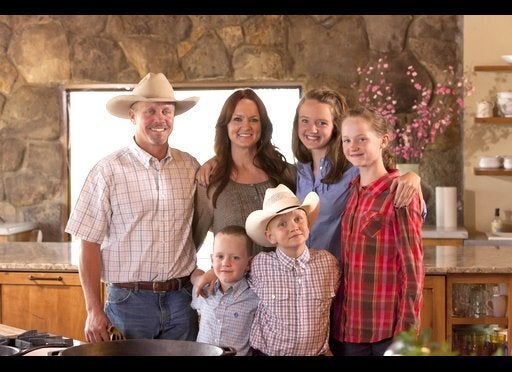 It was 2006. Ree Drummond was home alone -- her husband, Ladd, had taken the kids to work that day -- and she was bored. She sat down at her computer and opened her first Blogger account.
Ree used it, at first, to share photos with family and friends. "I didn't think it would continue longer than a week or so," Drummond said. "I never thought it would turn into something."
Five years later, Ree's blog, The Pioneer Woman, is one of the most well-loved and frequently bookmarked food blogs on the Internet today. Drummond has achieved a sort of micro-celebrity and seems poised to go big time. Her Food Network TV Show, also called "The Pioneer Woman," premieres Saturday, Aug. 27 at 11:30 a.m.
It's a level of success Drummond says she couldn't have dreamt of a few years ago. When she first started blogging about food in earnest in 2007, she says it was purely a whim to document the cooking process step by step as she made dinner for her family.
"I had been teaching myself photography," Drummond told HuffPost in an interview last week, "I was getting ready to cook my husband a steak, and I thought, 'I've blogged about every other thing I've done, so I'll blog some photos of the steak. ... I wound up posting 12 or 13 photos, and the response was really favorable. Even if somebody already knew how to cook a steak, they enjoyed watching it unfold through pictures."
That formula -- one part recipe instruction, one part food porn, one part Drummond's down-home wit -- turned out to be a winning combination for the stay-at-home mom. As a true pioneer in the world of food blogging, Drummond made an early stake in a market that would eventually become saturated with thousands of bloggers eager to share similar success. But Drummond's readers keep returning: her blog won Weblog of the Year at the 2009 Bloggies; that month, her site reportedly received 13 million page views.
Drummond said the Food Network first contacted her about a possible TV show after her first cookbook, "The Pioneer Woman Cooks," hit bookshelves. "Neither of us really jumped into it ... I wasn't always convinced that was the direction I wanted to go," Drummond says. "I'm a writer and a photographer -- I'm totally aware that doesn't always translate to TV."
But as time went on, Food Network sweetened the deal: The network's execs said they wanted to come to the Drummond ranch in Oklahoma to film the show. For a busy wife and mom to four kids whom she home-schools, the possibility of a TV show became a lot more real. Filming the pilot episodes of the show -- which happened to coincide with the busiest weeks of the ranching season -- was "the craziest 15 days of my life," Drummond said.
But just like every other step in her career so far, Drummond seems almost to enjoy the mayhem. "I figured, what the heck?" Drummond said. "I'll just give it a try."