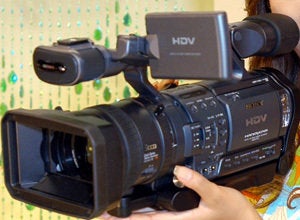 Have you made a nasty slasher film recently, or do you know somebody who has? Have you wondered whether it's time to turn your creative output toward good instead of something with the word "Kardashian" in it? I'd like to offer some karma repair. Even if you are already a karmic superstar, who couldn't use a weekend of redemption?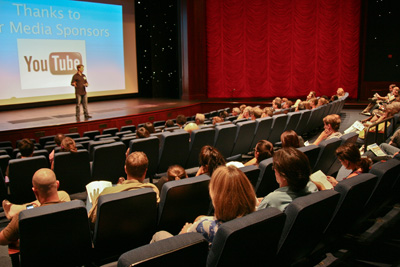 A friend of mine, David J. Neff, is always coming up with inventive ways for creative people to help non-profits. He's pulling together kind of a crazy event called the Reel Change Film Frenzy. Working with Amy Averett, community relations coordinator of the Alamo Drafthouse Cinema in Austin, the pair are calling on teams of filmmakers to make change-driven films for non-profits. They've selected 10 really great non profits to make films about, and they have eight teams of filmmakers ready to go.
You do the math: They need two more filmmaking teams, and they need them before Dec. 31. You in?
Here's what you need to know. The event is happening Jan. 13-15, 2012, the weekend before the MLK National Day of Service. The timing is not only supposed to make you feel good, but also to connect with the larger service movement. "We're getting a lot of smaller, nimble, three-to-four person filmmaking production houses that are really interested," David told me in an interview. "People are going to get really creative because they only have this short amount of time."
Oh yeah, if you are chosen to make a short film for the event, you have to do your whole film in a weekend. The filmmaking teams gather on Friday, Jan. 3 in Austin and the films are due by high noon on Sunday. Before you succumb to a panic attack, consider the great non-profits you'd be helping if you made a short film for the Film Frenzy. CASA of Travis County is an advocate for abused or neglected kids, the Sustainable Food Center is strengthening the local food system in Austin, and Texas Rollergirls is a skater-owned and managed non-profit dedicated to women and girls' empowerment. Austin Pets Alive works to eliminate the killing of companion animals. Other great non-profits are involved, too.
I don't know about you, but I'm seeing timelapse of produce growing for the Sustainable Food Center movie, and for the Texas Rollergirls, tracking shots and GO cams stuck to every helmet. For Austin Pets Alive -- there has to be a talking dog for that film, I hope.

Here I am giving away great ideas for free that I usually charge for, but maybe it will get you in a giving mood, too. If you enter and win this thing, you join the other winners at the Alamo Draft House Cinema in Austin on the big screen before an audience, and there will be prizes awarded to filmmakers. You'll get something else, too -- that karma-boost I mentioned, and a shot at making brief-running-time media serve something bigger. As David put it, "The films that we want to see come out of this partnership are films that cause change. If I was to dream I would love not to see any executive directors talking into the camera for five minutes and making me fall asleep in the theater." Change-making movies about non-profits can be funny, too.
"David has expanded the way I see cause-related film," Amy added, herself a vet of non-profits, having founded an education non-profit which she ran for seven years before joining the Drafthouse and helping filmmakers find redemption. "These are not just short promotional videos for non profits. But these are really telling the story of the change that we want to see."
David and Amy and their team are pairing each of the chosen 10 non-profits with a creative filmmaking team. They have eight teams at this writing. They need two more to realize the dream of helping all 10 non-profits. You in?
"My dream is for the non-profits to walk away from this with a film that's really usable and possibly for the filmmakers and the non-profits, this could be the start of a working relationship," Amy said, wrapping up our conversation.
Change-making media for non-profits. I'm in.
If you want to field a team in Austin to meet the challenge -- you have until Dec. 31 to say "yes." More info on the website of David's organization, Lights. Camera. Help. Or fill out this form and you're already on the road to redemption.
Photo credits: Alamo Draft House and Austin White Photography.
Popular in the Community