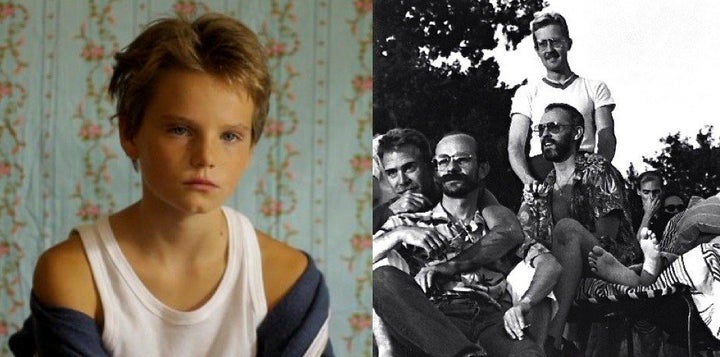 The 30th annual Reeling Chicago Lesbian and Gay International Film Festival kicks off Thursday, and offers a beyond-full plate of 65 different programs including full-length features, documentaries and short films alike from 21 different countries.
The festival, the second-oldest LGBT film festival in the U.S., opens Thursday with a homegrown feature and festival circuit favorite, "The Wise Kids," directed by Stephen Cone, at the Music Box Theatre and continues through next weekend, Saturday, Nov. 12, with a high-profile double feature -- Lorene Machado's Margaret Cho feature "Cho Dependent" and Casper Andreas' zany "Going Down in La-La Land" -- at the Portage Theater.
Overwhelmed by options? The Huffington Post previewed a host of films playing the festival below.
"The Wise Kids" (7:30 p.m. Thursday, Nov. 3, Music Box Theatre) This touching film, which premiered over the summer to much acclaim at Outfest, follows three teens -- Brea, Tim and Laura -- at a vulnerable time in their church-centric, South Carolina lives. The trio of close friends are set to graduate from high school and embark on their post-graduate lives. One of them, Tim, happens to be gay, and finds support through Brea, the daughter of their church's preacher. Laura, however, has a difficult time accepting both Tim's sexuality and Brea's increasingly reluctant faith. Read our interview with director, writer and actor Cone to learn more about the film.
"Tomboy" (4:30 p.m. Saturday, Nov. 5, Landmark Century Centre Cinema) "Tomboy" tells the story of 10-year-old Laure, who moves with her family into a new apartment outside Paris and decides to pass as a young boy to the new kids in her area--including close friend and neighbor Lisa. The film explores adolescence, gender stereotypes, young love and sibling relationships. French director Celine Sciamma ("Water Lillies") once again casts talented young actors in the lighthearted film.
"Jitters" ("Oroi") (6:30 p.m. Saturday, Nov. 5, Landmark Century Centre Cinema) This Icelandic "coming-of-age" film, which has drawn comparison to the British series "Skins," follows Gabriel, a somewhat uptight 16-year-old boy as he visits England and meets Marcus, a spirited, outgoing boy who helps him along his path to owning his burgeoning sexual identity.
"Wish Me Away" (7 p.m. Saturday, Nov. 5, Landmark Century Centre Cinema) If you ever find yourself wondering why some celebrities wait ages to come out of the closet, "Wish Me Away" will definitely make you more sympathetic to their situation. Country music star Chely Wright was 39 when she came out on national television, and "Wish Me Away" takes the viewer through her long and sometimes painful decision to do so. Aside from telling Wright's story, the film sheds some light on homophobia in the country music world and the Bible Belt in general. Wright's spiritual advisor, who helps her through her journey, puts it best: "There's nobody quite as mean as people being mean for Jesus." "Wish Me Away" is recommended for all -- not just country music fans.
"(a)sexual" (1 p.m. Sunday, Nov. 6, Chicago Filmmakers) A sincere examination, both scientific and emotional, of the asexual identity, "(a)sexual" juxtaposes interviews with people who identify as asexual and people who have studied this under-examined orientation. Driven by the experiences of David Jay, an advocate and founder of the Asexual Visibility and Education Network (AVEN), the documentary is anchored by the online community, where the experiences of the many people who participate in the film's account of asexuality have converged. The film paints a sad portrait of the state of asexual awareness and respect within the LGBT community, climaxing with a heartbreaking scene where a group of AVEN members encounter hostility while participating in San Francisco's pride parade.
"We Were Here" (3 p.m. Sunday, Nov. 6, Landmark Century Centre Cinema) This earnest documentary, directed by David Weissman and Bill Weber, utilizes the stories of five individuals as a lens into the onset of the AIDS epidemic in the city of San Francisco, a time one interviewee describes in the film as "like a war zone. ... You never knew where the bomb was going to drop." It's a frank look at a still harrowing public health crisis.
"Hollywood To Dollywood" (7 p.m. Wednesday, Nov. 9, Landmark Century Centre Cinema) For the first few minutes, you may find yourself wondering what exactly this movie is about. Is it about gay twin brothers writing a movie? Coming out to family? Moving to L.A.? Dolly Parton? The answer: pretty much all of the above. Gary and Larry Lane moved to L.A. after coming out to their family in North Carolina, and have since made a pretty good living as actors and models. In "Hollywood to Dollywood," the twins hit the road to deliver their script to Dolly herself. The story becomes more about their journey and what it means to be gay in the South and less about their screenplay. Cameos include Chad Allen, Beth Grant, Dustin Lance Black, and the hilarious Leslie Jordan.
"Pariah" (7 p.m. Friday, Nov. 11, Northwestern's Mary & Leigh Block Museum of Art) "Pariah" chronicles the high school journey of Alike, an African American lesbian trying to find her place in Brooklyn. One of the most critically acclaimed films playing Reeling.
"Bite Marks" (7 p.m. Friday, Nov. 11, Portage Theater) While two of the protagonists in "Bite Marks" are a gay couple, Cary and Vogel, that's far from a defining quality in this clever, if campy, vampire flick. Although the film mostly plays by the horror-genre rules, a few plot twists add footnotes to the traditional outline of vampire abilities and weaknesses. Don't expect too much spine-tingling, but the low-budget gore-filled "Bite Marks" will elicit a good mix of flinches and chuckles.
"Cho Dependent" (6 p.m. Saturday, Nov. 12, Portage Theater) Margaret Cho's "Cho Dependent" fits perfectly into the mold the comedienne has cast for her unique breed of humor. The recording of an Atlanta performance from her recent tour includes standup and musical interludes from her new album of the same name, with guest appearances by her tourmate, musician Jon Brion (including one where they perform a duet while doing impressions of their mothers). Some of the content will be lost on viewers who haven't followed her recent activity, including her tour on "Dancing with the Stars," but all fans can appreciate when she waxes poetic about her sexual preferences and bowel movements.
REAL LIFE. REAL NEWS. REAL VOICES.
Help us tell more of the stories that matter from voices that too often remain unheard.
BEFORE YOU GO
PHOTO GALLERY
Reeling Film Festival '11 Preview