Right before revealing her fall/winter 2014 collection during the Mercedes-Benz Fashion Week in New York, Reem Acra -- the glamorous Lebanese-American fashion designer--shared her top five style trends for this season: iridescence, transparency, couture hand, structure and simplicity -- all of which are explicitly visible in her new collection.
She is known for her one of a kind bridal gowns, exquisite red-carpet creations and delicacy in her craft when it comes to intricate lace work and couture hand.
Her stunning silhouettes, feminine textures and modern handwork on her organza and lace details are all part of the reason why Reem Acra is a known trendsetter amongst celebrities, movie starts and royalties all across the world.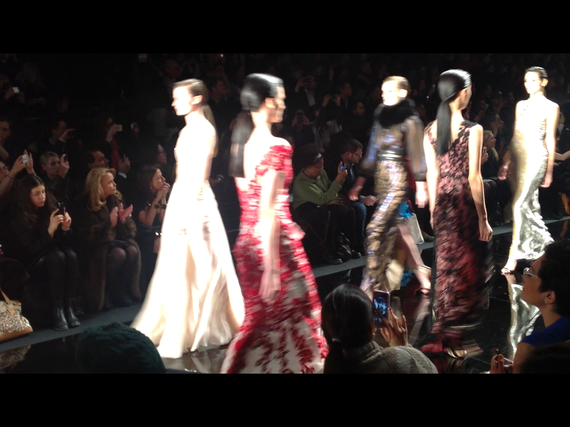 However, it is not often that women could incorporate her Haute Couture into their bustling daily lives. Yet, regardless of whether one is walking down the red carpet or strolling down isle five of the local grocery store, Acra says a woman should invest in herself and invest in who she wants to be, "I advice women to live their life to their fullest, invest in who you want to be and live it well."
Acknowledging the multifaceted, fast-paced and busy lifestyle of women across the globe, Acra says that "when you look at others, do not pretend to be the other person; if you are not the type to be wearing that dress change it and make it your own, do it with your own style. It's more about style than a specific dress."
Most importantly she suggests that the personality of each woman is what truly breathes life into the dress; "what you see on the red carpet, is more so the style and the personality that matches the dresses. So find your own blend and be glamorous in your own way."
Born and raised in Beirut, Lebanon, Reem Acra's in person elegance, warmth and sophistication seems rooted in the reminiscence of her days in the Middle East, "I come from a specific area in Beirut where it's multicultural and it's a culture that blends with multiple cultures -- it's unbelievable lifestyle."
She adds that her rich cultural background is oftentimes a strong source of inspiration for her work, "I learned when I was a little girl that you can not pay for anyone to learn, I bring with me a sophistication, a blend of cultures and an attitude that is very classic but also very aggressive in a modern way."
Resonating with the romance of her Arab culture, she says that in her work, "there is a certain sexiness in the air, a lifestyle there that you would want to take a chance, that you live once and you see it in the collection; and that it's fine, because it's a once in a lifetime experience."
Reem Acra's breakthrough as a high-fashion couturier has also enabled the world to view the Middle Eastern women through a new lens -- a lens that Acra describes as: sexy, rich and elegant.
Moments before the show, she took some time to talk about ways she describes the Middle Eastern women and what she has learned from the American women.
"The Middle Eastern woman is sophisticated, she is modern, she knows fashion more than anyone else and she is really sexy, and she does know how to live fashion and I think we can all learn from each other. I learned from the Americans that simplicity is Amazing and combining the two cultures for me is the best thing that has ever happened to me," said Acra.