This week's installment of the Huffington Post Gay Voices RaiseAChild.US "Let Love Define Family" series honors the many LGBT-headed families who serve our country with pride, even as they have had to hide their pride in who they are. Fortunately, with changes in federal laws and military culture, it is becoming safer for thousands of these military families to live openly. This week we visit with the Reese family, which grew from two to three members through the miracle of foster-adoption.
Little Aela Reese is one of a new generation of "military brats." As her parents move from one military base to the next, after the fall of the Defense of Marriage Act (DOMA), Aela will be able to talk openly on the base about her two moms.
Korinne Reese, 31, is a Petty Officer First Class in the U.S. Navy and stationed in Bremerton, Washington, since March 2012. Her wife Courtney Reese, 28, is a job coach for a disabilities service organization. After the two women met in Milton, Florida, nearly five years ago, they knew they wanted to become parents together, but the challenge was how. With Korinne in the military, says Courtney, the couple started their relationship "essentially in the closet."
Korinne, who has served 12.5 years in the U.S. Navy, deployed a few months after they arrived in Washington. During her absence, Courtney found camaraderie and support in the American Military Partners Association, which was founded by partners and spouses of LGBT troops and veterans. Through it, she found an antidote to the isolation that had been the hallmark of former generations of LGBT military partners.
"It is a safe place for us to go to ask questions, share our life events and receive support from other people going through the same things," explained Courtney. "I have friendships and relationships with people that I haven't even met, but it's such an amazing experience to have people surrounding you and supporting you who are going through the exact same things."
While the military's "Don't Ask, Don't Tell" (DADT) policy was still in place, Courtney did not attend events, parties, ceremonies, or any type of celebration with her wife and the two decided to lived far enough away from base that they would be less likely to run into anyone from work.
"It was a hard time to be in a relationship," said Courtney, "but in the past five years we have seen everything completely unfold and come full circle. We now live in base housing and have had no issues with the command. They took us right in and got us set up with housing and when it came to getting my dependent ID there was no hassle."
After unsuccessful attempts to become pregnant, Korinne and Courtney grieved for the path not travelled. Then they decided to explore adoption. As they researched their options, the idea of fost-adoption took hold.
"I always knew that I wanted adoption to be a part of my life," Courtney explained. "I just never knew how much of an impact it would have on us. When my mother was pregnant, my biological father left. She met a wonderful man when I was about three years old and he immediately took us both into his life and never looked back. I owe so much to him and what he did for my mother and me. "
The women said they feel lucky to live in a state where being an LGBT-headed family is "like second nature" and they never feel judged. After DADT was repealed and the marriage law passed in the state of Washington they knew absolutely that they would get married, but were uncertain if the marriage would be recognized within the military.
"Once DOMA was repealed," said Korinne, "the Navy graciously accepted us and our relationship with open arms."
When they began the fost-adoption process, Courtney was a little worried about their reception as a military family and a gay couple, but they felt completely welcomed.
"No one batted an eye and everyone opened their doors for us," said Courtney.
And, in fact, one social worker went out of her way to try to accommodate Korinne's deployment schedule.
"Korinne was set to go out to sea from June through August," Courtney explained. "We let our social worker know because this was about the time that we had intended to start looking at potential matches, but we didn't want the social worker to worry about rushing because we wouldn't be able to do anything until Korinne got back. About a week later we received an email from the social worker asking if we would want to get it done before Korinne left. She said that she couldn't promise anything but she would work her hardest. And she made it happen!"
Like most parents, Korinne and Courtney have the exact dates and times seared into their minds.
"On Dec. 19, 2013 I received a called at 11 am stating that there had been an emergent situation and they needed to move a child ASAP," said Courtney. "They asked, if the licenser can push your paperwork through TODAY can you come and get her? We were so excited. I got a call at 3:30 that we would be licensed within the hour and they needed us to pick her up at 5 p.m. All of the tears and sadness of not being able to get pregnant went away when we laid eyes on this beautiful little girl and our lives changed forever.
"Aela was taken into foster care at birth. She was in two previous homes before coming to ours. Her story is tragic and heartbreaking as most foster children's are, but we will always show her nothing but love and support. She is now in a home with two people that love her more than they love themselves. She has taught us so many things about love, honesty and respect and we couldn't imagine our life without her."
Now that Aela is officially a military dependent she has access to a number of services. The couple has enrolled her in the Child Development Center provided by the Navy and Korinne will be able to transfer her GI Bill to Aela when she is ready for college.
The U.S. Navy offers an option to apply for reimbursement of all adoption expenses, but because Washington state provides the same package, Courtney and Korinne don't intend to pursue it with the military. Korinne is also allowed 21 days of leave for adoption, but she is only taking 10 days, the standard for families who give birth.
Like any other "navy brat," Aela will "get moved around a lot depending on how many more times we get transferred but nothing different than any other military child," said Courtney. "We will also support her in the changes and moves and we will always continue to educate her on how important Korinne's job is. "
On the heels of the DADT repeal, the federal government has made other significant changes. Asked how she felt about the recent announcement that LGBT military spouses will now be able to be buried at Arlington with their loved one, Korinne replied, "Honestly, it's great. We don't expect or want special treatment. We just want what everyone else has. Back before DADT was repealed, I can remember wishing that Courtney could go to the Navy Ball with me, or the Command Christmas Party. Now we go to every Command function and no one bats an eye when I introduce her as my wife."
"I'm so proud to be a military spouse and I am honored to stand beside my sailor every day," said Courtney. "This life is challenging but it has taught me so many things about life, love, and friendships that I will take with me forever."
As much as Courtney and Korinne are in love with each other, it appears they are even more in love with their daughter.
"Aela is an amazing little 22-month-old," said Korinne. "When she came to us there were a few concerns about delays. She was a drug-exposed baby so there are always potential risks, but we weren't worried. As soon as she came to our home, she completely flourished into an incredible little toddler. She is so friendly and loves to wave and blow kisses at everyone and she gains a new word every single day. I think we are most proud of the growth we have seen since she has been in our home."
"The best thing about being a parent is knowing that Aela will never have to worry about a thing and that she will always be loved," said Courtney of her daughter. "That's the way that I felt growing up and I want to pass that on. For my wife, it's seeing the look of wonder in her eyes. Every day we learn something new."
Corinne Lightweaver is the Communications Manager at RaiseAChild.US, a national organization headquartered in Hollywood, California that encourages the LGBT community to build families through fostering and adopting to serve the needs of the 400,000 children in the U.S. foster care system. RaiseAChild.US works with foster and adoption agencies that have received training in LGBT cultural competence through the Human Rights Campaign Foundation's "All Children-All Families" initiative. Since 2011, RaiseAChild.US has run media campaigns to educate prospective parents and the public, and has engaged more than 2,000 prospective parents. For information about how you can become a foster or fost/adopt parent, visit www.RaiseAChild.US and click on "Next Step to Parenthood."
Support HuffPost
Every Voice Matters
Before You Go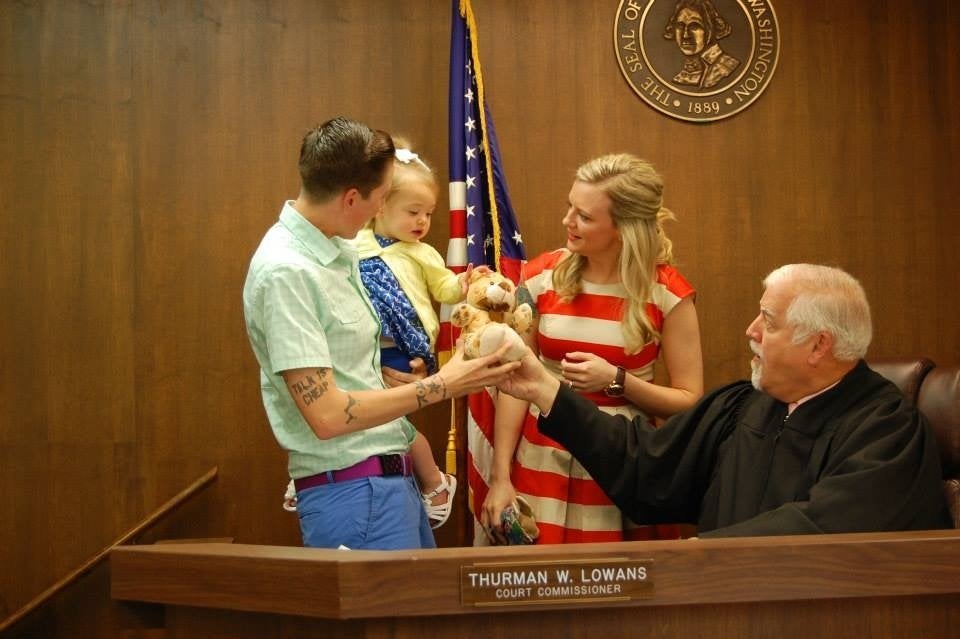 The Reese Family
Popular in the Community