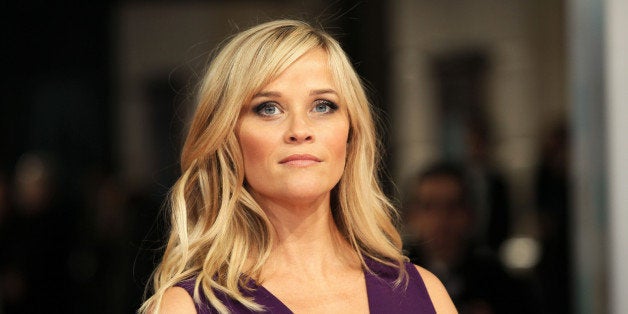 Reese Witherspoon supported #AskHerMore via Facebook and Instagram on Sunday. The hashtag, created by the Representation project, is intended send up more "creative" questions for women (i.e. asking something other than "Who are you wearing?").
"There are so many amazing, talented nominees this year," Witherspoon captioned the photo. "Let's hear their stories!"
It's worth noting that often the question is asked because a lot of stars have financial deals with designers, whom they are expected to promote. "Is it wrong to ask about couture fashion statements on the most stylish nights of the year?" Jackie Willis asked over at Entertainment Tonight.
That said, there is a notable discrepancy in the questions being asked beyond dresses, accessories and the mani cam. At the Elle Women of Hollywood event back in October, Jennifer Garner spoke out about being consistently asked about work-life balance, while Ben Affleck (Garner's husband, and father of their children) is never asked the question.
"We got home at night and we compared notes," Garner said. "And I told him every single person who interviewed me, I mean every single one ... asked me, 'How do you balance work and family?' And he said the only thing that people asked him repeatedly was about the tits on the 'Blurred Lines' girl [model Emily Ratajkowski, Affleck's co-star in 'Gone Girl']."
During the show, Shonda Rhimes and Lena Dunham also chimed in with support. "Ask her about the causes she supports," wrote Dunham, "not her support garments."
Popular in the Community